How to sign out of Apple ID without password? People with many Apple products have their gadgets logged into the same Apple ID to help them sync files or any purchased data across the different iDevices. This is convenient because it helps protect your information when you sell the device since you will just sign out of the Apple ID directly.
It is very easy to log out of your Apple account from an iPad or iPhone. You may use the Settings application. However, we sometimes forget the iCloud passcode we always use to log in. In that case, how to sign out of iPhone without password? Worry not. This guide will take you through all the steps of how to sign out of Apple ID without password.
Part 1. What Can iCloud Passcode Do?
Passwords are always important. It is the same applies to your iCloud account passcode. Let's see what an iCloud password can do before heading to how to sign out of Apple ID without password:
* It can protect all data and information on your devices linked to the same iCloud.
* It can help access other IOS devices like iPad or iPhone remotely.
* It can assist you in finding your device if it gets lost or locked.
That is how important an iCloud password can be. However, do not share your passcode with someone you don't trust because it can cost you a lot. If a hacker gets their hands on it, they can seriously damage your finances, online identity, or even your reputation. So, beware and make sure you change the passcode often to protect your information.
You May Like:
How to Remove Forgot iPhone Passcode without Restore? (3 Simple Ways)
How to Unlock a Stolen iPhone without Passcode in 3 Ways?
Part 2. How to Force Sign Out of Apple ID
We will explore four different ways in this part on how to sign out Apple ID without password. You can choose the method you like. Let's learn together.
Way 1. How to Log Out of Apple ID Without Entering Password Using iOS Unlock
One of the most important security barriers Apple devices could ever have is Apple ID. This feature provides identity to device and protects it from unauthorized access. But, sometimes, you may forget the Apple ID making the device useless.
There are many third-party applications that are known to be good iOS unlockers, but none is comparable to iOS Unlock. It is a savior to unlock Apple ID. But you will lose your data, But you will lose your data, so backing up your iPhone data is highly advisable.
It is secure and very easy to use. You just have to download the app on your PC and remove the Apple ID. In addition, it also removes the screen lock passwords making it one of the best tools to unlock iOS devices' screen locks.
Key Features:
Erase all types of screen locks on iPad, iPhone, and iPod touch.
Unlock Face ID, Apple ID, and Touch ID without a passcode.
Easy to use with no tech skills.
Remove iCloud activations and MDM locks and profiles.
Follow the steps below to unlock your Apple ID:
01After installing the app, click on it and find the toolbox. Choose Screen Unlock. Connect your device to the same PC.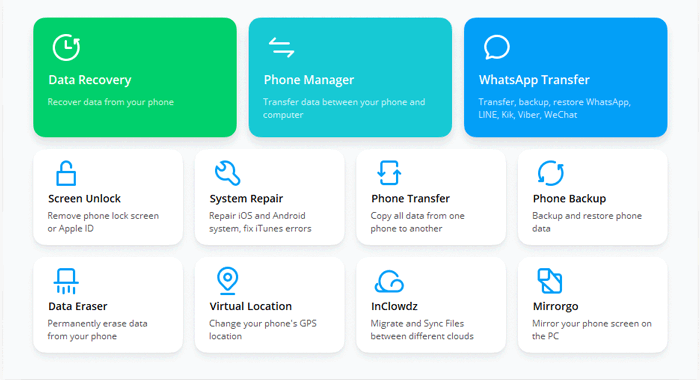 02On the next window, look for the Remove Apple ID option from the list and start the feature for removing the Apple ID.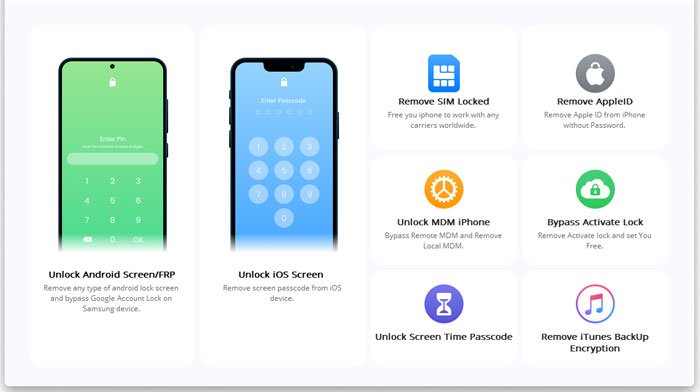 03After completing all the aforementioned operations, the iOS Unlock tool will initiate the automatic Apple ID unlocking process. The interface will display a progress bar indicating the remaining time.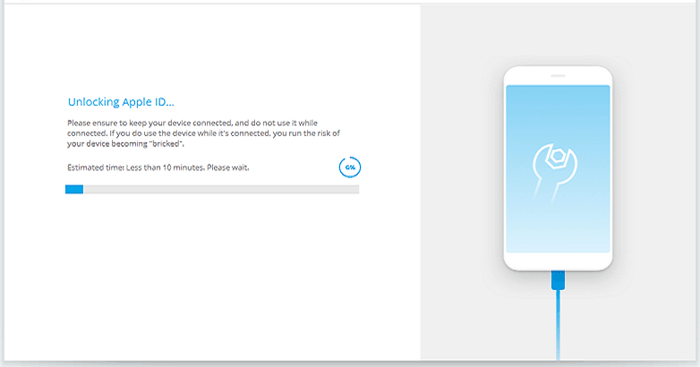 04Once the Apple ID unlocking process is finished, you can verify if the Apple ID has been successfully removed from your iPhone. Click Done when the process finishes. In the event of failure, you can attempt by clicking Try again.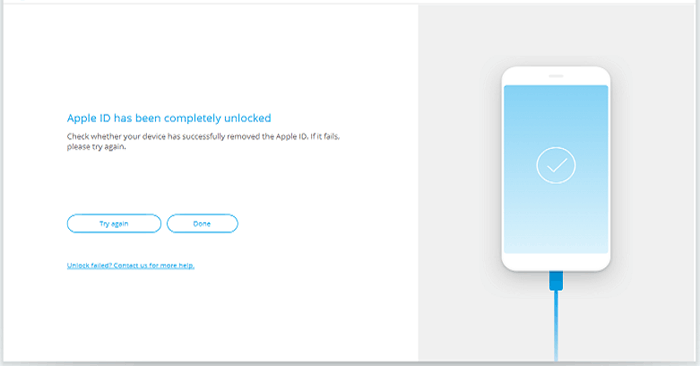 Further Reading:
Top 11 iCloud Bypass Tools: Remove Your iCloud Activation Lock
iPad Won't Slide to Unlock? Here are Practical Fixes
Way 2. How to Sign Out of iCloud Without Password via Settings
When you forget your iCloud password, the first thing is to cancel the old account and open a new one. You can use the settings app to do that. Here's how to sign out of iPad without a password:
Step 1. Click on the Settings app on your iPad to open the settings page. Find iCloud; a new page will open where you should enter the password. Key in any random number and then click Done.
Step 2. You'll be prompted that the username and password are incorrect. Click OK and then Cancel. This will open the iCloud page. Press on your iCloud account, then empty Description and hit Done.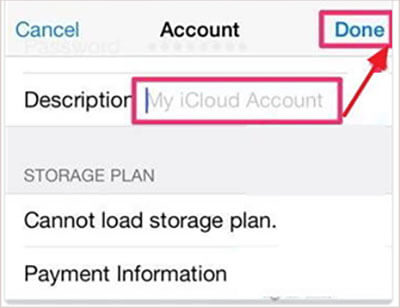 Step 3. This will take you to the iCloud without inputting any passcode. You'll also see the Find My feature turned off. Tap Delete at the bottom, your Apple ID will be removed instantly.
Way 3. How to Log Out of Apple ID Without Password with iTunes
Another effective way to sign out of your Apple ID is through iTunes. The process can be easier, but it is long since you have to log out of each account separately, including iCloud. Here's how to sign out of your iPhone without a password using iTunes:
Step 1. Make sure you erase the Find My iPhone feature first. To do that, click Settings, proceed to iCloud, and toggle off Find My iPhone.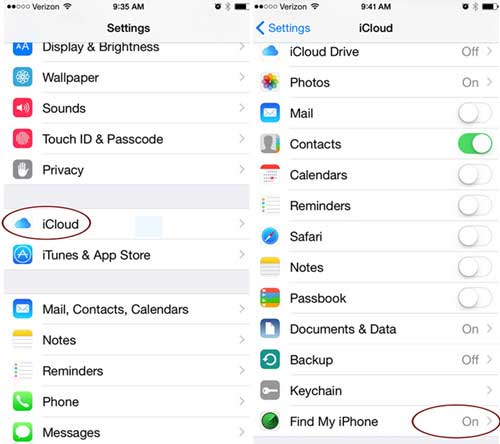 Step 2. Next, sign out by clicking on Settings and iTunes & App Store. When there, you will see the Apple ID space. Click on the Sign Out icon. Repeat this procedure till you log out from everywhere.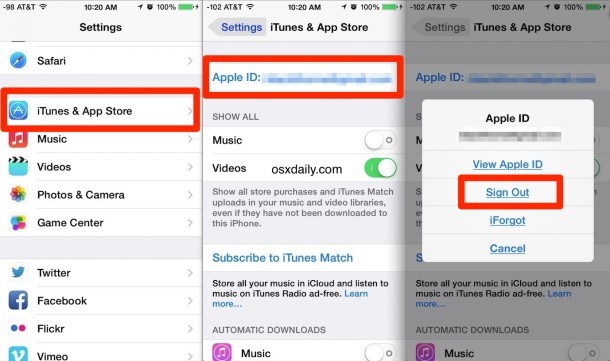 Step 3. Delete files, then head to Settings again. Click the General icon and click Reset.
However, iTunes has some downsides though:
* The chances of successfully logging out of Apple ID are very low, and you may experience issues while restoring your device.
* You'll lose your data and can't restore the backup made.
* Get your device into recovery mode is quite complicated. Besides, you will have to try it multiple times.
Learn More:
How to Unlock iPhone with Broken Screen
How to Remove Activation Lock without Previous Owner
Way 4. How to Sign Out of Apple ID Without Password via Apple Website
Still unable to take off Apple ID from your device? You can reset your iCloud account on a browser. Here's how:
Step 1. Open a browser of your choice and go to the Apple ID page. Click on Sign in followed by forgot Apple ID/Password.
Step 2. On the next page, enter your Apple ID.
Step 3. In case you enabled 2-factor authentication, you will get a pop-up message on the iPhone screen. Reset the passcode using the on-screen instructions. If you used email or security questions, you will either send a mail or answer questions before you reset the passcode.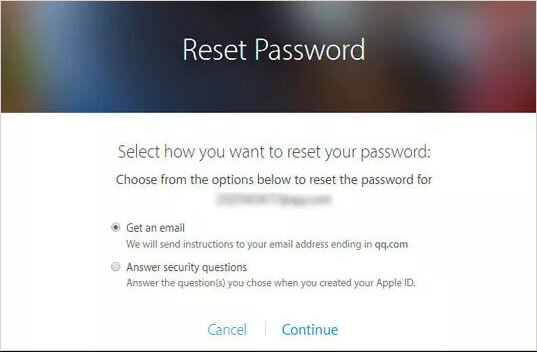 Also Read:
How to Bypass iPhone Passcode Step by Step? (5 Amazing Ways)
How to Unlock Apple ID without Phone Number or Password in 5 Proven Ways?
Part 3. Frequently Asked Questions
Q1. Is it safe to use iOS Unlock? Will it violate my privacy?
iOS Unlock protects users' privacy and only collects personal info for defined tasks. It unlocks the devices securely, and no data can be leaked.
Q2. Can I remove the iCloud account using restore feature?
The answer is no. Restoring your device will only upgrade your system version and erase all the data. However, your iCloud account will remain; if it is locked, it will remain so.
Q3. What's Apple ID? Is it really important?
Apple ID refers to the passcode that connects to your Apple account. Yes, the Apple ID is really important. It is responsible for keeping your data safe and protecting your information from unauthorized access.
Summary
If you have issues signing out from your Apple ID without a password, this is the right guide. It has discussed all steps of unlocking iOS devices quickly. Among them, iOS Unlock tool is sure to work for any Apple user. It has a high success rate. Remember to back up your data before removing the Apple ID.
Related Articles:
3 Simple Ways to Remove MDM from iPad [Steps-by-Steps Guide]
How to Bypass iCloud DNS Locks Easily? [2 Methods Offered]
5 Ways to Unlock Android Phone if You Forgot the Password
How to Access a Locked Android Phone via USB? [Solved]
How to Bypass LG Lock Screen without Reset? [Solved]
Best Samsung Unlock Tools to Unlock Your Samsung Phone in 2023