"A friend has a couple of 2nd generation of iPad Pros going cheap, but they come with MDM configs that nobody seems willing to remove before selling. Odd methinks. Still, he's genuine, and so are the IT people he's dealing with - I used to know them. I'm keen to buy one of them but not if there's a risk of bricking the device. Is there a free or cheap method of removing it? Cheers!"
- A user posted in MacRumors Forum
Get a second-hand iPad and wonder how to remove MDM from the iPad to get full access to the device? You will get three options to remove the device management profile on the iPad. Let's explore.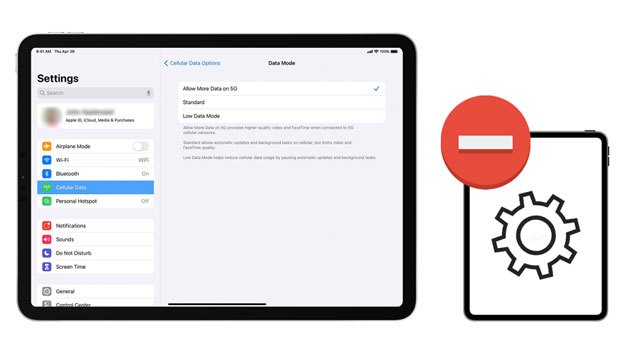 Part 1. What Is MDM on iPhone or iPad?
Part 2. How to Remove MDM from iPad without Computer?
Part 3. How to Remove MDM from iPad without Password on a Computer?
Bonus Tips: FAQs about iPad MDM Lock Removal
Part 1. What Is MDM on iPhone or iPad?
MDM is short for Mobile Device Management, a protocol that enables system administrators to manage and control iOS devices by sending commands from a central server to all iOS devices in the network. Using the MDM service, an administrator can simplify deployment, management, and collaboration of the company-owned and personal iPhone, iPad, iPod touch, or Mac via configuring the device remotely and centrally.
In an iDevice, MDM profiles usually include settings to control email accounts, Wi-Fi, passcodes, etc. If your device has MDM inside, others can configure data on your device without entering the required information manually.
One approach to obtaining MDM on your iPad is downloading App Store apps containing root certificates that can spy on your device data. Therefore, be careful not to install such apps on your device. If, unfortunately, you did, ensure that you have deleted both apps and their configuration files to protect your privacy.
Is there any way to remove MDM from iPad without administrator access? Yes, nowadays, many smart tools can help you get rid of MDM easily, such as jailbreak and a third-party MDM lock removal. And we will refer to this in the following content.
Bonus: Although you forget to transfer data to your new iPhone during the setup, you can move your data after setup with these methods.
Part 2. How to Remove MDM from iPad without Computer?
This part explains two effortless solutions to MDM profile removal from iPad without a computer. However, you will need the device password or jailbreak your iPad.
2.1 How to Remove MDM from iPad for Free by Passcode?
Suppose that you have access to the administrator. In that case, it's easy for you to remove MDM from the iPad from Settings.
How to remove an MDM profile from an iPad from Settings?
1. Open iPad's Settings > find General > tap Device Management.
2. Click MDM followed by the Remove Management and enter the passcode if asked.
3. Your iPad will be free from the MDM lock.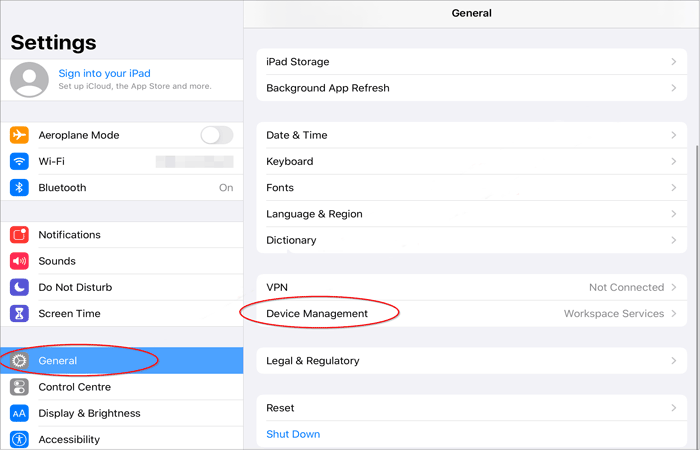 Click it if you like: Here are 10 practical approaches to help you solve an iPad gettings stuck on Apple logo.
2.2 How to Delete MDM Device Management on iPad via Jailbreak?
If you don't mind potential data loss and file damage risks, you can also remove MDM from the iPad by jailbreaking your iPad. Here's how.
1. Install Filza on your iPad and jailbreak your device.
2. Launch Filza and go to the path:/var/containers/Shared/systemgroup.com.apple.configurationprofiles/Library/ConfigurationProfiles/
3. Run Text Editor and delete the MDM files.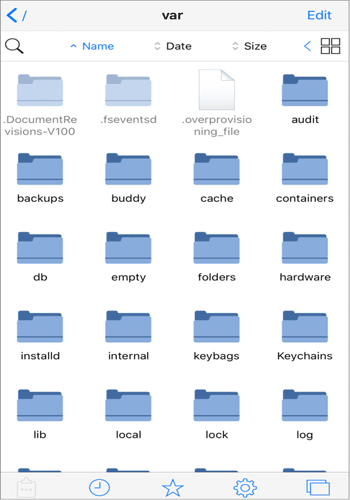 See also: Planning to copy your songs from an iPod to a new computer? Follow this guide, and then you can enjoy your music on the computer computer quickly.
Part 3. How to Remove MDM from iPad without Password on a Computer?
An easier and higher-success-rate way than the above methods is iOS Unlock. Apart from the MDM lock, this MDM lock removal also supports removing the Face ID, Touch ID, 4-digit or 6-digit passcode, iCloud activation lock, Apple ID, and Screen Time passcode on a computer in a few clicks.
You also don't need to worry about the device compatibility since it is widely compatible with all iPad models running iOS 9 to iOS 15, such as the new iPad mini/iPad 2021, iPad Pro 5/4/3/2/1, iPad 8/7/6/5/4/3/2/1, iPad Air, iPad mini, etc.
How to remove lightspeed MDM profile from iPad without data loss?
1. Install and open the software on your computer, and select Screen Unlock among all tools.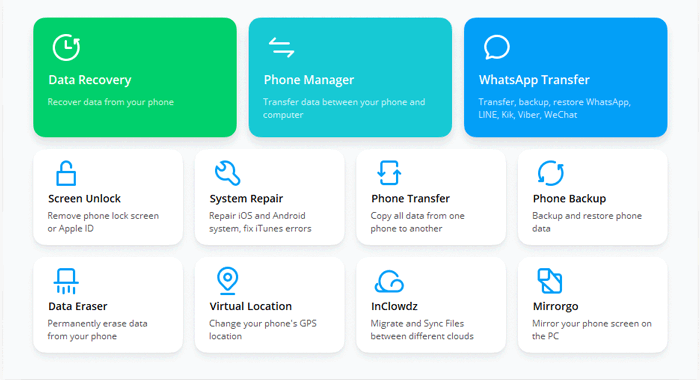 2. Connect your iPad to the computer using a USB cable. Next, Choose Unlock MDM iPhone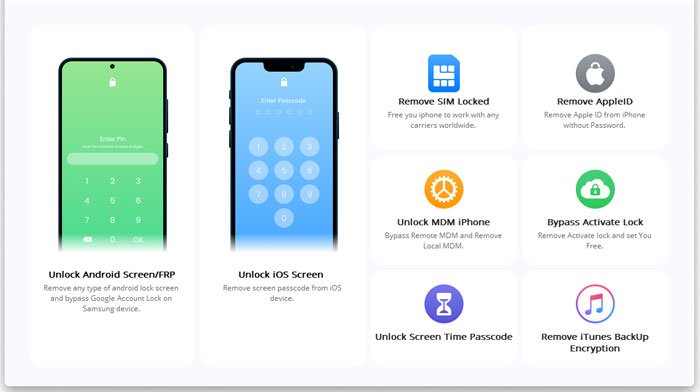 3. Then tap Remove MDM > Get Started > Start to Remove. Then wait for the program to verify your device.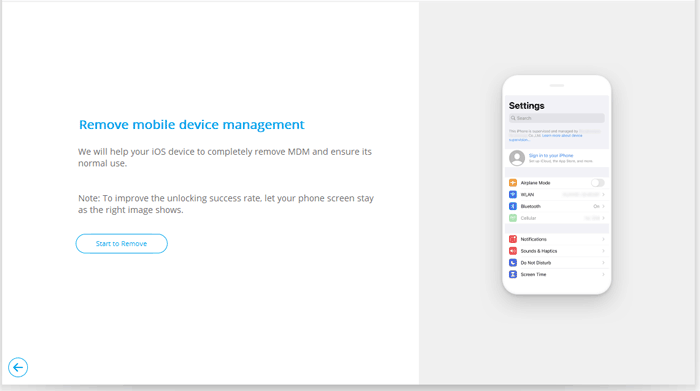 If a window prompts, turn off the Find My iPhone feature on your iPad with the on-screen instructions. Otherwise, the program will restart your device after seconds and remove the MDM quickly.
Further reading:
[Simple Guide] How to Delete Apple ID without Password on iPhone?
How to Remove Activation Lock without Previous Owner?
Bonus Tips: FAQs about iPad MDM Lock Removal
Check the answers to the following questions if you are interested in them.
1. How to uninstall MDM from the iPhone/iPad?
Unlock your iDevice and open Settings.
Scroll down to Security > find and disable Device Administrator.
Return to Settings and tap Applications below.
Click the Manage Engine Mobile Device Manager Plus and uninstall the MDM agent.
2. How to factory reset my iPhone/iPad with MDM?
If you don't want any DMD protocols, but your device is enrolled, you can execute necessary commands on your iDevice to wipe, erase, or restore your device. If you wish to factory reset your iPad or iPhone, perform the Device Erase command on your device.
3. How to remove company manager from iPhone/iPad?
Launch the Settings app on your iOS device.
Navigate to General > Device Management > MDM Profile.
Click the Remove Management option. If asked, input the correct password to confirm the operation.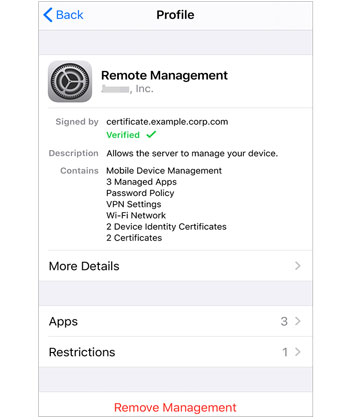 4. Does Erase All Content and Settings remove MDM profile?
No, you can't. Although you can boot it into DFU mode, you will find the MDM lock still exists in your device. The MDM may stop you from erasing your iPad this way, especially when your device is blocked by the DEP (Device Enrollment Program), now known as Apple Device Management (ADM). So, you'd better try other methods displayed above.
Words in the End
Although all three ways help you remove MDM from an iPad, I will highly recommend you try iOS Unlock for three reasons.
It is professional to completely remove the MDM profile from your iPad without a password.
You don't need to jailbreak your device, which won't cause any data loss or file damage.
It is easy, safe, and widely compatible with most iPad models.
Thus, don't hesitate to give it a try. If you run into trouble during use, please let us know in the comments.
Related Articles:
How to Bypass iPod touch Activation Lock Easily? 4 Ways You Cannot Miss
How to Remove iCloud Activation Lock without Password? (5 Amazing Ways)
How to Delete iCloud Account without Password? (iOS 16 Supported)
4 Methods to Remove Apple ID from iPad without password (Easy & Quick)
How to Bypass iPhone Passcode Step by Step? (5 Amazing Ways)
How to Unlock iPad without Passcode? (the New iPad 2023 Supported)