How to unlock iPhone online? This is the most asked question by Apple users. Many Apple users may have locked iPhones that can operate only with a specific carrier and not other carriers. Restarting or resetting the device will not work, as the unlock process needs to be done on Apple's servers using the phone's unique IMEI number. This post presents the top tools to unlock iPhone online. Therefore, for those who wish to change their phone carrier, we recommend reading this article to identify a suitable tool.
Part 1. Can I Unlock My iPhone Online?
Yes. It is possible to unlock an iPhone online using a third-party unlocking service. You will find many unlocking services available for various carriers and models, so it is up to you to choose the right tool that matches your interest. However, beware that not all services are reliable; some may result in your device becoming permanently locked or having its warranty voided. To ensure that your iPhone is unlocked safely, it is advisable to use the best iPhone unlock service.
Part 2. How to Unlock iPhone Using 3 Unlocking Services
Here, we will introduce three unlocking services to unlock iPhone online. They are IMEI, CellUnlocker and DoctorSIM. The following is a detailed introduction.
1. Unlock iPhone Online Using iPhone IMEI
The iPhone IMEI is a reliable iPhone unlocker online tool for checking the IMEI and unlocking services for all iPhone models and versions. Its compatibility covers all iPhones. This service will assist in whitelisting your iPhone's IMEI from Apple's server, legally and without jailbreaking your iPhone. The unlocking process is included in the service. On the downside, the process of unlocking may take a while, and the cost of this tool is higher than other tools that offer the same service.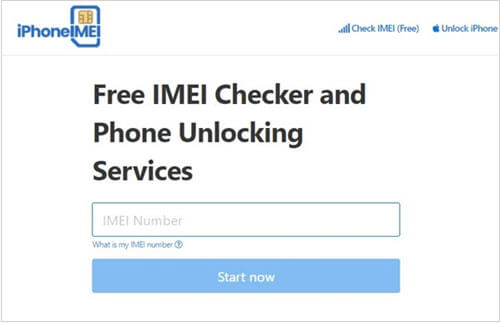 Key Features:
* This program claims to unlock an iPhone by using an IMEI for use with any network.
* It works with every version of iOS and every model of iPhone.
* You don't have to jailbreak your device before using this website to unlock the iPhone.
How to use:
Step 1. You should enter your IMEI number first since it detects your model and IMEI number.
Step 2. The IMEI is then marked as unlocked and synced with the network. It can take hours for the process to finish.
Step 3. You will receive an email informing you that the iPhone is unlocked.
However, the process is slow, and there is a major problem when enabling the refund privilege. The support team is not responsive enough. And it is quite costly compared to other tools that offer the same service.
Learn More:
[Simple Guide] How to Delete Apple ID without Password on iPhone?
How to Unlock a Stolen iPhone without Passcode in 3 Ways?
2. iPhone Unlocker Online Using CellUnlocker
CellUnlocker has a user-friendly interface that helps customers easily acquire iPhone unlock rights. It also can unlock various Apple devices, including iPhones, iPads, and Apple Watches. The website is designed with an easy-to-navigate style.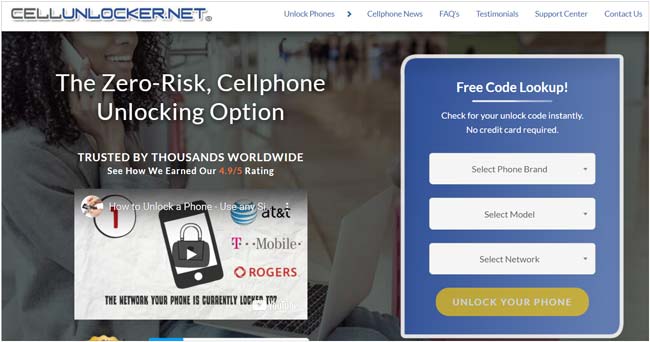 Key Features:
* You can search for the necessary code without incurring any additional costs.
* The available packages are affordable and come with discount options to benefit users.
* The safety of your smartphone is guaranteed as it will be unlocked using its unique IMEI number.
How to use:
Step 1. Head to the CellUnlocker website and select your phone brand, model, and network.
Step 2. Input the IMEI number of your iPhone and the email address to receive the instructions.
However, CellunLocker's customer support is not proactive and typically takes a few days to respond. Additionally, the refund process for unsatisfied customers is time-consuming and exhausting for those seeking a refund.
3. Unlock iPhone Online Using DoctorSIM
If you need to unlock your iPhone, you can use DoctorSIM. Doctor SIM offers an efficient IMEI-based phone unlocking service compatible with major devices and carriers. Accessible via their website, Doctor SIM's professional phone unlocking services liberate phones from restrictive carrier contracts.

Key Features:
* The process for unlocking the SIM is easy.
* The device will remain unlocked permanently.
* It's a great deal, and the unlocking process is fast.
How to use:
Step 1. Head to the DoctorSIM website and choose your iPhone model.
Step 2. Next, choose your network provider to which the iPhone is locked and hit Next.
Step 3. Enter your phone's IMEI number and email address. After that, you will get the instructions in your email to finish the unlocking process.
However, the success rate is low. You must pay for it before using it. The price depends on your device's model and OS version.
You May Like:
How to Unlock iPhone with Broken Screen
4 Methods to Remove Apple ID from iPad without password (Easy & Quick)
Part 3. Best Way to Unlock iPhone- iOS Unlock
Unlocking an iPhone online through the mentioned platforms is expensive, and customer support services are not effective. Additionally, the process may take several weeks, and success is not guaranteed even after waiting a long time.
Consider trying iOS Unlock if you want a faster, more secure method to unlock your iPhone. This tool is capable of removing different locks from iPhone models. For instance, it can unlock the Face ID, and Screen Time Passcodes, without requiring a password. Moreover, the tool has a user-friendly interface that is easy to operate. The application is widely compatible with most of the latest iPhone models.
Key Features:
Assist in removing lock screens from Apple devices like iPhones, iPads, and iPods touch.
Unlock Apple IDs, Face IDs, Screen Time Passwords, and iTunes Backup Passwords even without knowing the password.
Bypass the iCloud activation lock and remove MDM locks without losing any data.
No technical skills are needed.
Here are the steps on how to unlock an iPhone online using iOS Unlock:
01Install iOS Unlock on the computer. Open it to get to the primary interface, where you should choose the option for Screen Unlock. Insert your iPhone into the PC using a USB cord. Once done, select the Unlock iOS Screen option.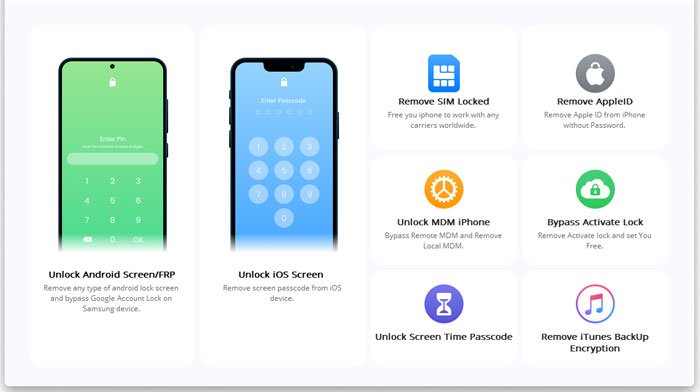 02To remove the iOS lock screen, it is recommended to use Recovery mode. If you cannot activate Recovery mode, you can try DFU mode, which works similarly to Recovery mode.
03It will display your device's details, such as model and version, after you have entered DFU mode. If the details displayed are incorrect, you can select the correct ones from the dropdown menu. Next, press the Download button to obtain the firmware.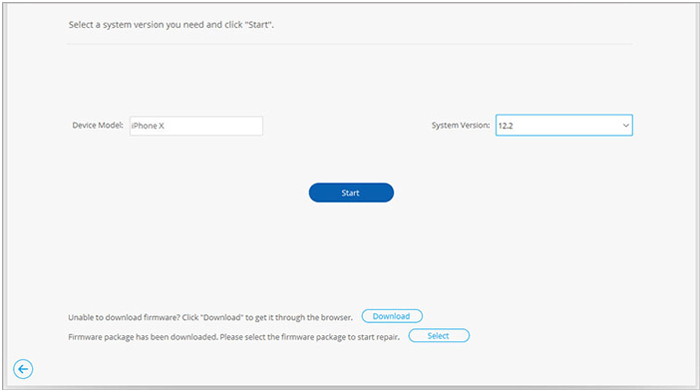 04Click on the Unlock Now tab after downloading the firmware. Your iPhone will be unlocked shortly, but your data will be lost.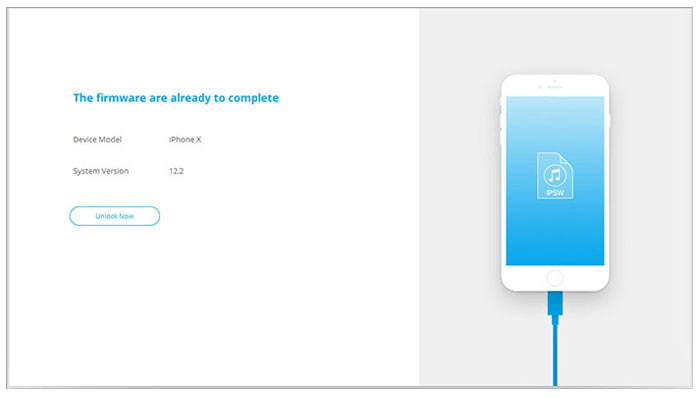 Further Reading:
How to Remove Activation Lock without Previous Owner
How to Bypass iPhone Passcode Step by Step? (5 Amazing Ways)
Part 4. FAQs on Unlock iPhone Online
Q1. Is it safe to unlock my iPhone online?
Apple has established protocols that restrict standard users from accessing certain features. This is why you can only switch phone carriers after the granted time, even if you want to. Nonetheless, it is still possible to unlock your iPhone. If you use the correct online unlocking service, you can safely and effectively unlock your device.
Q2. How can I find a good unlock service?
Phone carriers may lock certain features of your phone to prevent users from switching to other companies. However, iPhones do not automatically get unlocked after the specified time has elapsed. In this scenario, you must either contact your cell phone carrier or use an online tool to help unlock it.
When looking for a trustworthy service to unlock your device, choose an unlocking service with positive reviews and a good reputation. Also, check customer feedback to see what others have to say.
Conclusion
Unlocking an iPhone online can be a frustrating and stressful experience. However, we have reviewed several online iPhone unlockers in this post that can help you to unlock your phone. Among all the tools, iOS Unlock stands out as the best option to unlock iPhones. Therefore, we highly recommend using iOS Unlock to unlock your iPhone, which is faster and very easy.
Related Articles:
How to Unlock OPPO Phone without Password | 5 Effective Tips
How to Bypass LG Lock Screen without Reset? [Solved]
8 Top-ranking iPhone Unlock Software to Unlock Your iPhone without Passcode
How to Unlock iPod touch without Password (Solved with 4 Ways)
How to Bypass iPod touch Activation Lock Easily? 4 Ways You Cannot Miss