The Safest Way to Unlock Your iPod!
iPod has received enormous attention all over the world for its practical functions. iPod is portable, therefore iPod users can listen to music and take pictures whenever they want. Moreover, all generations of iPod include the feature of Screen Lock, which allows you to set a 4-digit combination to prevent someone else from using your iPod while it is not attached to a computer. This feature can not only prevents iPod from turning on accidentally, but also keeping snoops out. But when you need to use your iPod for some purpose, you need to unlock your iPod first. So do you know how to unlock iPod?
Method 1: Unlock with the Combination
Needless to to say, this is the most direct way to get access to your locked iPod. Before using the feature of Screen Lock, first you must have set a combination for your iPod. You can follow the below interface to set the screen lock for your iPod.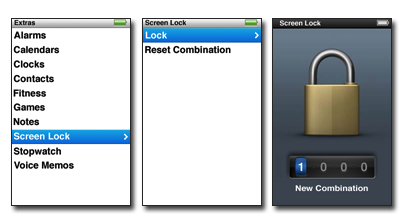 Now, to unlock your iPod, you need to:
1. Remember the 4-digit combination you used to set the screen lock. Therefore, it is highly suggested to set an easy-to-remember yet absolutely reliable password.
2. Enter the exact combination. If the combination is correct, the iPod unlocks and displays the screen you were on before you locked it.

However, the possible situation is that most iPod users forget the 4-digit combination after setting them on the iPod. In this case, you are suggested to try another two possible ways.
Method 2: Unlock with the Primary Computer
1. Connect your iPod to the primary computer linked to that iPod, the first computer that you have synchronized it with unless you have designated another computer as the primary computer.
2. Open iTunes and sync the iPod to your computer as normal.
3. Now, disconnect your iPod to the computer. The iPod will automatically unlock as you remove it. So you can have access to your iPod again.
You might be interested in:
How to Sync iPod Music to iTunes as a Backup?
How to Transfer Files from Old iPod to New iPod?
Method 3: Unlock by Restoring
1. Restore the iPod to factory settings if you can't unlock your iPod after trying the two ways mentioned above. This erases all of the data on your iPod.
2. Connect your iPod to the new computer designated as the primary computer. Open iTunes and click on the "Restore" button.
3. Reload your data, if it is available and sync your iPod.
It is highly suggested to set a combination which is relatively easy for you to remember. Or otherwise, you will find that this feature of Screen Lock always locks you out of your own iPod. Pretty ridiculous, right?
Bonus: No matter what iOS product you are using, you are suggested to form the good habit of regularly backing up important files from your iPod/iPhone/iPad to computer in case of data loss. In this case, Coolmuster iOS Assistant is exactly what you need!
Related Articles:
Transfer iPhone Playlist to Computer
Transfer Audiobooks from iPod to Computer
Add a comment