You may have found a great number of enjoyable videos on Vimeo and have the intention of watching them one by one in your spare time. However, you need to access the Internet each time for watching, which's rather annoying if there's no Wi-Fi or you're in some place without Internet connection. You may have spent quite some time looking for an old video, when you finally find it, you want to keep it for long so as to replay it in the future. Or you may have watched a video which's your favorite, but you didn't log in at the time and the browse history's been deleted. Whichever case you're faced with, the best solution is to download the videos to your device. Uploading files to Vimeo is easy, yet downloading ones from it isn't. Although Vimeo offers downloading service itself, there're some limitations. You're only permitted to download five videos per day with your Vimeo account, and you can just download a small part of the videos, with a lot left unavailable for downloading. On the other hand, in some areas, users are prohibited from downloading any of the videos no matter what, which's a huge discouragement.
On plenty of websites, when you download a video, a cumbersome process is required. You have to copy its URL (Uniform Resource Locator, the standard resource address on the Internet) first, add it and paste it on a pop-out box, download it, and convert the file to an appropriate format for your device. Sometimes you'll find it a blank video as it hasn't been decoded and cannot be watched. You need to download a video decoder in order to gain access to it. I believe you'll never be willing to spend ages and make such an effort to download a video, all you want is just a one-stop tool which deals with everything that blocks your way to downloading.
Coolmuster Video Downloader is exactly what you need to download videos from Vimeo. You don't have to create an account or download a video decoder, as it probes the video sources deeply and does the decoding automatically with its advanced technology for you. It also allows users to download videos from a wide range of video sharing websites like YouTube, Vevo, Facebook and Dailymotion, and does the format conversion to MP4, MOV, MKV or more for you. Want to download videos effortlessly? Just go for Coolmuster Video Downloader, the most powerful tool that helps download your videos efficiently. I bet you'll soon find it vastly helpful!
Download the free trial version from the below buttons to have a try!
How to Download and Convert Vimeo Videos Step by Step?
Step 1. Copy and paste Vimeo video URL you want
Download and install the video downloading software on your computer. Double-click on the program shortcut icon from computer desktop to launch it. Go to the Vimeo.com to find the video you would like to download and copy the video URL. Then, turn to the program and click the tab of "New Task", paste the URL address of the Vimeo video to the input field and click the button of "Get Video". The program will detect the video URL and show its detailed information like video name, video quality in the below.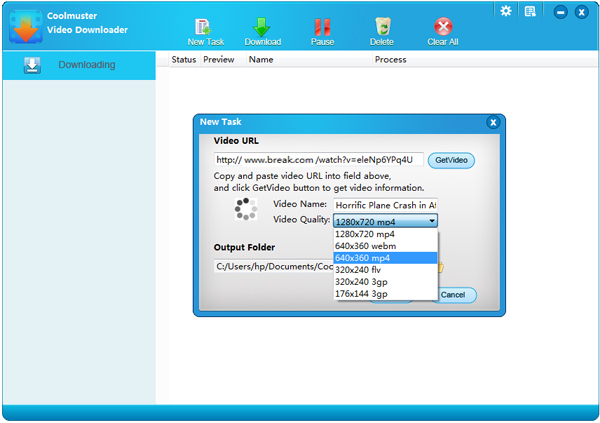 Step 2. Choose video format and output folder
Click the drop-down list of "Video Quality" to choose an output video format from the alternative MP4, WebM, 3GP and FLV for your downloaded Metacafe videos. This is very useful when you have a special portable video player that has designated video format playing. You can also customize the video name and specify an output folder to save the downloaded videos.
Tips: Click the gear-like icon on the top right corner, you can also customize the system settings as you need.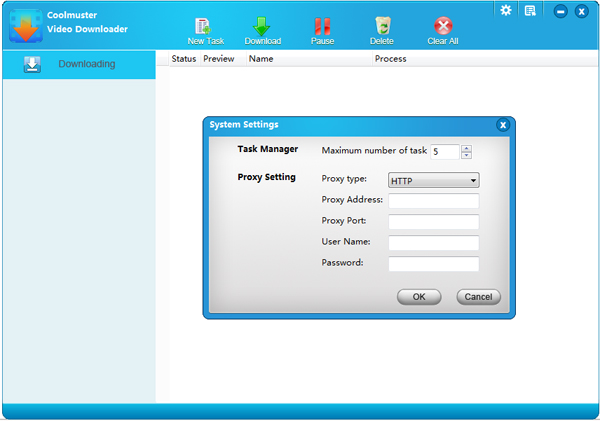 Step 3. Download and play Vimeo videos offline
After finishing all the output settings above, you can click the "Download" button to start the downloading process for your selected Vimeo video. Here is a download progress bar showing you how much video has been downloaded and you can pause, resume or cancel the downloading anytime you want.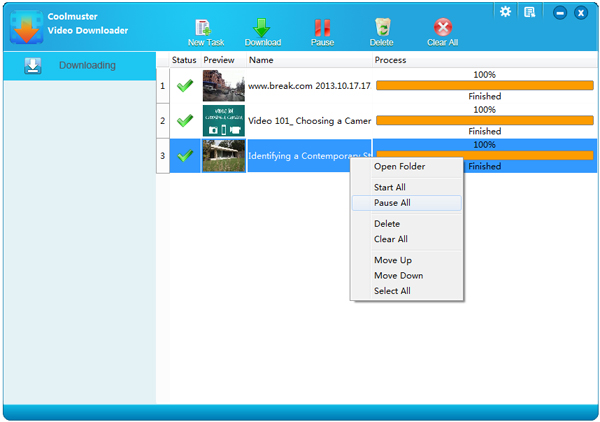 What can we get from Vimeo.com?
Following YouTube, Vimeo ranks second among the world's top ten most popular video sharing websites in 2013. It allows users to upload, watch, download or share high-definition videos of diverse types free of charge. Interestingly, its name is an anagram of the word "movie", and "me" stands for the exclusive contribution to videos made by its users. Unlike most websites of the same kind, Vimeo not only supports many video formats, but also supports email uploading, enabling users to upload their videos from their mobile devices anytime and anywhere. Besides, the videos uploaded won't be converted into flv (flash video) format, nor will they be added the logo of the website like its counterparts.
Related Articles:
Download and Save Videos from Metacafe on Mac & PC
How to Download Web Videos on Mac OS X
Transfer Videos from Android to iPad with/without a Computer in 7 Cushy Ways