When you cannot connect via USB cable, it may due to the following reasons:
1. The device is not supported.
2. The driver for the device is not installed correctly on the computer.
3. You are not running the latest version of Coolmuster Android Assistant.
4. USB debugging is not enabled on the device.
Here are the steps to solve the problem:
1. Make sure the device is supported by the product. Follow this link for a list of supported devices:
https://www.coolmuster.com/tech-spec/android-assistant.html
2. Download or update the Coolmuster Android Assistant (Windows/Mac) to the latest one on your Windows or Mac computer.
Windows version: https://www.coolmuster.com/downloads/cool-android-assistant.exe
Mac version: https://www.coolmuster.com/downloads/cool-android-assistant-for-mac.dmg
3. At present, this program provides users with two different connection methods: connect via USB cable and connect via WiFi. So if you can't connect your Android phone with USB cable, you can try the WiFi connection method. Below are the detailed steps:
- Launch the program directly and choose "Connect via WiFi" on the top right panel.
- Set your Android phone and your PC in the same network and then go to the following website on your phone: https://www.coolmuster.com/android-assistant-apk.html. Download the APK file and then install it on your Android device.
- Start the Coolmuster Android Assistant app on your device and launch the program on your computer, here you're required to click "Allow Access" button in the pop-up window on your PC just like below. After that, you can click "Scan QR Code" on your Android to connect the device to PC via WiFi.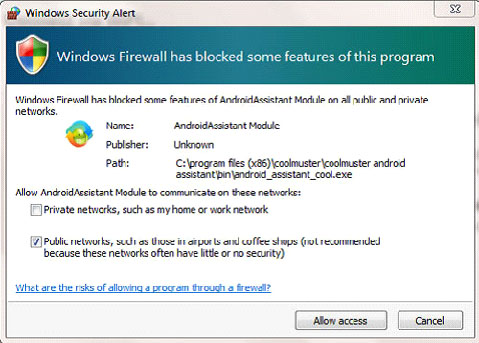 Scan QR Code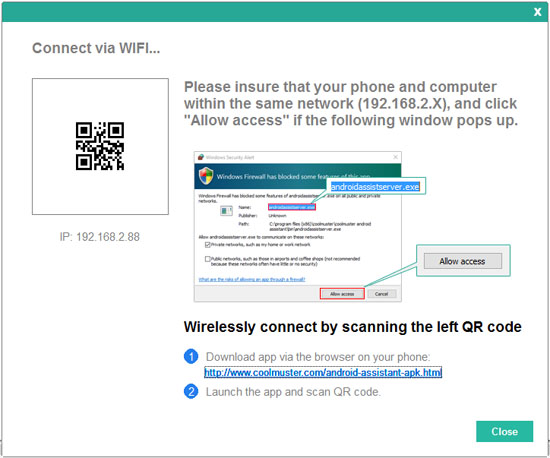 - Now, you can manage your Android data as you like.
Related Articles:
How To Do If the Driver Installation Failed?
Attention: If you can't find your desired answers in this page, please feel free to contact us via the online feedback function or via email: support@coolmuster.com as you like.