Top Related FAQs
(1) Connection
How to Do If the Driver Installation Failed?
How to Connect Android via Wi-Fi?
How to Enable USB Debugging Mode on Android Device?
What to Do If USB Debugging Enabled But Detection Still Failed?
What to Do if the Program Does Not Recognize My Android Device?
(2) Use
How to Factory Reset Android Devices?
How to Fix Undersize Font in 4K/High-DPI Display?
How to Fix Not Enough Space Issue for Android Devices?
How to Fix When The Product Freezes or Crashes?
What Can I Do if the Program will Not Start Normally?
Why Am I Getting A Message Saying "the program is still running" When I Try to Uninstall The Tool?
Other FAQs You May Also be Interested in
1. Which devices are supported by your Android Eraser?
A: Android Eraser is compatible with almost all Android devices, including Samsung, Huawei, Xiaomi, ZTE, Sony, Motorola, LG, HTC, Lenovo, OPPO, Meizu, Asus, Google, etc. Click here to check if your phone is supported.
Some phone models of these brands may not be supported, for there are too many phone models and we couldn't test all of them. If you find that your device is not supported, please contact us via email at support@coolmuster.com and tell us your phone brand and model.
2. What's the difference between the trial version and full version for Coolmuster Android Eraser?
A: The trial version of Coolmuster Android Eraser allows you to enjoy technical support ONLY while the full version allows you to process almost all important types of phone data with unlimited number and times. By the way, both the trial version and full version have no restrictions on phone models and operating system.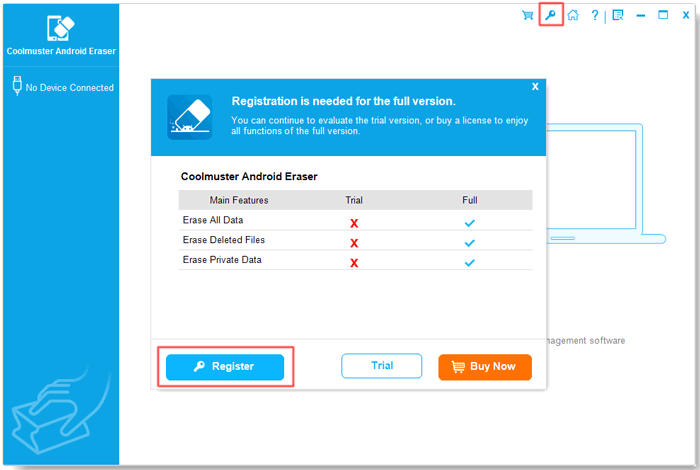 3. How to remove the limitation of the trial version for Coolmuster Android Eraser?
A: To remove the limitation of the trial version and enjoy all features of the full version, you are required to purchase the full version. After purchase, you can directly fill the register code in the trial version to get all features of full version, or uninstall the trial version before installing the full version on your PC.
Related Articles:
Why the website said I had reached the limit of downloads?
Why was I charged more than the price stated on the website?
Attention: If you can't find your desired answers in this page, please feel free to contact us via the online feedback function or via email: support@coolmuster.com as you like.