How to Transfer Text Messages from Cell Phone to Mac/Windows 10/8/7 Computer?
Mobile phones are already ubiquitous in our daily lives and they greatly changed our daily life in many ways. Text messaging is a fundamental way that people communicate and many important notice or business information may be sent or received by text messages. When we are in a place which is not suitable for making a call, or we are ashamed to speak some words, text messaging in mobile phone has played an indelible role. Android is continually developing new product and accelerating the update of product, but the mankind's need is unending. We know Android does a great job of migrating your data, but we are still experiencing problems in backing up cell phone data. For example, we just wonder how to save our important text messages from a cell phone to our computers.
Why we need to backup SMS from phone to computer?
There are two main reasons why we need to transfer text messages to computer. You have memorable text messages received from your lover, your friends or your families and you wish to keep them forever. However, saving crucial data in your mobile phone is dangerous, you cannot predict what would happen to your phone: You drop your phone, got your phone stolen or damaged, or have your SMS accidentally deleted by someone else. That is why you choose to backup them to your computer.
The other reason for transferring SMS to computer is for future records before they clear their inbox or outbox. Well, we know that phone memory where all text messages are stored is limited. If the capacity of the text messages reached a certain degree, you will be prompted that you cannot receive new messages unless you delete some old messages. However, all saved messages mean a lot for you. You want to make a copy of the text messages on your computer before you delete them from your phone.
Best Program to Help Transferring SMS from Android Phone to Computer
Transferring text messages from a cell phone to a personal computer is a simple task once you have Coolmuster Android Assistant (for all Windows versions) or Coolmuster Android Assistant for Mac, a one-stop management tool for Android users to transfer files, such as SMS, contacts, photos, videos, music, apps, etc., between Android cell phone and computer. It empowers you with the full ability to manage your Android files on computer (Mac or Windows) directly. With its help, you can effortlessly extract text messages from cell phones and save them on your computer with one click. What is more, you can directly send the messages, even group messages from computer to specific cell phone.
Below is the detailed illustrated guide showing you how to transfer text messages from a cell phone to a computer by using Coolmuster Android Assistant. Windows and Mac versions are both available that you can choose the right version according to your own situation. We set Windows version as an example in the following and the operations are also appropriate for the Mac version.
Step 1. Connect phone to computer and run the program
To start with, you should connect your phone to an empty USB port on your computer via the data cable. Once the connection is successful, the phone will appear as a removable storage device in "My Computer". Install and launch the Android managing tool, you will see the program will automatically detect your phone and show its detailed information in the main interface, including phone model, system version and storage space size.
Note: Coolmuster Android Assistant is fully compatible with all popular Android phones, including HTC, Google, Motorola, Samsung, Sony Ericsson, Huawei and so on.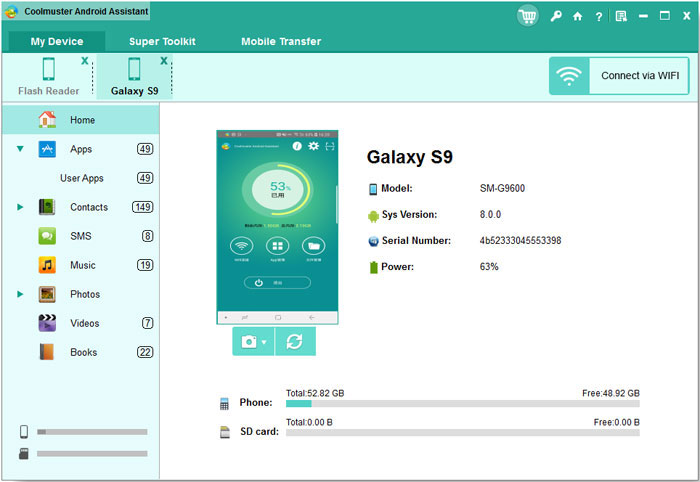 2. Scan and preview text messages
All files in your phone's memory, SIM card, as well as your SD storage card will be scanned out and displayed in above menu bar, including all income and outcome text messages. You can choose the "Contacts" category, click on "All SMS" from the left and preview all the stored messages in details.
Note: By using this program, you can directly send messages from your computer to specific phone number.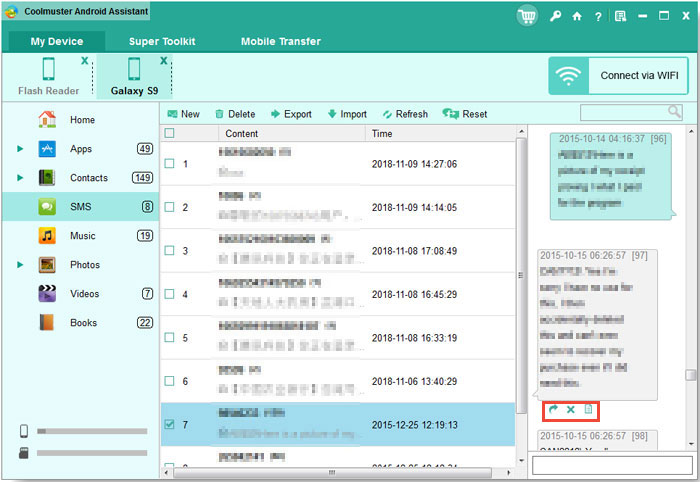 3. Choose output path and ready to export
Mark the text messages you want to copy to your computer and then press the "Export" button on the top menu to start the exporting. If you do not want to save the exported text messages in the default output location, you can customize a save location as you want.
After a few while, all the selected text messages will be saved on the specific output folder in .csv format. A great number of tests show that Coolmuster Android Assistant is fully able to finish the whole transferring process in a short waiting time, without doing anything harm to your phone. If you prefer a simple, effective and safe way to backup your text messages on Windows 8/7/XP computer, this management tool for Android is worth trying.
Want to know how people are saying about this tool? Here is an evaluating from the person who has a background with using Coolmuster Android Assistant. Click here to read the review.
Video Tutorial
Related Articles:
How to View Android Text Messages on Computer