How to Transfer Contacts from Android Devices to Computer?
I have Micromax A65 Android phone (gingerbread version) and I had to get a new hard drive for my PC. Now, I am trying to transfer contacts from my Android phone to the computer. Is it possible? Please help me how I can do that.
Android devices are becoming more and more popular and now available in various shapes and sizes. There are simple and basic cellphones which are suitable for naive users and older users. Also there are powerful and large-display smartphones which are welcomed by experienced users and others who have higher requirements in cell phone use. No matter what kinds of Android phone you have, you must have more or less contacts organized in the device and won't get them lost. Therefore, we will tell you how to transfer the contacts from your Android to the PC or Mac computer in this article.
Solution 1: How to transfer contacts from Android to computer with Android Assistant
Solution 2: How to backup Android contacts on PC/Mac with Mobile Transfer
Solution 3: How to Transfer Contacts from Android to Computer via Bluetooth
Solution 1: Transfer contacts from Android to computer with Android Assistant
Coolmuster studio just launched its powerful software Coolmuster Android Assistant (for all Windows versions) or Coolmuster Android Assistant for Mac (OS X 10.10 or later), which is a smart Android contacts backup and managment program. It can not only transfer contacts from Android mobile phone to computer for backup, but also allows you to add, delete or edit Android contacts on computer. It also features with other Android phone managing functions. Let's take a look at its main features together.
Key Features:
- Copy and backup contacts and other files like media, text messages, call logs, etc. from Android to computer.
- Manage contacts on computer and save exported contacts as csv or XLS file.
- Restore backup contacts to Android phone any time you like with one click.
- Install or uninstall applications for Android phone on computer.
- Learn more >>
Simple Guide on How to Export Android Contacts to Computer with Android Assistant
Below is the step-by-step guide showing you how to use Coolmuster Android Assistant to backup Android contacts. The following pictures are captured from Windows version. If you are running Mac computer, you can also refer to the operations as below because the program runs similar on Mac machine.
Step 1. Connect Your Android Phone to Computer
First, launch the Android managing software on your computer and connect your cell phone to the computer via a USB cord. Then, you will see the main interface with some parameter information of your phone, including phone model, system version and storage space size.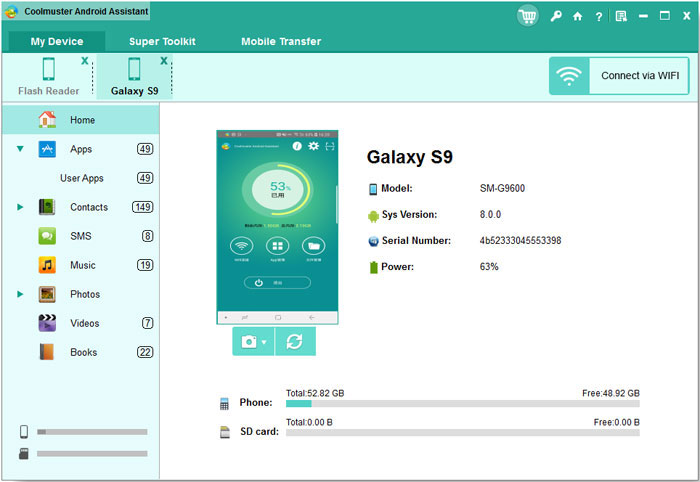 * If your device can be detected by the program, you can directly skip to the next step. If not, you'll need to enable USB debugging on your device at first. Click to learn how to enable USB debugging on your Android phone.
Once the USB debugging is enabled, click "Allow" on your phone to allow the program super user authorization when an Superuser Request pops up. Then, the parameter information of your phone, including phone model, system version and storage space size will be shown in the main interface like below.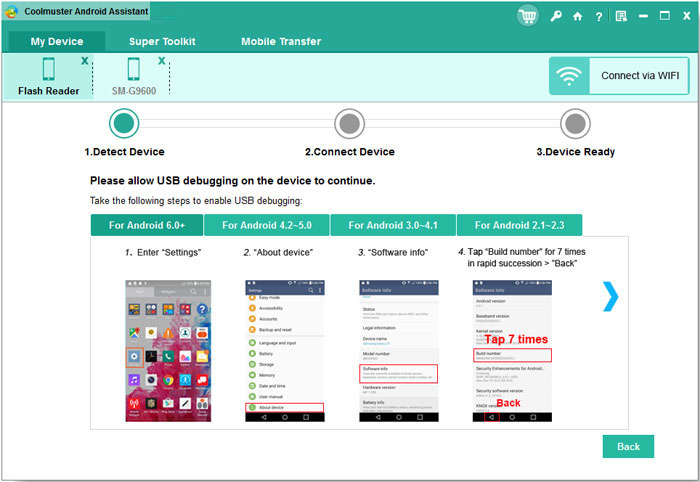 Note: Coolmuster Android Assistant is fully compatible with all popular Android phones, including HTC, Google, Motorola, Samsung, Sony Ericsson, Huawei and so on.
Step 2: Enter the Contacts window
All the files in your cell phone will show in categories on the left side menu. Just click the "Contacts" icon and you will enter the Contacts window. All the contacts in your phone will show in list here, you can "Check All" and click the button of "Export".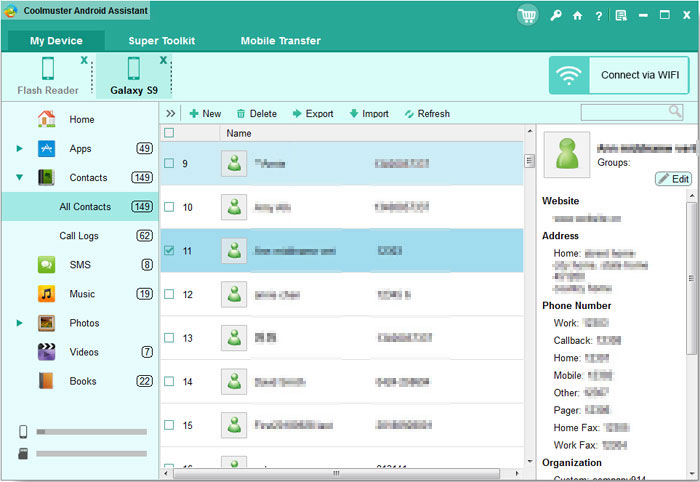 Step 3: Start the transference at once
After you click the "Export" button, there will be a "Path" dialog pops up, asking you to choose an output location for saving the exported contacts. After specifying the location, you can click the "Ok" button to begin the transfer process.
Next time when you need to import all the backup contacts to your Android phone, you can choose to click the "Import" button, choose the right backup record for your contacts and then all the contacts will be synced to your phone automatically. This is quite useful when you delete or lost important contacts from your phone.
Be interested in Coolmuster Android Assistant? Free download it to have a try now!
Want to know how people are saying about this tool? Here is an evaluating from the person who has a background with using Coolmuster Android Assistant. Click here to read the review.
Video Tutorial
Solution 2: Backup Android Phone Contacts on Computer with Mobile Transfer
The above method is the preferred way for those people who have installed the Coolmuster Android Assistant. But if you have our another start product like Coolmuster Mobile Transfer or Mobile Transfer for Mac, do not think it is just a phone to phone transferring tool, it is also able to transfer not only contacts, but also text messages, photos, videos, music, apps and more from Android to computer. Read the following tutorial to see how to use the Mobile Transfer to backup Android phone contacts to computer.
Tips: Here are also some useful guides to teach you how to backup Android tablet, Sync Android with Mac.
Step 1: After installing and launching the Mobile Transfer for Mac, connect your Android mobile phone to the Mac computer with a USB cable. Then, the program will detect the phone soon.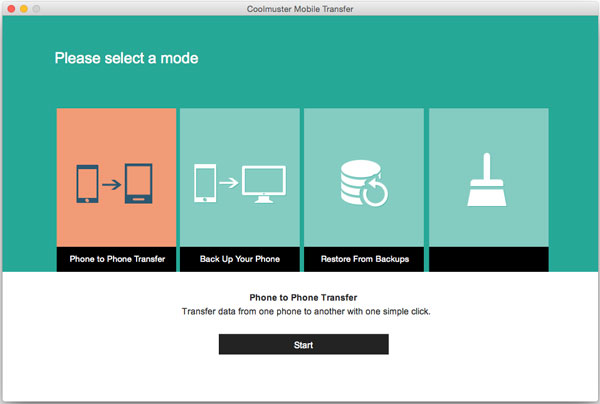 Step 2: Navigate to the main interface of the program and choose "Backup Up Your Phone" option. Then, all the transferable data on your Android phone is displayed and categorized in different folders here.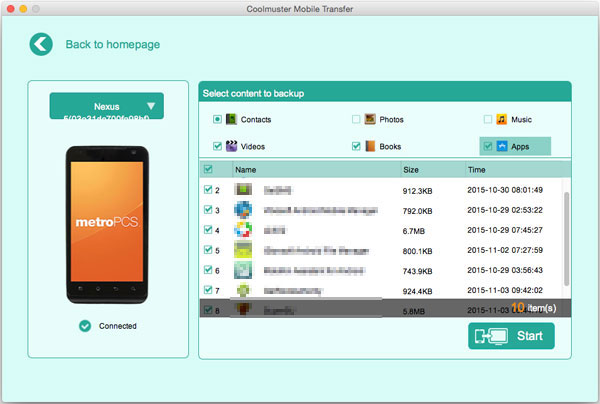 Step 3: Open the "Contacts" folder and select the contacts you want to backup by ticking off the checkbox in front of them. Then, click the "Start" button to export those selected Android contacts to computer.
Solution 3: How to Transfer Contacts from Android to Computer via Bluetooth
Using Bluetooth is also an easy way to transfer contacts between a phone and a computer. But you should make sure Bluetooth application on your computer is function normally. Follow the simple steps here to start:
Step 1. Turn on Bluetooth on both your Android phone and your computer.
Step 2. Pair your Android phone and the computer using the Bluetooth. Go to the Bluetooth menu section and select the option "Add new device" on both the phone and the computer.
Step 3. Go to the Contact app on your phone, choose the contacts you want to backup on the computer and then choose "Send via Bluetooth" option. Then, the transfer process will start.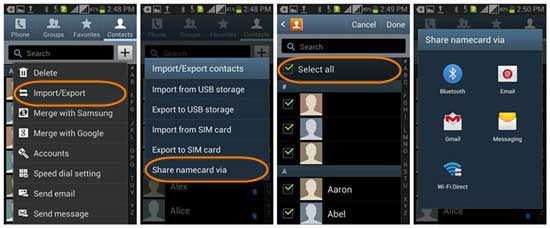 Step 4. A pop-up window will show up on your computer, asking you whether you will accept the transfer. Just click YES and the process will begin immediately. You can choose a location on your computer to save the exported contacts.
Related Articles:
How to Save Text Messages from Cell Phone to Computer