As our lives become increasingly digital, the need for seamless integration between our smartphones and computers has grown exponentially. One common requirement is the ability to view and manage Android text messages on a computer. Whether you want to record important conversations, type messages more comfortably, or enjoy the convenience of a larger screen, this article will guide you through various methods to achieve this. So, let's explore how to view Android text messages on your computer.
Way 1. How to View Android Text Messages on a Computer by Coolmuster Android Assistant
Coolmuster offers its powerful software - Coolmuster Android Assistant (for Windows 11/10/8/7 or Mac OS X 10.7 or later), which can help to export text messages from an Android device to a computer and save them as .xml, .csv, .html, or .txt files easily. To read or print Android messages, you should save Android SMS in a readable format. Using this Android SMS viewer, you can view messages from Android on a computer in 2 ways: checking Android SMS on a computer when an Android phone is connected to the computer or viewing Android text messages on a computer offline after exporting Android SMS to a desktop.
As one of the best Android SMS manager apps, Coollmuster Android Assistant also allows users to send and receive SMS via a computer directly, copy/restore/delete/back up/forward messages for Android, and add, delete, or edit contacts on the computer. It supports almost all Android brands, such as Samsung, Xiaomi, Huawei, Sony, HTC, Motorola, LG, and so on, and it works with the latest Android phones.
Key features:
Below is the step-by-step guide showing you how to use Coolmuster Android Assistant to get Android text messages on your PC.
01Once you've successfully installed and launched the software, you may encounter the initial toolbox interface. To access the Coolmuster Android Assistant module, please click "Android Assistant".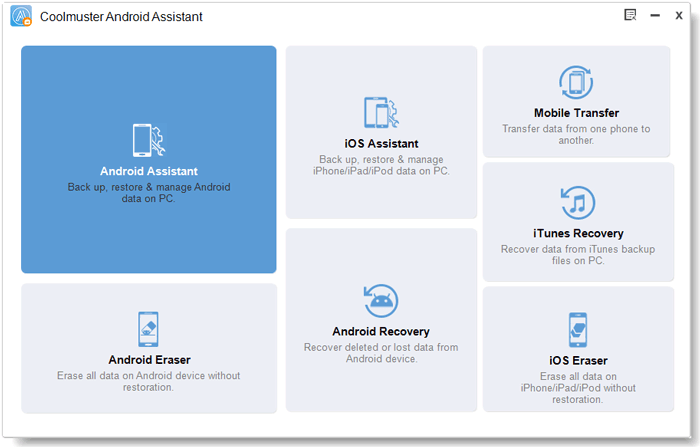 02Use a USB cable to connect your Android device to your computer and allow USB debugging.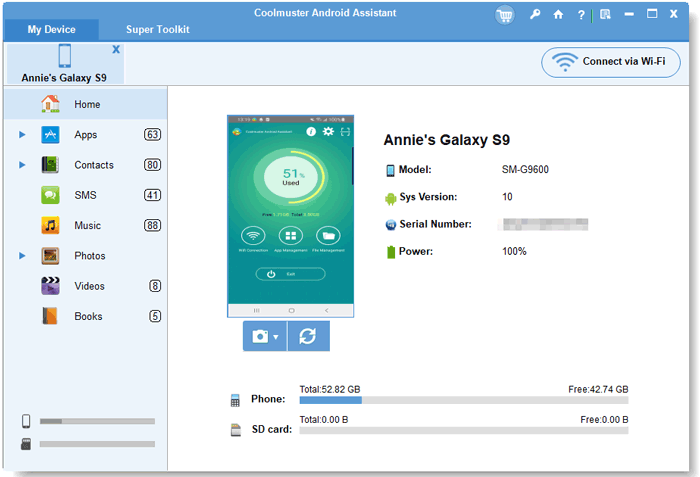 03Click on the "SMS" option. Select the text messages you want to back up, then click "Export" to transfer them to your computer. This action will grant you access to and control over your text messages.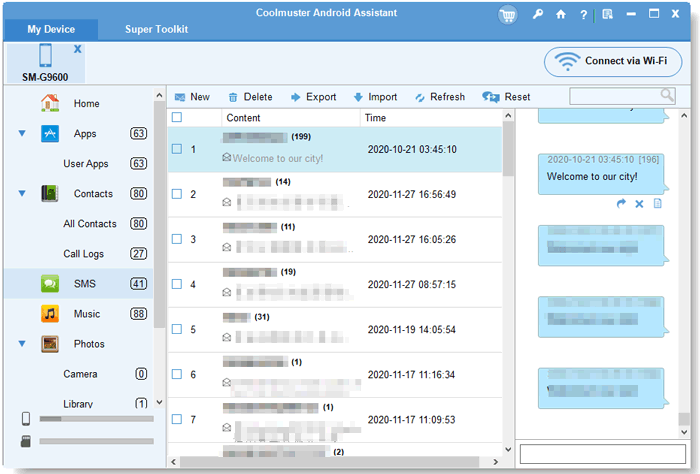 Video Tutorial
Read More:
How to Transfer Text Messages from Android to Computer (Windows/Mac)
How to Send SMS from Computer (Windows & Mac) to Mobile Phone?
Way 2. How to Read Text Message on Computer with Coolmuster Lab.Fone for Android
Another way to check Android phone's text messages on the computer is using Coolmuster Lab.Fone for Android. It is designed for Android users to recover lost and deleted text messages, contacts, photos, videos, music, call logs, and more from Android mobile phones and tablets with just several mouse clicks. However, you can also back up and export both the existing and deleted text messages from an Android device to a computer so that you can use it to read SMS messages of Android on the computer in readable HTML or XML format. It is compatible with almost all Android phones as well.
Key features:
Recover various data types from Android devices like text messages, contacts, call logs, photos, videos, music, documents, and more.
Preview the recoverable data before initiating the recovery process.
Select particular files or categories of data for recovery.
Offer compatibility with a diverse array of Android devices from various manufacturers.
How to view text messages on a computer with an Android phone:
01Download, install, and launch the Coolmuster Lab.Fone for Android on your computer. Click the "Android Recovery" module to access Coolmuster Lab.Fone for Android.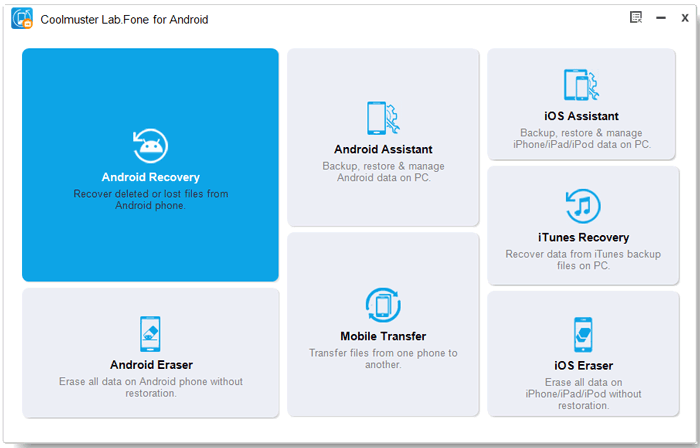 02Connect your Android phone to the computer using a USB cable.
03All detectable file types are displayed on the left. Just click to open the "Messages" category to view all contained text messages and the deleted ones.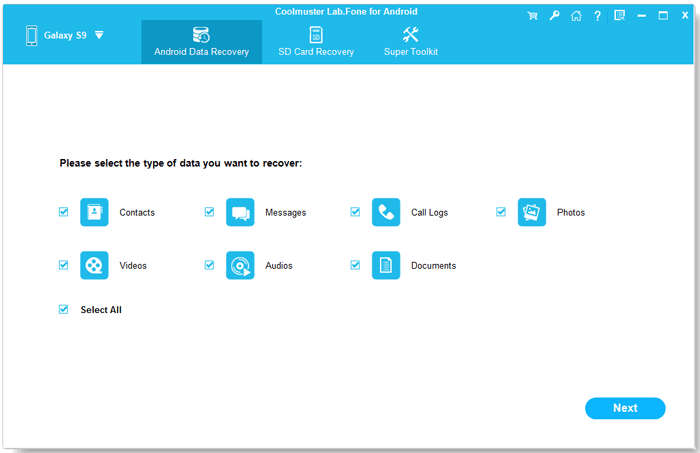 04Preview and select the deleted text messages you want back and click the "Recover" button to save them as an HTML or XML file.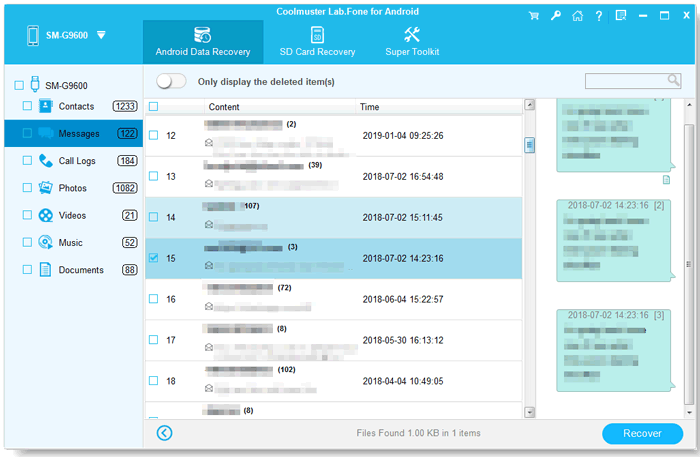 Video Tutorial
May Like:
How to Retrieve Deleted Text Messages on Android (5 Methods Introduced)
Rescuing Lost Words: How to Retrieve Blocked Messages on Android
Way 3. How to Get Your Text Messages on Your Computer Using Android Messages
"How can I access my text messages without my phone?" asked some users. If you want to read messages without your phone, Google's default SMS app for Android phones - Android Messages for Web - might help. Messages for Web can also help you to send messages when you connect your phone to a computer. Even so, you still need to pay for the fees of sending messages as you do on the mobile phone.
It is worth mentioning that the QR code for Messages for Web is unique to your computer and pairs the mobile app with that computer. Even though you can pair your messaging accounts on multiple devices, only one can be activated simultaneously. That is to say, when you open Web-based Messages on your computer, the conversation on any other computer or browser tab becomes inactive.
Now, let's see how to view text messages on a computer from an Android device below.
Step 1. Turn on Wi-Fi on your Android phone, then install the latest version of Messages onto your Android phone and launch it. Your Android phone should be running Android 5.0 or above.
Step 2. Start your computer and launch Messages for Web with a web browser, such as Chrome, Mozilla Firefox, Safari, or Microsoft Edge (Internet Explorer is not supported).
Step 3. After opening the Messages app on your phone, please tap "More" > "Messages for web", then tap the "Scan QR code" button to scan the QR code on the web page.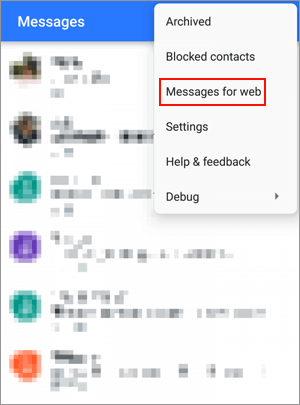 Step 4. On your computer, you might now click the "More" > "Settings" button and turn on "Enable dark theme" or "High contrast mode". The question "Can you see text messages on Google account?" has been answered.
Can't Miss:
2 Ways to Recover Deleted Text Messages from Android SIM Card
Back Up Text Messages from Android to PC or New Phone [Full Guide]
Way 4. How to Access Text Messages on Computer Through Microsoft Your Phone
Microsoft Your Phone is an integrated solution for Windows 10 and later versions, allowing you to connect your Android device to your computer for various functions, including viewing text messages. To see text messages on the computer, you can follow these steps:
Step 1. Open the "Your Phone" app on your Windows PC by typing "Your Phone" into the Windows taskbar and selecting it.
Step 2. In the Your Phone app, choose the "Android" option and click "Continue". Follow the setup instructions within the Microsoft Your Phone app.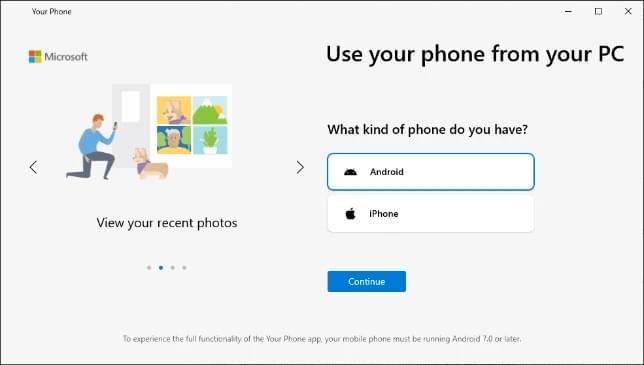 Step 3. When prompted, sign in with your Microsoft account. Make sure it's the same account used on your Android device.
Step 4. On your Android device, launch the Your Phone Companion app and follow the on-screen instructions to sign in.
Step 5. Return to your PC and select "I have the Your Phone Companion app installed on my phone". Then, click on "Pair with QR code".
Step 6. Your Android device will activate a QR code scanner using its camera. Hold your device to your computer's screen and scan the QR code.
Step 7. Complete the setup by following the prompts to grant the necessary permissions. Once the setup is complete, you can view all your Android text messages and photos from your PC.
Note: Ensure that both your PC and Android device are within proximity and connected to the same Wi-Fi network.
See Also:
How to Save Android Text Messages to Micro SD Card?
How to View Text Messages on iCloud from Your iPhone and Computer? (Complete Guide)
Conclusion
Viewing Android text messages on your computer can be a convenient way to stay organized and efficient whether you choose the official Android Messages Web third-party management software like Coolmuster Android Assistant/Coolmuster Lab.Fone for Android or wireless file transfer apps like Microsoft Your Phone, you now have multiple options to seamlessly access and manage your text messages on a computer. Select the approach that best suits your needs and preferences, and enjoy the convenience of staying connected across your devices. Taking all factors into account, we highly recommend Coolmuster Android Assistant.
Related Articles:
[Solved] Where Are Texts Stored on Android Phone
Transfer Text Messages from Samsung Phone to Computer | Top 6 Ways
[Solved] How to Transfer Text Messages from Android to iPhone
4 Best Methods You Can Get iPhone Messages on PC [Updated]
How to Fix Text Messages from One Person Disappeared Android?