How to Create Android Backup to PC? 3 Methods for You
Smartphones have become part and parcel of our lives. Starting from storing photos, music, videos, messages, and other relevant documents, everything seems a walk in the park nowadays thanks to the smartphones. However, since the phone is vulnerable to damages and loss, it is essential to create Android backup to PC for the crucial data. By backing up Android data to a computer, you will ascertain that your data is safe whenever the phone gets formatted or crashes.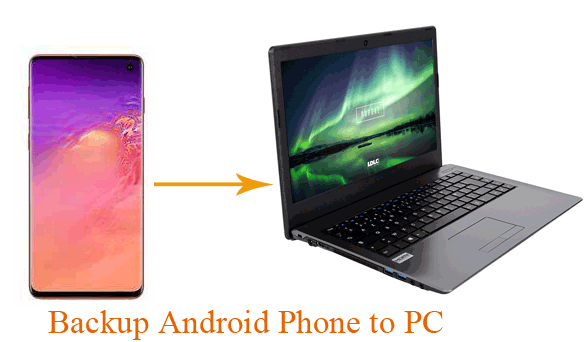 In this article, you will learn how to backup phone to computer. Here are the methods of performing an Android backup to PC.
Part 1: How to Backup Android Phone to PC with 1-Click? - Everything
Part 2: How to Backup Android to PC by Drag & Drop? - Photos/Videos/Music
Part 3: How to Backup Phone to Computer for Android with Google Photos? - Android Pictures
Part 1: How to Backup Android Phone to PC with 1-Click via Coolmuster Android Assistant
The Android backup software for PC - Coolmuster Android Assistant is a unique tool that can be used to backup all data on your Android phone to the PC with a single click. With a friendly interface, it is a very secure yet easy to use way of backing up Android data. Let us check at the key features of the program first.
Key Features:
* The backed up data retains its quality by 100%.
* It uses a single click to back up the entire data in your smartphone.
* You can add new contacts, delete or edit the existing on your PC via this application.
* It can be used to install and uninstall apps on your PC.
* You can use the app to import, export, refresh, as well as delete call logs.
* It exports and imports contacts from and to Outlook.
* It is compatible with almost all Android devices from Android 2.1 to Android 9.0 or up, including the latest Samsung Galaxy S10/S10e/S10+, Huawei Mate 20/Mate 10, Sony, Motorola, ZTE, OPPO, LG, and more.
If you have a Mac, you can use its Mac version of Coolmuster Android Assistant to backup Android phone with ease.
Here is how to backup phone to computer via Coolmuster:
Step 1: Launch Coolmuster Android Assistant
Install and launch the program on your PC. Connect your phone via USB cable or Wi-Fi. Once your phone is successfully connected, you might see the main interface of it.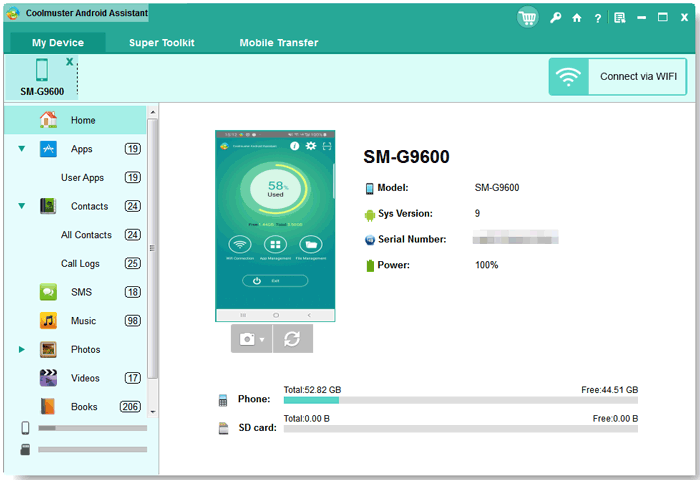 Except for backing up data one by one, this program also offers you functionality (1-Click Backup and Restore) to back up the entire data once. Besides, you can restore the backed up data with a single click. To accomplish this, you need to access the 'Super Toolkit' option and select 'Backup'.
Step 2: Select the Files for Backup
Choose the files you need to back up and select the destination location on your computer to save these backups. Tap on the 'Back Up' button to save the files on the selected location.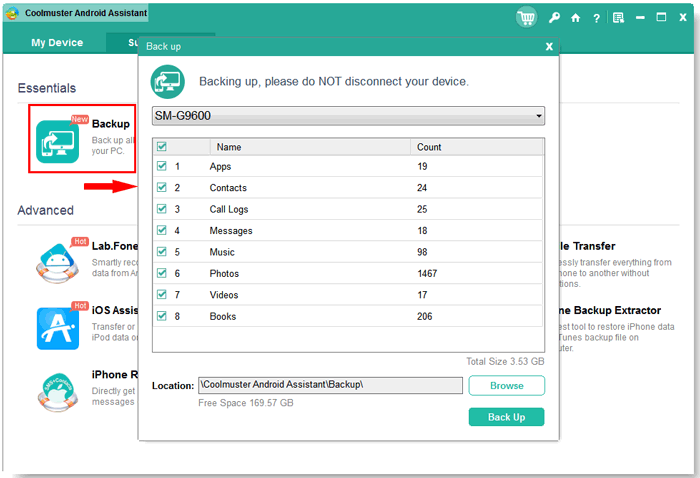 Note: Do not disconnect your phone before the process completes. Depending on the size of your files, the process takes a couple of minutes. Once you have the Android backup, you can restore this backup file to any Android phone next time when you need.
Video Tutorial
You want to choose some of your Android files to backup?
The Coolmuster Android Assistant can also help you out. After having your phone connected to computer, simply go to the file category to choose the files you want to back up, and click 'Export' button. Done! It is that simple.
For example, if you want to export some contacts from Android to PC/Mac, go to 'Contacts' tab > tick off the desired contact(s) > hit 'Export' button to choose the output format. Learn more >>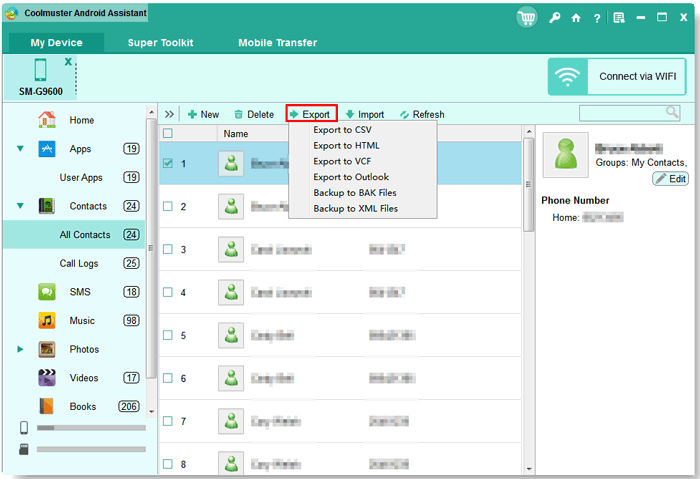 Part 2: How to Backup Android to PC by Drag & Drop? - Photos/Videos/Music
The simplest way to backup Android phone to PC is by manually dragging and dropping files in the PC storage. This is indeed the standard way of copying files to the PC from an Android phone via USB cable.
Well, here is how to backup Android phone to pc via this method:
1st Step: Switch ON your Android smartphone and enable the USB debugging mode. You can enable USB debugging de by going to Settings, then 'Developer Option'.
2nd Step: Connect your phone to the PC via USB cable. Make sure that you enable 'USB for Media' or 'File Transfer'.
3rd Step: A window will open on the PC screen. From here, you can access the internal storage of your phone, as well as the inserted SD storage card if the device has one in place.
4th Step: After you have got full access to the smartphone's internal or external storage, you can drag and drop the needed files to the computer. Disconnect the phone after the completion of the transfer process.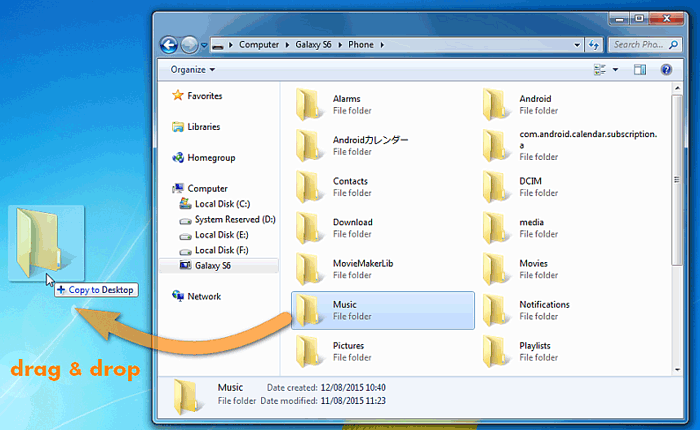 Drag and drop is one of the straightforward ways to transfer data from the smartphone to the PC. However, the process may be easy, but it may not be useful when it comes to backing up other types of data such as messages, call logs, and contacts. The method is primarily used to transfer media files such as photos, videos, and music.
Part 3: How to Backup Phone to Computer for Android with Google Photos
When it comes to backing up your phone pictures, Google Photos is the best application to use. The good thing about this application is that it has an automatic and sync feature that allows it to upload any picture you take straight to your Google photos account.
Here is how to set up this app:
* Launch Google photos on your device or download it from Google Play Store if you don't have it yet.
* On the upper left corner, click the 'Menu' icon and select 'Settings'.
* Tap on 'Back up & Sync' from the Settings menu.
* Ensure that you toggle the next to 'Back up & Sync'.
There is also an option where you can enable photos to sync with Google Photos on a cellular network. Do not enable this option if you have a limited data plan.
Note: You need to install Google Drive on your PC and the log in with your Google Account to ensure that these pictures automatically back up on it.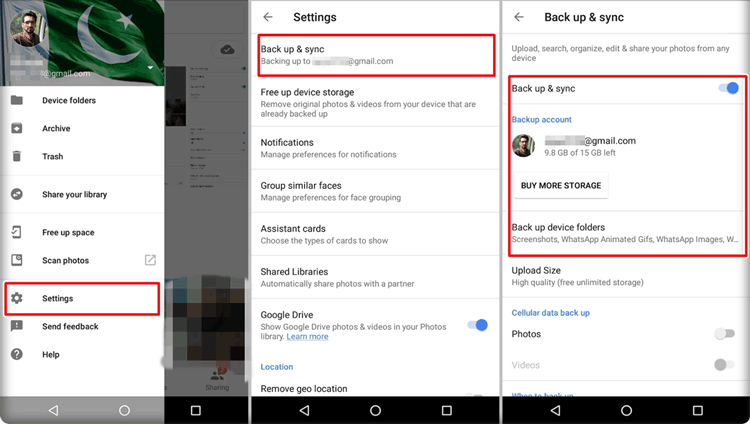 Also, right-click on the Google Drive icon in your PC and then tap the 3-dot menu and tap on the 'Preferences' option. From the 'Google Drive' tab, ensure that you have 'Google Photos' ticked if you aren't syncing everything.
Summary
Now, the above are the methods in which you can backup phone to PC in a couple of minutes. All the ways need a specific level of skill. Thus, you can select the one that best suits you. Nevertheless, Coolmuster Android Assistant is the best app to use thanks to its flawless features. One of the benefits of using Coolmuster is that it is compatible with all Android devices and do not demand phone rooting.
Related Articles:
Best 3 Methods to Backup Samsung Phone to PC
How to Backup Android Phone with Broken Screen?
Top 5 Android Backup and Restore Software
Transfer Text Messages from Phone to Mac/Windows Computer
2 Simple Ways to Backup Android Call Logs to Computer
Xiaomi Backup to PC - How to Backup & Restore Xiaomi to/from PC?