How to Factory Reset Android Devices?
It is no doubt that Android phone has become one of the most popular smartphones all over the world. Affordable price and amazing functionalists make Android welcomed by more and more users. But certainly, there will be some tough problems can occur to your Android smartphone. For example, you have forgotten unlock password, the phone storage space is insufficient, or you just don't know why the device went wrong in some way. These problems can be easily solved by resetting the device to factory settings. Now, follow the steps below for how to do factory reset on your Android smartphone.
How to Give Your Android Device A Factory Reset?
1. Open your Android device's Settings. The place of the Settings app is various from specific device. Just find it and may be also found within the APP Tray or hidden in the menu.
2. Find the Factory Reset option. The factory reset option may be located in two sections - Select the "Privacy" settings and scroll down to choose "Factory Reset", or select the "Backup and Reset" settings and scroll down to choose "Factory Reset".
3. Tap "Reset Device" to restore your device to factory settings. This operation will delete all data on your Android device. And if you want to erase all the data saved on the SD card, you should check the box at the bottom of the phone screen.
4. Confirm the process by choosing "Erase Everything". After this operation, your Android phone will be as if it just came out.
Since factory resetting your Android device will erase everything on your phone, after the action, you may regret that you haven't done backup of your Android phone. Therefore, do remember to transfer Android files to computer for backup. If not, you have to search for methods to recover lost data from factory reset Android. Next, we will show you how to use one of the best Android data recovery program - Coolmuster Lab.Fone for Android (with its Mac version - Lab.Fone for Android Mac) to rescue your Android phone files. It is able to recover contacts, SMS, photos, videos, music, documents and many more files from all available Android phones/tablets, including Micromax, Samsung, HTC, LG, Motorola, Sony, Huawei, ZTE, etc..
Read more similar articles:
How to Recover Deleted Contacts from HTC Phones?
How to Recover Deleted SMS from Samsung Galaxy?
Steps to rescue Android data after factory reset:
1. Click the buttons below to download Lab.Fone for Android and install it on your computer.
2. Launch the program and connect your Android device to the same computer with USB cord.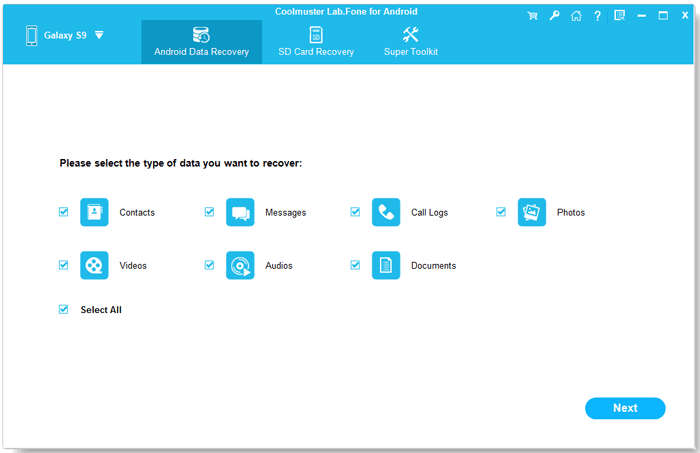 3. Lab.Fone for Android will detect your Android device and show it in its screen.
4. Preview and select the files you'd like to recover.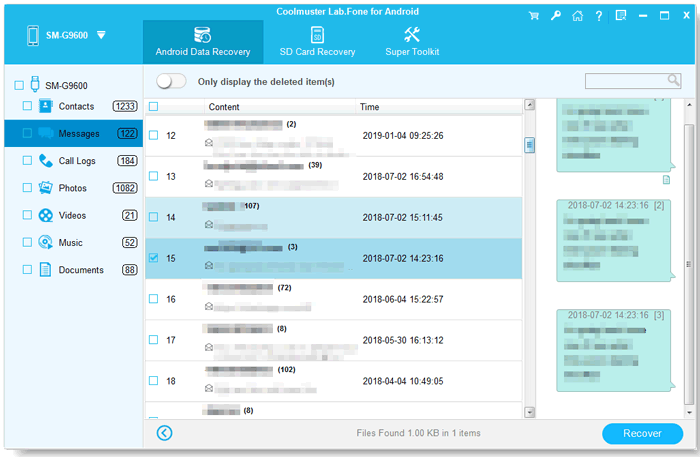 5. Click the button of "Recover" to save all the selected files to your computer.