After you get the root access, you will be surprised to discover just how little you could do with your device before rooting it and just how much you can do now. That satisfaction is worth all the hassle! In fact, rooting is not a hassle if done properly.
Part 1: Why Need to Root Android 7.0 Nougat
Part 2: Root Android 7.0/7.1 Nougat with Kingo Root
Part 3: How to Root Android Nougat with SuperSU
Part 1. Why Need to Root Android 7.0 Nougat
- It can help you customise your Android devices easily so that you can explore its full potential.
- You get to experiment with new apps that you wouldn't find on an unrooted device.
- You can tinker around like changing the clock on your phone to something entirely different or playing games easily - including the paid ones for free!
In fact, being able to play paid games for free is why many go in for rooting their Android devices. While it is not legal, it sure is one of the things they look up to whenever trying to root their device. Android devices may run different OSes. Last time we talked about how to root Android 6.0 Marshmallow. and how to root Android 5.0 Lollipop. In this article, we will tell you how to root Android 7.0 Nougat devices. We provides two different methods for your selection.
Part 2: Root Android 7.0/7.1 Nougat with Kingo Root
KingoRoot is a professional rooting tool that helps lots of Android users successfully rooted their Android devices. It offers both PC and app version that you can choose the one you preferred. Here, we are going to take the app version as an example, showing you how to root your Android 7.0/7.1 Nougat device easily.
Step 1. Visit Kingo Root official site on your Android device and directly free download Kingo Root apk file on your Android device. When the downloading process is finished, you can find it in the "Download" file. ( Please ensure your Android device is under the WiFi network)
Step 2. Install the apk file on your device. Here, you may meet some issues during the installation, just follow the instructions on your device to set it.
- If Chrome has warned you about this APK, just click "OK" to proceed, and we can guarantee this tool is 100% safe.
- If your device is only accept app installation from its native app store, you need to click on Settings > Security > Unknown sources > Check the box and allow to solve it.
- Ensure you have known all risks of rooting, and then you need to choose to root or not to root when you get a message of harmful app on your device.
Step 3. Now, your Android device will be detected by this app and you can see a new program window like the picture below. You can click the "One Click Root" button to begin the rooting process.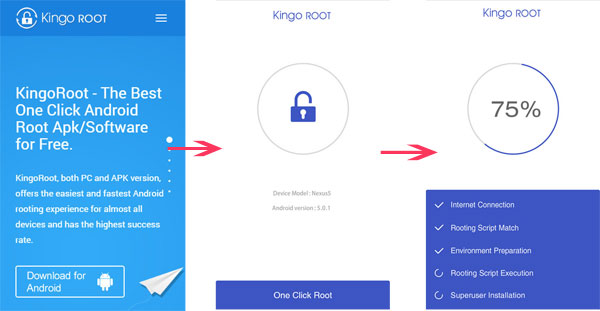 Step 4. When the rooting process is end, please restart your Android phone and now you can find that you can uninstall any default apps as you like.
Part 3: How to Root Android Nougat with SuperSU
Before using SuperSU to root your Android 7.0 Nougat device, you should do some preparations first:
- Backup your Android on computer or other places for safety consideration.
- Download and install the proper drivers of your Android device on computer to make sure the device can be recognized by the PC.
- Enable USB debugging on your Android device. If you don't know how to do that, you can click here.
- Ensure your the power of your Android device more than 70% of charge.
Below is the step-by-step guide about how to root Android 7.0 Nougat with SuperSU:
Step 1: Download SuperSU v2.766 on your PC and make sure you have a custom recovery tool like CWM or TWRP on the computer.
Step 2: Boot your phone into recovery mode and go to the TWRP menu, tap on install.
Step 3: Install the SuperSU file on your computer and ensure the installation process is completed well. Then, you can return to TWRP main menu.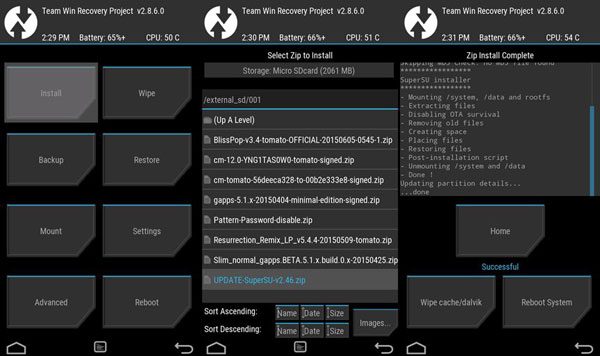 Step 4: Reboot the whole system by tapping on the restart option on the screen, then your Android 7.0 Nougat device will be rebooted.
Related Articles:
10 Best Android Rooting Software to Root Android with/without Computer
How to Root Samsung Galaxy S4 GT-I9500?