Rooting is the way by which an use subsumes the position of a super user by gaining control of the Android subsystem on the Linux. More and more people choose to root their Android devices in order to get better control of the gadgets. However, rooting Android devices is not completely safe. Here are some risks we can encounter while rooting:
> Malware may be introduced in your device during the process of rooting and put all kinds of data on your device at risk.
> After you root your smartphone, your phone's warranty is nullified and no damage costs are covered by the company.
> If you are not skilled at rooting, you can mess with the phone's coding, turning it into a useless device.
Therefore, choosing a reliable and professional Android rooting tool is pretty important. If you choose to root your device, there are many third party applications which can enable you to do so. These apps can be installed to get a direct access to your device's system files and hidden data. Root Explorer is one of the most popular apps used for rooting devices. Below are the features offered and provided by this apps:
What's Root Explorer?
Root Explorer is an app which when installed gains and gives the user the access to the system folders of their Android device. It is a third party application which helps in rooting the phone. Root Explorer offers features like:
> Management of data files you cannot access with default android file manager
> Supports cloud services like DropBox and Google Drive
> Edit system files
> Allows multiple-tab browsing
> Has SQLite Database Viewer which helps in editing data files
> You can share files using Bluetooth and email
> Has APK binary XML viewer
> Zip files can be created and extracted
> Has Text Editor

It's got all you need and more. You would love the user interface and the fact that you can integrate other services to its easily. Add to it the fact that the easy tutorial means that you don't have to wait long for the rooting process to begin. The following contents will show you how to root Android devices by using Root Explorer:
How to Use Root Explorer to Root Android Phones?
First off, here are some things you need to do beforehand:
Backup your Android Device: Backup your Android device on computer in case of losing data during or after the rooting process.
A Charged Battery: The battery of your Android device is better no less than 80%.
Next, let's begin to see how to use Root Explorer:
Step 1 - Visit Google Play and search "Root Explorer" in the searching bar. Find the app that you need and click on "Install" button to get this app installed on your Android device.
Step 2- Grant root privileges once you are prompted by the Superuser application that was installed on your Android smartphone or tablet. Launch Root Explorer and you will get a detailed folder list. You can turn to the Android app by choosing the "Back" icon to go to the main directory and tapping the "..." folder to go to the next directory.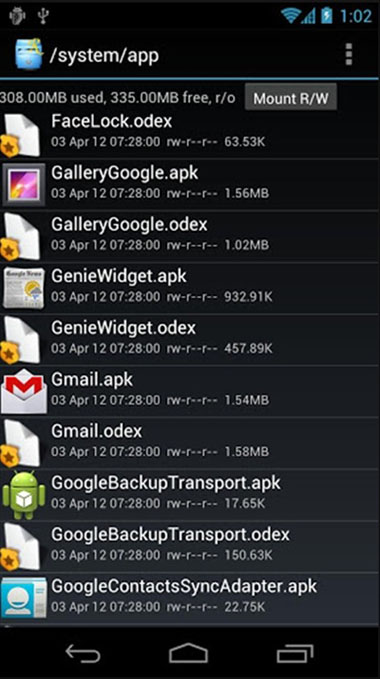 Step 3- Touch and hold any system folder and you'll get a contact menu asking you whether you want to rename, edit, delete, move, copy, send, view properties or adjust file permissions of that specific file or folder.
Related Articles:
How to Root Samsung Galaxy S4 GT-I9500?