Just the other day my baby cousin was fiddling with his mother's phone trying to find ways to root it so that it could support the 'Pokemon Go' game available only for the latest versions of the Android Operating System and needless to say that he received an earful for trying something risky.
So what is this rooting process?
Rooting is basically a process which allows the owners of Android OS supported devices such as smartphones, tablets, and others to obtain privileged root access over the Android OS enabling them to modify the software code provided by the manufacturer, the way they want it to be. But modifications to the basic code could result in serious software damage which could be beyond being repairable. It could cause bricking of the devices rendering it completely useless and unfunctional. Rooting also leaves your device susceptible to all kinds' malware attacks.
As stated before, rooting your android device is a risky affair. Therefore, we have two kind suggestions for you:
Suggestion one: Backup your Android phones to computer by using Android Assistant;
Suggestion two: Pick out a reliable and secure Android rooting app, such as the Super Root Android Application.
Super Root Android is from the Super Root Studio, which provides you with free, safe, fast and efficient solution to root your Android devices. This user friendly software supports rooting on almost all Android based carriers such as Samsung, Motorola, Nexus, LG, HTC, Sony etc and supports all the Android versions from Cupcake to Lollipop. The rooting software saves us from the risk of bricking and damaging our devices by providing us with one click rooting solution. Now, we would like to show you how to apply this powerful and safe rooting software - Super Root Android, to root your Android devices.
How to Use Super Root App to Root Android Phones?
Step 1. Launch Super Root on computer
Download and install SuperRoot on your computer. Double click on the app icon from your desktop to launch it. By the way, you need to follow the operation as how to enable USB debugging on Android to enable USB debugging on your Android phone so as to let the computer recognize your Android devices.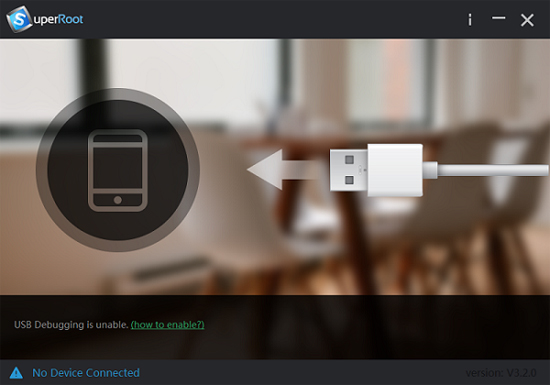 Step 2. Connect your Android phone to computer
Using the USB cable to connect your Android smartphone to the computer. Then, SuperRoot app will detect the connected Android phone and show its information on the main window. From the main interface, select the "Root" option.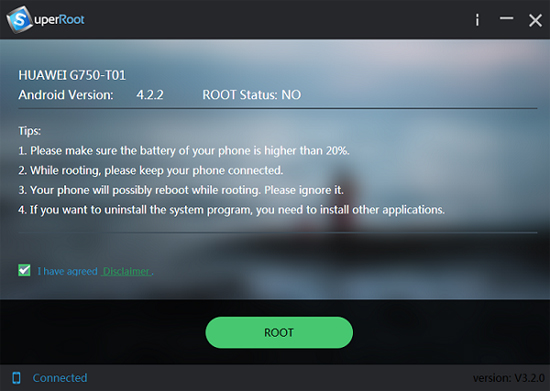 By the way, if you have rooted your Android device before, the program interface will be different and you need to choose the option of "Root Again".
Step 3. Wait the end of rooting process
Wait patiently for the rooting process to take place. After the rooting process has been completed, your phone will automatically get rebooted and you will be notified of the success of the process.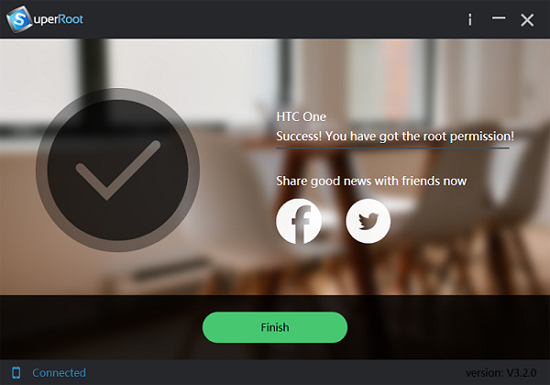 Note: Make sure the battery on your Android phone is more than 20%, in order to let the rebooting go smoothly.
Related Articles: