Up-to-Date Way to Root Your Android Devices
Before you read...
1. Know too little about Android root? Here's the overview of Android root >>
2. Want to learn tips about Android root? Please check the guide center of Android root >>
What is Android Rooting?
Just like jailbreaking an iPhone, Android rooting is the process of enabling your Android based smartphones, tablets and other devices to accept the "root access" within Android's subsystem. A rooted Android device can bypass the limitations that carriers and hardware manufacturers put on some devices so that you can make your phone run faster, install unapproved (by Google) apps, update the Android OS, tether it to your computer, replace the firmware, overclock (or underclock) the processor, tweak hidden settings to your liking and so on. Rooting generally asks for more advanced and potentially dangerous operations, such as modifying or deleting system files, removing pre-installed applications, and low-level access to the hardware itself.
We often used to compare Android root access to jailbreaking devices running the Apple iOS operating system. Many people think they are similar but actually they are two different concepts: Jailbreaking is for end users to bypass several types of Apple prohibitions, including changing the operating system, installing some unofficial approved applications, and provide privilege to allow users to improve the management level. However, for android root, only a few android devices lock the bootloader, many suppliers such as HTC, Sony, Asus, and Google explicitly provide the ability to unlock their devices, and even completely replace the operating system. Similarly, the ability to sideload applications is typically permissible on Android devices without root permissions. Therefore, it is mainly the third aspect of iOS jailbreak which most directly correlates to Android rooting.
Why Need to Root Android Device?
1. Unhide latent features and allows to install more incompatible applications.
2. Get the full benefit to automates just about anything on your Android phone.
3. Improve the running speed of your phone and boost its battery life.
4. Enables you to block ads in certain applications or on specific devices.
5. Backup system data and their data.
6. Facilitate the complete removal and replacement of the device's OS.
How to Root Your Android Smartphone or Tablet?
Before you perform the Android devices rooting, you should get the following preparation works done:
- Back up your Android data before you start the rooting.
- Fully charge your Android device to prevent a rooting disruption.
- Find a reliable root tool such as Root Genius (https://www.rootgenius.com/).
Root Genius is an excellent root tool that has successfully rooted more than 10,000 Android phones. Follow the guide in the blow to see how to root Android device with Root Genius.
Step 1. Copy the link (https://www.rootgenius.com/) to download the Root Genius on your computer and launch it.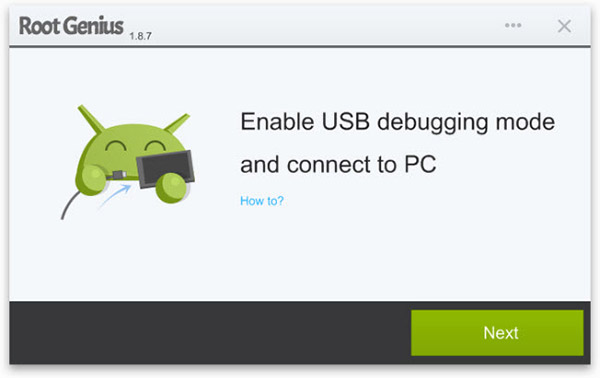 Step 2. Use a USB cable to connect your Android phone to the computer. Once connected, the program will recognize your Android device automatically.
Step 3. Tick off the check box in front of "I accept User agreement" and then click the big "Root it" button on the lower right corner.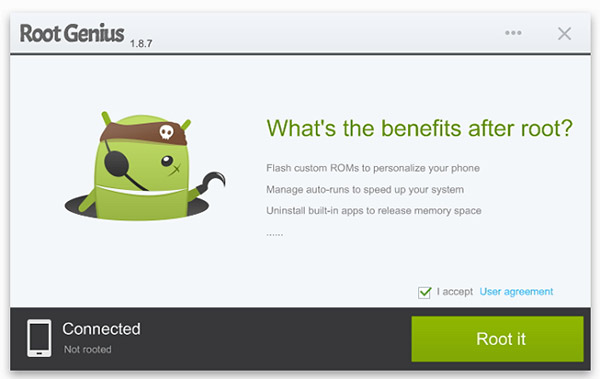 After all the operations above, the rooting process will begin at once.
Ok, you have successfully overcome limitations that carriers and hardware manufactures put on your devices. Now you are free to install and use Coolmuster Android SMS + Contacts Recovery, Coolmuster Lab.Fone for Android or any other applications that require root access.
Tips: Here are other 4 root tools for you choice
OneClickRoot (https://www.oneclickroot.com/) - A simple and secure Android rooting software to help thousands of different Android users to root their Android devices with one-click. It comes with full technical support so that you will never feel confused or get stuck. After rooting your Android phone or tablet by using the OneClikRoot, you can install any apps, custom ROMs, access block features, extend battery life and improve performance for your Android device.
Steps: Connect your Android device to computer -> OneClickRoot recognizes your Android device -> Click "Root Now" to start the rooting process.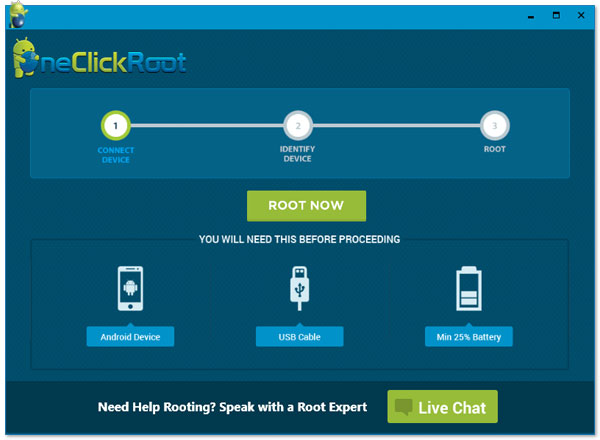 iRoot (https://www.iroot.com/) - It is an easy-to-use and free Android root tool to help you get your Android device rooted with one click. What you need to do is just enabling the USB debugging mode on your Android phone and connect it to the computer. Simply click on the "Root" button and then iRoot will do everything for you. (Click here to learn how to root Samsung Galaxy Tab with iRoot Easily.)
SuperRoot - Super Root Android is a fast, easy and secure Android rooting program that supports thousands of Android phones. It has earned the trust of millions users due to its high success rate.
Kingo Root - This is a free yet powerful Android root applications on the market. It provide users with PC version and mobile version, you can select one of them according to your own needs. (Click here to see how to root Samsung Galaxy S5 with Kingo Root)
Related Articles:
Copy and Save Android Phone Contacts to Excel Format (CSV or XLS)