Paperbooks have been popular for a long period of time and there was a time that this was the only format available to readers. Over the years, technology has developed rapidly and today authors and readers are able to have access to digital books or eBooks. Then, why are eBooks very popular?
* Allow the reader to read on the go
With the availability of smart devices like smartphones and tablets, users are able to read eBooks while on the go. Smartphones and tablets are portable therefore users can carry them virtually every where be it on a bus, on a train or at the park.
* Eliminate geographical boundaries
As an author, paper books were difficult to sell to a worldwide audience and it costs more to distribute globally. Thanks to digital books, authors are able to reach a wide array of international users.
Below are 5 Popular Android eBook Readers You Can't Miss
Top 1 - Aldiko Book Reader
This is one of the most popular Android eBook reader and since its hosting at the Google play store, it has amassed many followers worldwide. The eBook reader supports different formats including Adobe DRM encrypted books. The app has a simple to use interface and offers the user several customization options that enable the reader to view all eBooks in the device.
Top 2 - FBReader
The FBreader is designed to offer the user with a simple interface that allows the user to browse through their library and be able to read various books stored in different formats. It has several options such as bookmarks, the ability to switch from day to night reading and the ability of organizing eBooks into a library.
Top 3 - Kobo
This is an all in one eReader app that was developed to compete with the likes of Amazon's Kindle and Barnes & Noble Nook. The eReader app comes integrated with Kobo services which offers users a unique and exciting way to read and interact with the eBook.
Top 4 - Kindle
Started as an eReader device before it evolved into an app that is found on Google Play store. The Kindle is a worldwide leader in eBook sales and its one of the best places to check out new writers and even old favorite writers too.
Top 5 - Nook
Direct competitor of the Kindle, it offers users the ability of purchasing and downloading eBooks. It has several options that allow users to tweak the text size, font and night mode.
MOBI is one of the most popular eBook format and many Android users are wondering how to play books that are in MOBI format on Android tablet such as Samsung Galaxy Tab, Lenovo YOGA and so on. Well, in order to read .mobi eBooks on Android, you need to download and install the right app that has the capability of reading the format. If you don't know how to choose a capable Android MOBI reader app, we also have another tips that enables you to read MOBI on Android.
Tips on How to Read MOBI eBooks on Android Device
Coolmuster ePub Converter is a Windows and Mac Os compatible application that allows the user to convert an eBook to ePub format that is suitable for reading on Android device. The application allows the user to create ePub books from different file formats namely PDF, MS Word, txt, html and mobi. The application helps to retain the original format of the original document such as graphics, columns, tables and hyperlinks among others. It is designed to be highly efficient as it allows the user to perform different tasks with ease.
Free download the trial version of Coolmuster ePub Converter and read the guide in the below to see how to convert MOBI eBooks to ePub format for viewing smoothly on Android phone or tablet.
Step 1. Start the application and import your MOBI files
After finalizing installation, run the program and you will have a view of an interface showing different conversion options. Choose the option MOBI to ePub, click on add file or folder or you can utilize the drag and drop feature.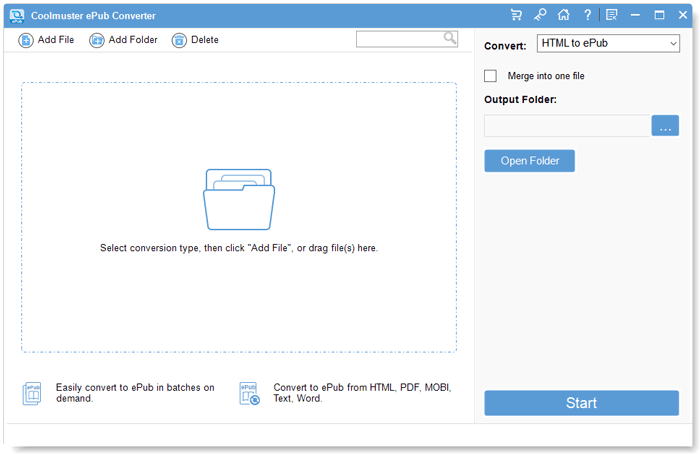 Step 2. Start the conversion process
After you have imported all the desired files, click on customize to pick the output folder. To start the conversion process, click on the Start button. The process will take a few seconds and you can export the finished files to your desired device.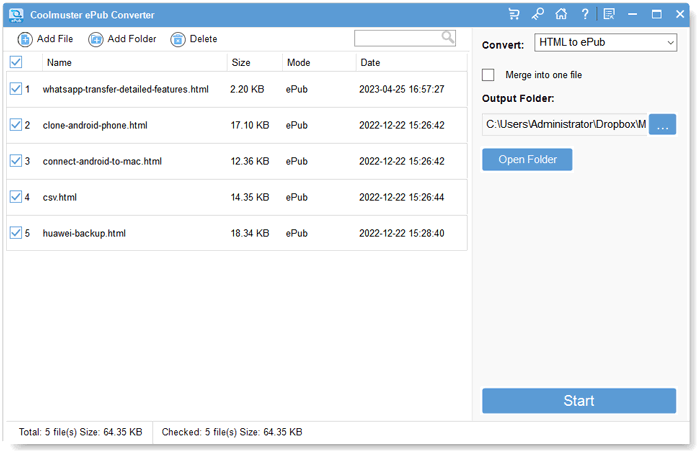 Once the conversion finishes, you can connect your Android device to the computer via USB cable and then drag-n-drop the converted ePub files to the connected Android directly.
Related Articles:
How to Create ePub Files on Mac
iCloud vs. iTunes Backup: What's the Difference?
Top-Rated Ways in Transferring Files from Android to Mac