How to Connect Android Phone/Tablet to A Mac?
Just switch from your old iOS device like iPhone, iPad or iPod to a new Android device, such as Samsung Galaxy S6, but have many favorite videos and music files stored in your Mac computer that you don't want to leave them behind? Therefore, you start to try every means to transfer these media files from your Mac computer to your Android phone. Normally, when you want to connect your Android device to the computer, you get to do so using a USB cable. However, all your enthusiasm has come to a screeching halt when you try such kind of transfer because your Mac can't detect or recognize your Android phone or tablet at all. There are times you will find that the connection will not be smooth.
One way of resolving such an issue is to enable USB debugging in the Android device. What if the problem continues to persist? Third party software will inform you if the connection is still not made and you can try to change ports in order to get the desired results. The connection between your Android device and Mac can be effortlessly enabled by using Coolmuster Android Assistant or Coolmuster Android Assistant for Mac. It is the best and easy-to-use software for you to connect your Android phone or tablet to a Mac desktop or laptop, and transfer files, not only media files like photos, videos, music, apps, but also text files like books, contacts and text messages from Android to Mac, and vice versa.
Coolmuster Android Assistant features with a brief interface that you can easily handle it even at your first try. It supports more than 1,000 Android devices, including Samsung, HTC, Sony, Motorola, LG, Huawei, Google and more. Just free download the trial version of the Android Assistant and read the following guide to see how to sync Android with Mac so that you can backup Android data to Mac and import files from Mac to Android. If you are using a Windows PC, you can turn to another post: How to sync Android phone to PC.
Complete Guide to Connect & Sync Your Android Phone to Mac OS X
Step 1. Enable USB debugging on your Android
After you download and install the Coolmuster Android Assistant for Mac on your Mac computer, launch it and use a USB cable to connect your Android phone/tablet to the same Mac. After that, Android Assistant for Mac will find your Android device and ask you to enable USB debugging on the device to continue.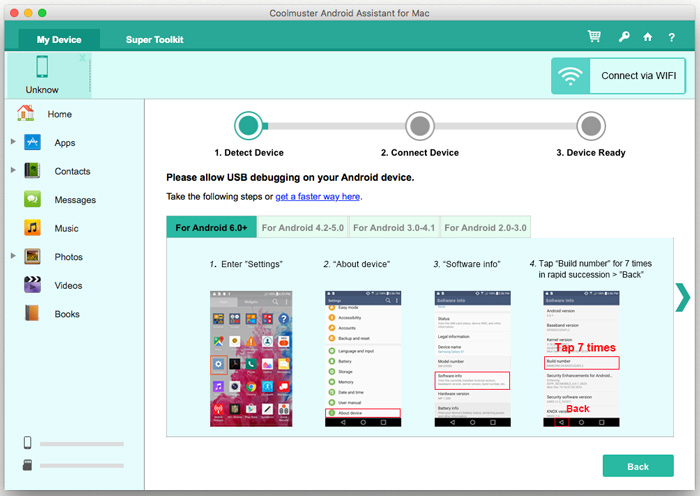 Follow the below instruction to enable USB debugging in your Android device. If you did it before, you can skip to next step.
1) For Android 2.3 or earlier: Enter "Settings" < Click "Applications" < Click "Development" < Check "USB debugging".
2) For Android 3.0 to 4.1: Enter "Settings" < Click "Developer options" < Check "USB debugging".
3) For Android 4.2 or newer: Enter "Settings" < Click "About Phone" < Tap "Build number" for several times until getting a note "You are under developer mode" < Back to "Settings" < Click "Developer options" < Check "USB debugging".
After you finish the USB debugging, you can go to your device screen to tap the "Allow" option. Then, the parameter information of your device, including phone model, system version and storage space size will be shown in the main interface.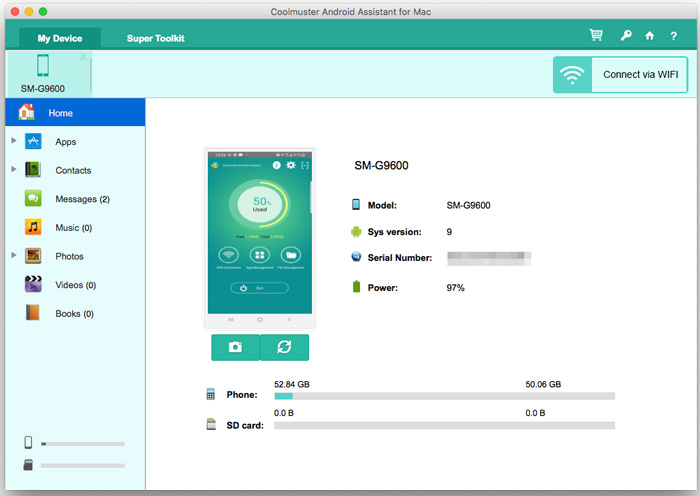 Step 2: Scan your Android device
After the USB debugging, the Mac tool will detect your Android device successfully and scan out all data on your Android. All the files will be displayed in categories, including Video, Music, Book, Contact, App, etc. You are allowed to open each tab to preview your Android data one by one in details.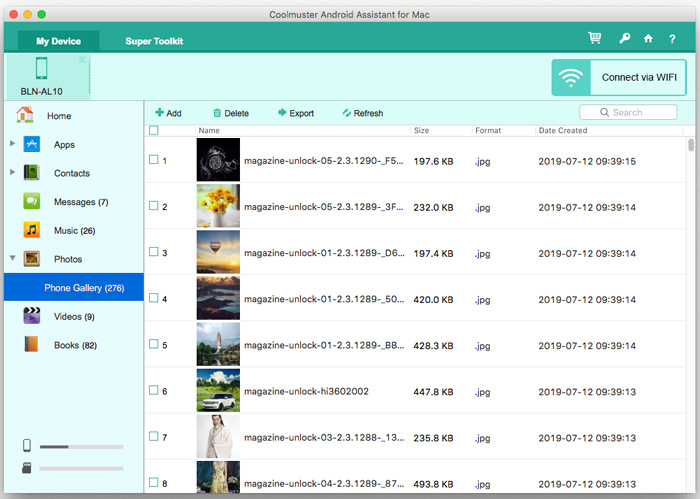 Step 3: Transfer data between Android and Mac
Now, you are allowed to copy files between your Android phone and Mac freely. For example, if you want to transfer photos from Android to computer, you can click "Photos" > "Phone Gallery" on the left side column, choose the image files you need from the right window and click "Export" from the top line to transfer them to your computer. And if you want to copy from computer, you can click "Add" button instead.
Related Articles:
How to Back up Samsung Galaxy S6