Part 1: What is A Task in Android
With the more space and processing in an Android device, you can download and install more and more apps to make full use of the Android storage. However, even though your Android phone is equipped with the top-ranged configuration, it still needs optimization as well as task management for maximum ease of use and efficiency. Then, what is a task in Android? Typically it is just a process either started with the phone automatically or by an app you use in the phone. Tasks are generally running in the background silently so few people notice them. But when there are many tasks running at the same time, they would disturb the normal functioning of the phone.
That's why we need a task manager app to help killing the Android tasks run in the background so as to speed up our Android devices. Below are the five best Android task manager apps for your choice.
Part 2: Top 5 Android Task Manager Apps
1. Advanced Task Killer
It's one of the best task managers for Android out there and is very popular from Android stores.
Pros:
a. It is free, easy, efficient and powerful.
b. Kill Android tasks selectively.
c. Be able to clean Android memory.
d. Both Apps and games can be killed.
Cons:
a. Small errors can be happened on some phones.
You can download Advanced Task Killer from Google Play Store >>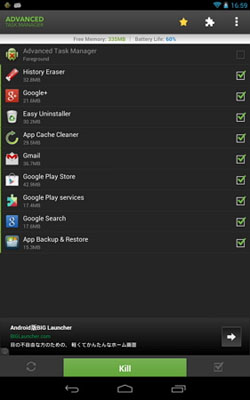 2. ES Task Manager
You may be more familiar with ES File Explorer, but rarely know it also has a pretty decent task manager app as well.
Pros:
a. Text viewers and editors are provided.
b. Enables you to compress and decompress ZIP files.
c. Provides a file manager.
Cons:
a. The premium version contains more features than the free version.
You can download ES Task Manager from Google Play Store >>
3. Task Manager Pro
It is a relatively new app to others in the list, but its powerful functions are not inferior to other.
Pros:
a. Features with the automated task killing ability.
b. Battery doctoring.
c. Tells the details of hardware and software.
d. Scan Android SD card wholly.
Cons:
a. Not compatible with some phones.
b. Many bugs need to be fixed.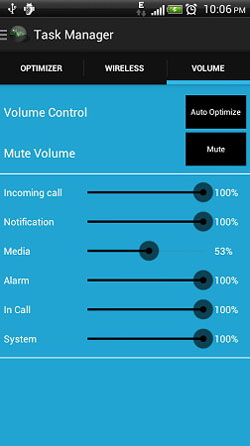 4. Go Cleaner and Task Manager
It is so popular amongst Android users and gains 40 million downloads in app downloading sites.
Pros:
a. 1-click to kill the Android tasks.
b. Delete various data types like app data, call logs, history and so on.
c. Clear cache and APK rubbish.
Cons:
a. Small bugs can be found in some phones.
b. Take up a certain memory.
You can download Go Cleaner and Task Manager from Google Play Store >>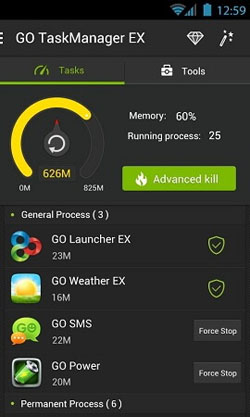 5. Watch Dog Task Manager
Monitor all the apps throughout your Android device and just kill the exact app you want instead of ending all apps.
Pros:
a. Only kill the app that eats the CPU cycles accurately.
b. Save battery power.
Cons:
a. Few functions available in the free version.
b. A bug causes the crashes of the app.
You can download Watch Dog Task Manager from Google Play Store >>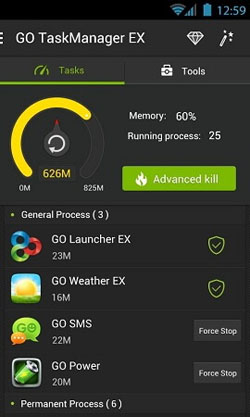 Note: If you want to install, uninstall and manage these Android task manager apps on your Android phone or tablet, you can depend on the Coolmuster Android Assistant, which is an all-in-one Android app managing program for Windows and Mac.
Related Articles:
Top 5 Android eBook Readers You Should Know
Transfer Contacts from Android Phone to Computer
How to Unlock a Samsung Galaxy S2 Effortlessly
Focusing on How to Transfer Contacts from Android to Computer