Question one: Why need to keep a backup of your Galaxy Nexus?
The single best decision that any smart device user will make is backing up all data and information from their device. Smart devices hold important information such as contacts, photos, videos, messages, music and apps. To ensure that this information is available even in future, you need to back up. Creating a backup of your device will enable you take an extra copy of your device data in your computer. The back up file can also be stored on the cloud therefore ensuring that in case your computer fails, you can restore your smart device from anywhere else.
Question two: Why we need an additional tool to backup Galaxy Nexus?
Google Nexus 7 runs on Android OS while most computers run on either Windows, Mac OS or one of the many Linux distribution. Today, you will find users who still run Windows XP even though Microsoft has ceased to support it. Having a legacy OS running in your computer can be a hindrance especially when you want to back up data from your Android device to your computer. Other proprietary operating systems like Mac OS have their own software namely iTunes which allow iPhone and iPad users to connect to the computers. If you have a Mac computer and you want to back up your data from your Google Nexus 7 device, you will need a third party application.
If you are looking for an application that is secure, look no further than the Coolmuster Android Assistant. This is a handy Android backup application developed to help users transfer and even manage files on the Android deice. It allows for secure transfer of files between the computer and the Android device. It has a vital 1-Click Backup tool which allows a user to transfer files from their Android device to the computer for backup or further use. With it, you can transfer different data types such as videos, music, photos, contacts, messages, apps and other documents. And it supports not only Galaxy Nexus, but also other Samsung devices like Samsung Galaxy S23/S22/S21/S20, as well as HTC, Motorola, LG, Sony and other Android devices.
The following is a step by step guide to backup Galaxy Nexus to the computer using the Coolmuster Android Assistant. We will set Windows as example. Here is another guide showing you how to back up Android to Mac.
Galaxy Nexus Backup - Export Galaxy Nexus Data to Computer
Step One: Install, launch and connect your device
Start by downloading the Android Assistant from the download button above, install and finally launch it. Connect your Galaxy Nexus to your computer and ensure USB debugging is enabled on your device for a smooth connection.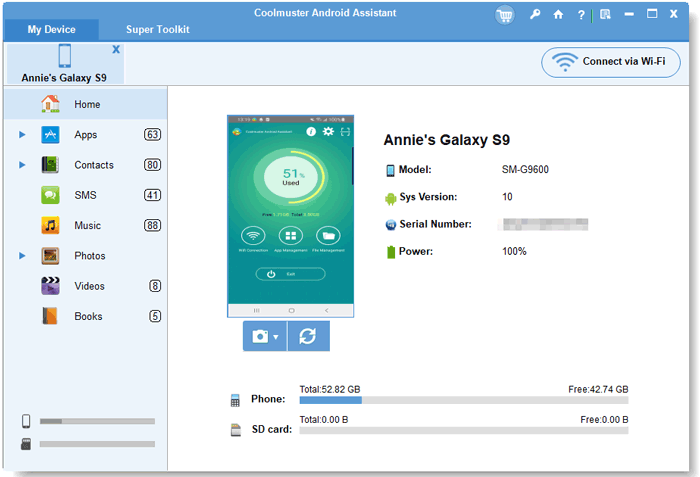 Step Two: Browse your Galaxy Nexus
Once connected, the application will recognize and display your device data in categories, including contacts, SMS, photos, videos, music, apps, etc. You can click to preview each category before backing up to the computer.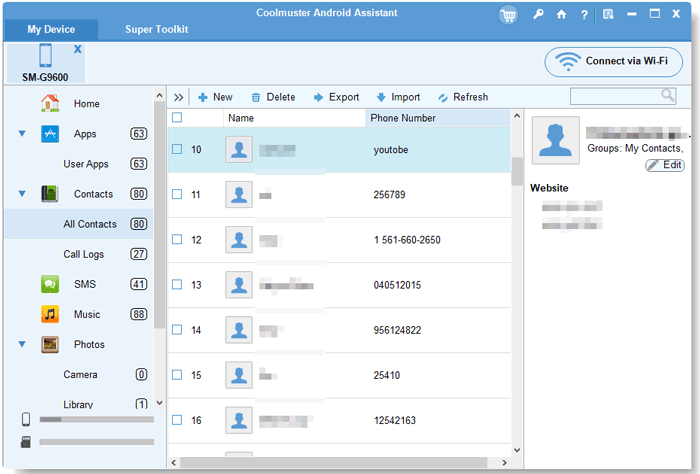 Step Three: Back up Galaxy Nexus to the computer
Preview and select all data and information you want to back up, then, select an output folder on your computer and finally click on the "Export" button to back up them.
Related Articles:
Copy SMS from Motorola Phone to Computer
Transfer Contacts from Android Phone to Computer