A problem is faced by all Android users today
Backing up you Android's data is becoming more and more important as the Cloud is becoming more important and more of our work and time spent there is via our smartphone and not through the use of a laptop or PC as was common only a couple of years ago. Now with the new capabilities that this generation of Smartphones are able to use, backup is no longer a luxury it has now become a necessity as the data now on your cell phone can be anything from a phone # of an important client to a contract that your are taking back to the office. Your Android handheld is now the lifeblood of your job and does things that were unheard of only a couple of years in the past.
Carbon a good backup solution for android devices, but…
Carbon is now called Helium in case you are interested. This usually bodes ill for any app you've gotten used to using. After downloading and running the install, the install screen still says Carbon. This is disquieting, as one would expect a cosmetic change of name at least. However, barring that the install goes straightforward. Except you discover many of the options you'd like turned on like Google drive or Dropbox are only available on the premium version which means you can only backup via USB. It also wants you to be rooted, which is another thing they forgot to mention.
What can Coolmuster Android Assistant will do for you?
However today you have an alternative tool to carbon, Coolmuster Android Assistant, which is even more useful and simpler to use. This is app and PC/Laptop combination was more to my liking as the package works out of the box and the website is chock full of info on how to get the most from the App. It also provides info on many tricks and the ins and outs of android and ways to save data and the kinds of data you need to save. Not only it can transfer everything like photos, videos, music, apps, contacts and SMS between Android and computer, but also manage, edit, delete files on computer directly. It initially shows you exactly what is on your Smartphone and then you decide what to select. If you like, it will take it all with a single selection.
Now, you just need to free download the Carbon backup alternative tool and follow the steps below to have a try!
How to Use Android Assistant As A Carbon Backup Alternative?
Step 1: Connect Android device to a computer
Install the package of the Carbon backup alternative tool and launch it by double-click on the program shortcut icon. After that, connect your Android device to the USB port on the computer and you may be asked to enable USB debugging on the Android phone in order to let the program detect your Android device.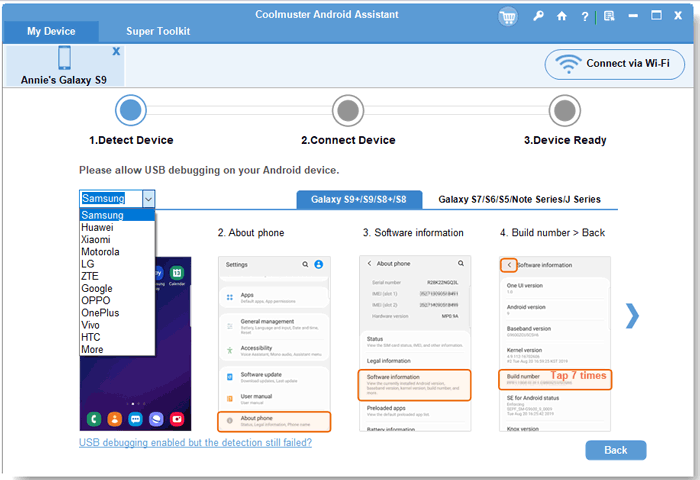 Follow the below instruction to enable USB debugging:
1) For Android 2.3 or earlier: Enter "Settings" < Click "Applications" < Click "Development" < Check "USB debugging".
2) For Android 3.0 to 4.1: Enter "Settings" < Click "Developer options" < Check "USB debugging".
3) For Android 4.2 or newer: Enter "Settings" < Click "About Phone" < Tap "Build number" for several times until getting a note "You are under developer mode" < Back to "Settings" < Click "Developer options" < Check "USB debugging".
When the USB debugging is enabled, click "Allow" on your phone to allow the program super user authorization when an Superuser Request pops up.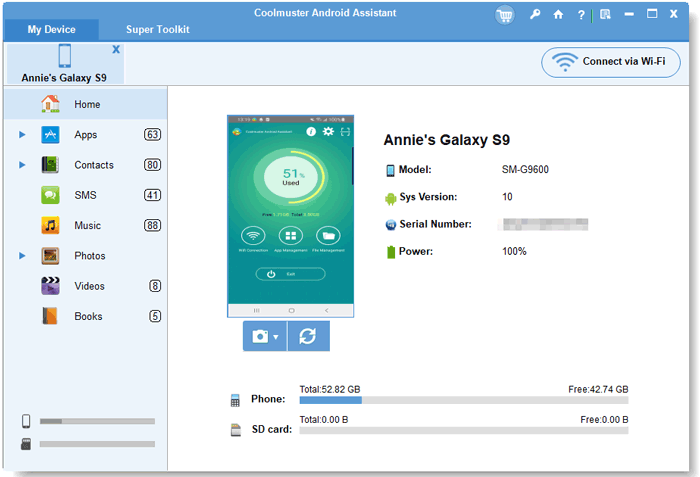 Step 2: Select the files which need to be backed up
On the top menu, you can check the files which you intend to backup. For example, to backup contacts, you should open "Contacts" tab, preview and select the contacts you wish to save. (Or select them all). This makes sure you get only the ones you want and weed out any that you think are spurious or outdated.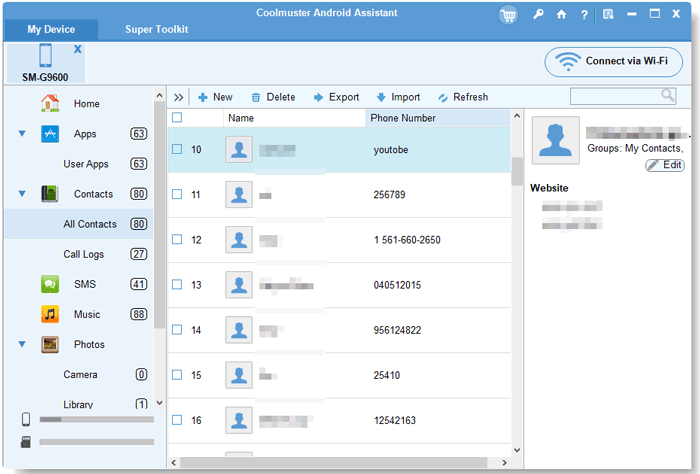 Step 3: Start to backup Android with Carbon backup alternative
Make sure you have selected all the files you want to transfer to computer. Then, click on "Export" button and it asks you "where?" Once choose the location, the process begin and all almost finished before you blink.
So if you want a carbon backup alternative that does the job like Carbon should have done and do it quicker and easier then Coolmuster Android Assistant is the obvious choice. You can try it out for yourself by downloading it directly from the following button.
Related Articles:
How to View Android Text Messages on Computer