2 Ways to Recover Deleted Text Messages from Samsung Phones
Do you have a little charade to know the secrets from your girlfriend or wife? Or do you have the strong desire to protect your ingenuous daughter away from unsavory material? Or you just want wonder how to recover lost messages on Samsung phones, which are deleted by accident. All these factors cause people to produce strong desire to recover deleted text messages from Samsung Galaxy S9/S8/S7/S6, Note 9/8/7/6 phone. Many Samsung users assume that they will lose these text messages forever after they have been deleted from their mobiles.
As a matter of fact, for whatever reason you want to get back deleted or lost text messages and no matter how they lost from Samsung devices, there are ways out! With a professional SMS recovery program for Samsung device, you can smoothly access the storage system of your Samsung phone and directly recover deleted text messages from the phone, without any quality loss. Or you can also restore the lost text messages from Samsung backup.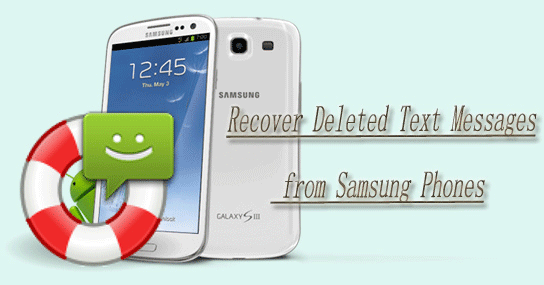 Part 1: Why the Lost Text Messages Can Be Retrieved?
Part 2: How to Recover Text Messages from Samsung Phone Directly?
Part 3: How to Recover Deleted Text Messages from Samsung Backup?
Part 4: How to Safely Keep Your Samsung Messages from Losing Again?
Part 1: Why the Lost Text Messages Can Be Retrieved?
* How does Samsung Note/Galaxy S6/S5/S4 store text messages?
Other than multi-media files that are saved on SD card, text messages are stored in the internal flash memory of Samsung Note or Samsung Galaxy. Just like the storage principle of hard drive, when you delete text messages or clear your SMS inbox, these deleted text messages are not be erased actually, they are still here, in another form that is invisible and inaccessible. Therefore, if you delete some important messages from your Samsung phone by careless, no need to panic. It is still possible to retrieve deleted SMS from Samsung devices, as long as you haven't taken in new messages to overwrite the deleted ones.
One matter needs attention that you should stop using your phone to send or receive new text messages to avoid the deleted messages from being overwritten by the new data. Find a professional SMS recovery tool as soon as possible.
People Also Read:
How to Recover Lost Data from Samsung Internal Memory?
How to Recover Deleted Contacts from HTC One?
Part 2: How to Recover Text Messages from Samsung Phone Directly?
Coolmuster Studio just launched its proud software named Coolmuster Lab.Fone for Android, which is a neoteric program that helps Samsung users to restore deleted messages, as well as other files from Samsung Galaxy S9/S8/S7/S6/Note 8/7/6/5, risk-free and without hassle. It is fully compatible with Windows 10/8/7/XP/Vista. If you are a Mac user, Coolmuster Lab.Fone for Android (Mac) is what you need.
Let's take a quick survey of the Samsung SMS recovery program
* Perform quick and deep scan on your phone's internal memory to find the lost messages.
* In addition to text messages, the program can also recover lost files from Android, such as contacts, call history, videos, photos, etc.
* Apply to all currently Samsung Note and Samsung Galaxy smartphones.
* This Android SMS recovery program comes with simple GUI and pretty easy to use.
* Learn more >>
Download the free trial version of the Samsung mobiles message recovery software from below:
Practice always can say everything. Here comes the step-by-step guide showing you how the program perform a straight-forward and zero-failure process to restore lost and deleted SMS files. We insert screenshots from Windows version (Windows 10/8/7) into the guide below but the operations are suitable for both Mac and Windows platforms.
4 Steps to Retrieve Lost or Deleted SMS from Samsung Galaxy
Step 1. Connect Samsung phone to computer and run the software
Launch the installed recovery software and you will get its main interface like below. Then, connect your Samsung phone to computer via a USB cable. Make sure your phone is connected successfully and you can see it appears as a drive letter in "My Computer".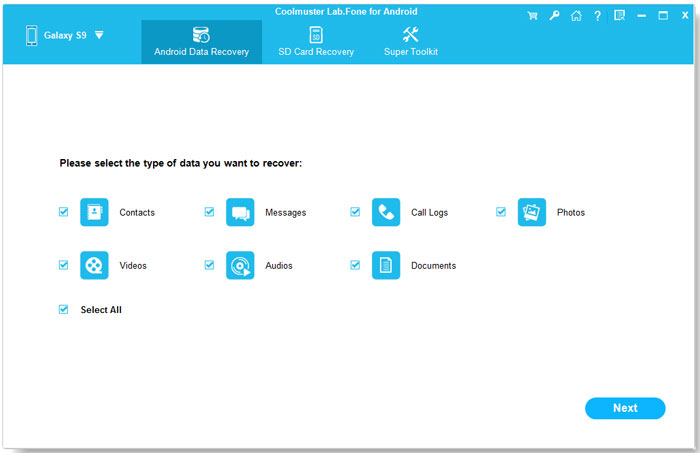 Step 2. Enable USB Debugging Mode on Samsung phone (Optional)
Next, we need to enable USB debugging on the connected Samsung device. The activated USB debugging is used for synchronizing data between your phone and computer. If you have already opened the USB debugging, you can move to the next step. If not, you need to follow the steps below to enable USB debugging mode on your Android phone.
Step 3. Scan for the lost text messages on your Samsung device
After you have enabled the USB debugging mode for your device, click "Allow" on your phone to allow the program super user authorization when an Superuser Request pops up. Then, the software will automatically detect your phone and scan it deeply, including the external SD card. When the scan finishes, all the contained files in your phone will be displayed in categories.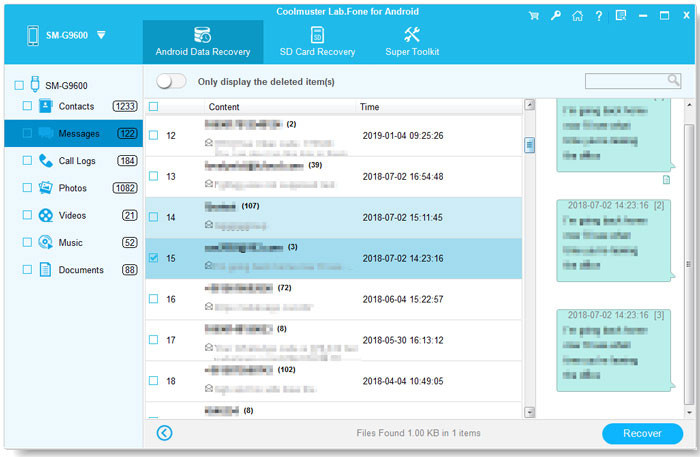 Step 4. Real-time preview and recover the scanned SMS
All of your lost text messages will be found and organized in a tree structure with detailed information like name, size and deleted time. Preview them one by one and check those your need to recover. Click on the "Recover" button, specify an output location and the program will start the SMS recovery process for your Samsung mobile phone immediately.
Coolmuster Android Data Recovery is the most advanced and most perfect data recovery software for Android Smartphones and Android tablets. With it, you can smoothly recover lost and deleted data from your Android device quick, safe and reliable.
Video Tutorial
Tips: How to Recover Deleted Contacts and SMS on Samsung?
By the way, if you need recovering lost text messages and contacts from Samsung phone only, you can fully depend on Coolmuster Android SMS+Contacts Recovery, which is specially designed for Android users to recover deleted and lost contacts, as well as text messages from Android mobile phone.
Part 3: How to Recover Deleted Text Messages from Samsung Backup?
If you have backed up your Samsung phone, whether it's backed up to Samsung Kies or Samsung Cloud, you can easily recover deleted text messages from your Samsung backups. Here are the specific steps:
Restore SMS from Samsung Kies Backup: First, make sure you have backed up your Samsung phone using Kies. Then you can connect your phone to your computer. Once the phone is recognized by the computer, the Kies program will start automatically. If not, you will need to open the program manually. Now navigate to the "Back up/Restore" tab, select the backup file you want to restore, and click the "Restore" button to restore the backed up SMS to your Samsung phone.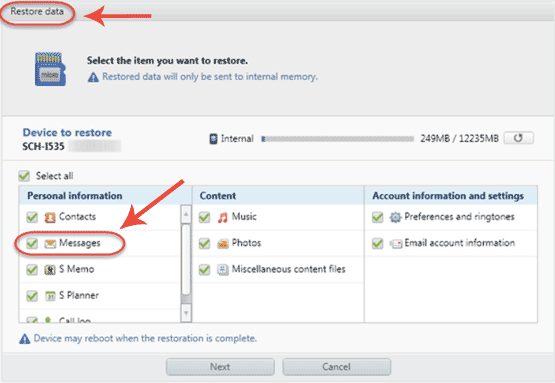 Restore from Samsung Cloud Backup: When you open a newly purchased Samsung smartphone, you will be asked to log in using your Samsung account or create a new Samsung account. Once logged in, you can back up all your phone data to the Samsung Cloud. Once the backup is complete, just open the Settings app on your Samsung phone and scroll down to find "Backup and Restore" option. Under Samsung account column, you can restore contacts, text messages, clocks and settings from "Samsung Cloud". You just need to click on the "Restore" option and all the backup files will be listed. Finally, you can select the text messages you want to get back and restore them to your phone.
Note: The restored data will overwrite the existing data on your phone, so it's best to back up your phone before the restore process to prevent some newly added data on your phone from being overwritten. Below, we will show you how to back up your Samsung phone.
Part 4: How to Safely Keep Your Samsung Messages from Losing Again?
Well, here is an efficient method for you to deal with data loss on your Samsung phone - backing up your Samsung device to computer. After that, if you have unfortunately deleted or lost your precious data from your Samsung mobile, you can restore the backup file from your computer to your Samsung device with ease! Then, any reliable way to backup Samsung data on computer? Sure! You can try the Coolmuster Android Assistant, which is fully capable of transferring all your Android device data on computer, and vice versa.
Android Assistant is an all-in-one data management app for all Android devices. It can back up overall data types from Android phone/tablet to computer, including contacts, SMS, photos, call logs, videos, music, etc.
Simple Steps: Plus, it is quite simple to use Coolmuster Android Assistant to back up text messages from Samsung Galaxy S9/S8/S7/S6 to computer: First, download and install the Android Assistant on your computer. Then, connect your Samsung phone to the computer via USB cable. Finally, click "SMS" tab from the left sidebar, select the messages you want to backup and click "Export" button on the top menu.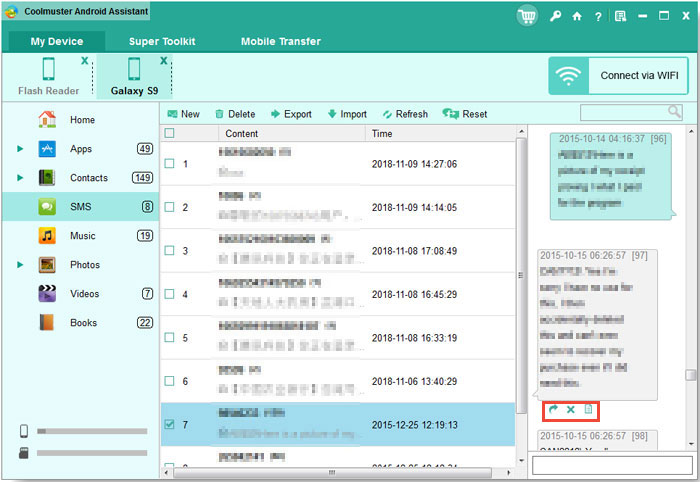 A simple video guide shows you how to use the Coolmuster Android Assistant:
Related Articles:
How to Recover Lost Photos from Formatted Micro SD Card
How to Recover Deleted/Lost Files from Memory Card
How to Recover Call History from Samsung