Most Android smartphone or tablet owners will typically download applications for basic functions on their devices, such as calling, texting, etc. that will replace the applications that are currently being used for those functions. They do this as a way of "updating" the look and operation of their preferred device. One of the most common functions that most individuals tend to update more than any other is their device's "Contacts" function. As is fairly explanatory, the "Contacts" functions contains a chosen list of individuals and certain contact information for them, most notably telephone numbers and email addresses. The biggest reason for this is so a device's user can place photos next to the names of the contacts themselves.
There is a vast majority of applications that individuals can take advantage of in order to successfully achieve this. Here are some of the top ones, along with brief explanations of each.
SYNC.ME
Sync.ME is a free application available for all Android devices. This application not only allows you to place photos next to certain contacts on your device, but it also updates their information by pulling data from websites such as Facebook, Google+, and LinkedIn. Sync.ME also includes the ability to place birthdates next to contacts so that a device's user can always be reminded of these special days.
CONTACTS+
Another free application available for Android devices, Contacts+ acts as an address book that not only helps to organize a list of contacts, but it also works with a device user's different social media accounts. In the end, you will be able to access everything right from this application. In terms of photos for contacts, these can be lifted straight from the contacts' social media accounts, meaning that an individual won't have to spend an exorbitant amount of time finding just the right photo to use.
PURECONTACT
PureContact is another free "Contacts" application available for Android devices. What makes PureContact different from other similar applications is that it focuses on a device user's most commonly accessed contacts rather than focusing on a larger and less-organized list. PureContact allows for an individual's "favorite" contacts to be assigned to one page, which makes for easy access if they are looking to get in touch with someone in particular.
DW CONTACTS
DW Contacts is another free application that is available for Android devices and can be used in place of the generic, pre-installed "Contacts" function on Android devices. As opposed to the aforementioned applications, DW Contacts contains features such as call blocking, call filtering, multi-language support, and contact filtering.
Coolmuster Android Assistant
While the aforementioned applications are excellent and free alternatives to the existing "Contacts" function on Android devices, there is one application that stands out above all others. This application is known as Coolmuster Android Assistant. This program, which is free to download on both Windows and Mac, enables a computer to deal with all aspects of an Android device, such as contacts, text messaging, and other installed applications.
Coolmuster Android Assistant is especially useful in terms of exporting contacts listed on an Android device to a computer, especially in the event that a device gets damaged, lost, or even stolen. When this happens, most individuals tend to just decide to purchase a new device, but then they won't remember all of the information about their contacts. With Coolmuster Android Assistant, this will no longer be an issue. This function alone is worth obtaining the application. It may seem rather intimidating at first, but once you begin using it, chances are you won't ever look for another application to help with your contacts. Coolmuster Android Assistant is most definitely the best contact management software out there today.
Click the above button to have a try with this program. And following is the main interface of this tool.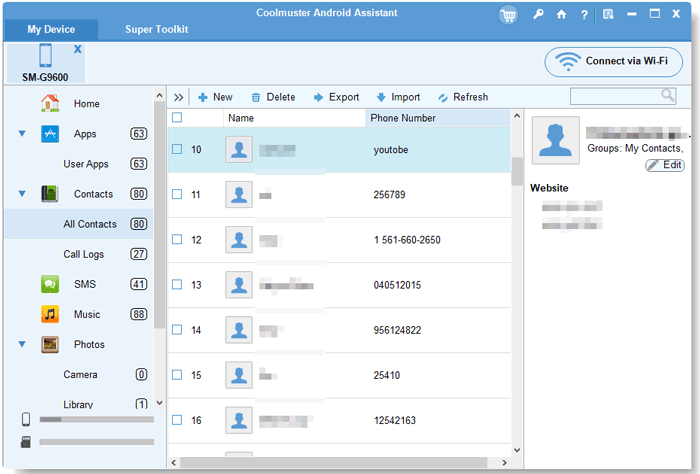 Related Articles:
How to View Android Text Messages on Computer
Recover Deleted Text Messages from Samsung Cell Phone
How to Recover Deleted Photos from SD Card on Android Phone