How do you download apps to your Samsung device?
Most people download apps on their Samsung phone in this way: type in the name of the app that you are looking for, and select the category of app that it fits into – select Install, and then the Accept and Download buttons. The app should start downloading immediately, and will install itself on your behalf. You will know that the app has been downloaded when it appears in the All Applications tab. This is the most common method used by those who are trying to install Samsung apps. It is quick, simple, and most of the work is done for you. However, this method is not always completely safe when it comes to data. It does not come with a backup function, and can make the transfer of files between computer and mobile device a little clunky and time consuming. Fortunately, there is a tool which can help with this.
What is the Coolmuster Android Assistant - The Best Samsung Apps Downloader?
The Coolmuster Android Assistant is a must have tool, because it offers powerful features designed to make your mobile experience as stress free and enjoyable as possible. The modern mobile device is there to entertain and support, not just to field calls, so it is important that users find a Samsung apps downloader which suits their needs, and allows them to move and transfer files with the minimum of effort. The Coolmuster Android assistant gives Samsung Galaxy users the chance to install apps in a matter of seconds. It transfers photo, video, music, and text files at the click of a button. This means that things like playlists and address books can be moved to a personal computer, and edited with ease.
This tool can also restore backed up files, send group text messages, and make downloading and installing apps a lot more efficient for users. Plus, it is extremely easy to use – just follow the two steps outlined below. Please note it also comes with Mac version, which can perform the same functions on Mac computer. First of all, you should download this Samsung Apps Downloader on your computer. Here we set Windows version as example.
Download Application Samsung: How to Download Apps on Galaxy S23/S22/S21 Directly
Step 1. Open Coolmuster and connect your Samsung Galaxy S4 to a computer
You need to open the Coolmuster Android Assistant after you download and install it on your computer, and navigate your way to the starting window, which will ask you to connect the phone to a computer.
You may need to enable USB debugging on your Samsung phone to make it detectable by the program. If you have already set it, you can skip to the next step.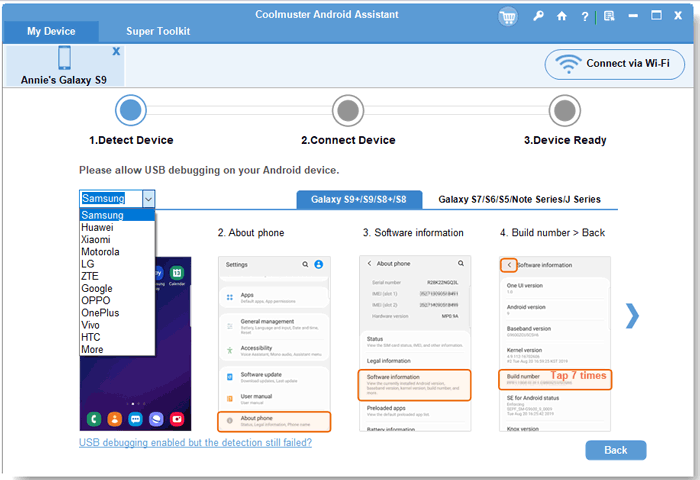 Follow the below instruction to enable USB debugging:
1) For Android 2.3 or earlier: Enter "Settings" < Click "Applications" < Click "Development" < Check "USB debugging".
2) For Android 3.0 to 4.1: Enter "Settings" < Click "Developer options" < Check "USB debugging".
3) For Android 4.2 or newer: Enter "Settings" < Click "About Phone" < Tap "Build number" for several times until getting a note "You are under developer mode" < Back to "Settings" < Click "Developer options" < Check "USB debugging".
When the USB debugging is enabled, click "Allow" on your phone to allow the program super user authorization when an Superuser Request pops up.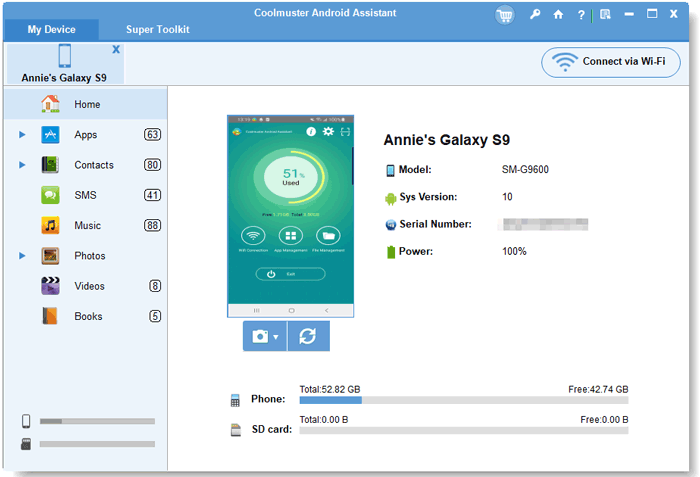 Step 2: Download apps on Samsung Galaxy S23
Once the Samsung Galaxy S23 has been recognized and identified by the Coolmuster Android Assistant, all of the data already on the device will appear in its own window (this includes music, videos, photos, contacts, and more). Now, you need to select the APPS button, in order to bring up the app management window.
Then, find the tool bar, and click the INSTALL button. From this point on, you should be given the option to browse through available apps, pick the ones that you want, and instantly download them using the INSTALL function.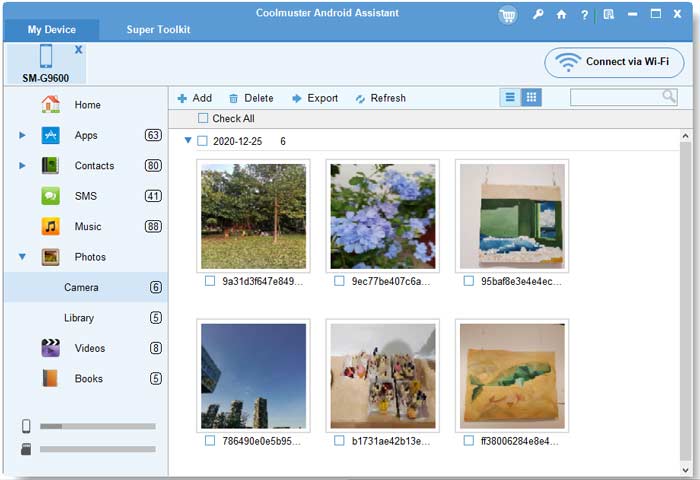 It is important to remember that the UNINSTALL button is used to get rid of apps that you no longer want, and the EXPORT button is used to transfer apps from the Samsung Galaxy S4 to the computer.
The best Android apps downloader and installer - Coolmuster Android Assistant offers the easiest and fastest way to search for, locate, and install the apps that you enjoy.
Related Articles:
Transfer Files between Samsung and Computer
Copy Contacts between Samsung and iPhone