WhatsApp recently launched its end to end encryption feature, which means that nobody except the sender and recipient would be able to view the message. Want to protect your personal messages but get fed up with no WhatsApp? Actually, you have more than one choice. Messenger apps for Android help users to send across information really easily.
Which Messenger App Should You Choose?
The debate on whether or not the company should read any message that is sent to a device or service provided by them is catching momentum. Most of the users feel invasion of privacy when they see that their personal messages are exposed to others. Apple phones provide end-to-end encryption to users to give them a sense of privacy and safety. And it was time that the Android devices get the same the level of privacy for its users. Companies who send important information definitely are entitled to such encrypted Messengers.
Looking to find the best encrypted messenger apps for Android phones? We would not talk about WhatsApp, because that's one app that everybody uses. We would be looking at top 5 encrypted messengers apps for Android phones, that work just as well as WhatsApp.
The one that tops the list is definitely Blackberry Messenger, which is now available to Blackberry messenger. It provides full encryption till the message is delivered to the other device. With this messenger, you are totally free to make voice callings between BBM contacts and BBM Voice. Also, you can freely share photos, files, documents, voice notes and many more without any difficulty. And hundreds of stickers and emoticons for every mood and emotion let you express yourself as wanted and needed.
Another one of messenger which provides end to end privacy for the messages send. It allows chats, group chats and other options for free. You can fully rely on this messenger to say anything as wanted and needed, without worring about privacy leak since it uses an advanced end to provide privacy for every message every time. And Signal is the only private messenger that uses open source peer-reviewed cryptographic protocols to keep your messages safe. Group chatting with this professional tool is just a piece of cake! Now, just enjoy your fast and free chat with anyone as you like!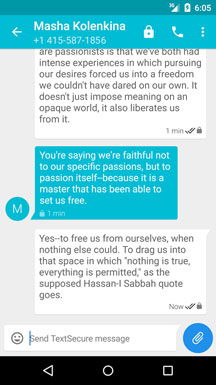 3. Gliph
Gliph is an excellent and secure messaging service which is available for all the devises. It also allows a deletion of files from the devices with a single click. It deletes files temporary from the server, sender and receivers devices. Gliph Marketplace helps you close deals faster and more efficiently than anywhere else. Now even with this messenger app, it is possible for you to scan the QR code to pay outside Gliph network. The security and privacy within this app can be fully guaranteed. Now, you are free to text messages or send group messages with this professional messenger. By the way, this software can not only support chatting from your Android device, but also you can use it to chat from your desktop computer.
This one provides a great service in which the messages are sent with an expiration date, which deletes the message after the expiration date. This also secures a person from the tension of an old message which is left in a third party devise. This software frees yourself from the troubles of being disturbed by annoying ads, ever and forever. Owning this messenger equals having a secure way to receive and send messages, documents, pictured, videos and audio files. Your conversations can not be tracked, intercepted or monitored.
It is another app messaging service that sends messages with end-to-end encryption. It allows messages to be read only by those for whom they are meant without any time delay. You can create groups and also saves the messages on a cloud which can be accessed from any device using the app. Featuring on fast speed, absolute security and reliability, this software enables you to securely and quickly send messages or share files within a little while. More importantly, this Telegram seamlessly syncs across all your devices, so your message history is stored for free in the Telegram cloud. There is no need to worry about sudden data losses again!
When Do You Need an App Manager for Android Downloaded Apps?
With so many apps on your phone and choosing one messenger app for encrypted messages makes managing the mobile device a tough job. This is when one needs a manger that would keep the data safe and organised. It is a one-stop software which is capable of managing Android media, SMS, Apps, contacts and others in one place on the PC.
You can use the Coolmuster Android Assistant software easily, by just launching the software on your PC and connecting your smartphone to it.
All the important information is saved on the smartphone - helping you keep all information safe and secure. This software allows users to export Videos, music, photos, contacts, SMS and other data from the smartphones to the computer so that the phone devise has free space for other things. The Android device can even be attached using WiFi; however, you need to install the Android Assistant APK to use this feature. Worry that you may be confused by this software? No need at all! This software offers you the easiest way to manage downloaded apps! You can follow the below video guide:
Below is the free trial versions of this software! You can get the right one and give it a try by yourself!
Related Articles:
Tips to Manage Android Contacts on Computer
Top 5 Root File Manager for Android Phones