How to View/Manage Android Phone Contacts on PC/Mac?
Phone contacts demand effective management, as they're vitally important for either calls or messages. It's often the case that you store a stack of contacts on your phone. But unluckily, you're only allowed to read one at a time, and are unable to read a few in a row or many simultaneously owing to the limitations of your device. There're times when you need to manage your contacts. For instance, when your friends, schoolmates or colleagues change their addresses as they have moved to a new city and settled down there, when they change their numbers because they have gone abroad for further education or have graduated from college, or when they change other information such as their names or email addresses which are contained in the contact list.
Read More:
How to Copy Contacts to SIM Card on Android Phone
Easy Way to Sync Android Contacts with Gmail
However, managing the data on the device is inefficient, since the contacts cannot be dealt with in batches and typing on the phone takes you much longer than typing on the computer. If you can manage your contacts on a PC or Mac, it'll be far more convenient and quickly. Contacts aren't able to be exported to the computer for viewing or processing directly through a USB, for they're stored within the phone memory internally or the SIM card, not the flash memory card externally where the photos, video clips or audio files are located. Plenty of you may be wondering whether there's some way out there to solve the problem by first transferring your contacts to the computer. Luckily, the answer is yes with our strongly recommended tool here, namely Coolmuster Android Assistant.
It's a professional and risk-free Android contact manager that enables you to manage and view the contacts on the computer by using a USB cable to link your phone to a PC or Mac. It's compatible with all makes of Android phones and Windows systems (for Windows 10/8/7/XP/Vista), as well as guarantees that your contacts won't get lost or damaged during the process. On top of that, you can as well back up or recover your contacts in the blink of an eye with this tool. And you're required to have no specialist knowledge or training to run this program and manage your data, for it provides you with an interface with clear and simple steps. Just have a shot at it or you'll definitely regret it! If you are using a Mac machine, you can turn to Coolmuster Android Assistant for Mac (OS X 10.10 or later).
Below is the step-by-step guide showing you how to use Coolmuster Android Assistant to export and transfer Android phone's contacts on computer and then you can read the contacts and even manage or edit them on your computer in a batch. You can backup Android contacts to computer, import contacts from computer to Android phone, edit Android contacts on computer, add new contacts, and delete Android contacts on computer with this program. The software works on almost all Android devices, such as Samsung, LG, HTC, Sony Ericsson, Motorola, etc. Just choose the right version and download it to your Windows or Mac computer. Here we set Windows version as an example, but the operations are similar on the Mac platform.
More Similar Articles:
How to Export Android Contacts to VCF
Easily Save Android Contacts to Excel
Detailed Guide Shows How to Use Android Contacts Manager
Step 1. Connect Your Android Phone to Computer
In the first beginning, you should download and install this Android Contacts Manager on your PC. Launch it and then connect your Android phone to the computer via a USB cord. The program will detect your Android mobile phone and you may encounter the following picture and be required to enable USB debugging on your phone at first. If your device can be detected by the program, you can directly skip to the next step.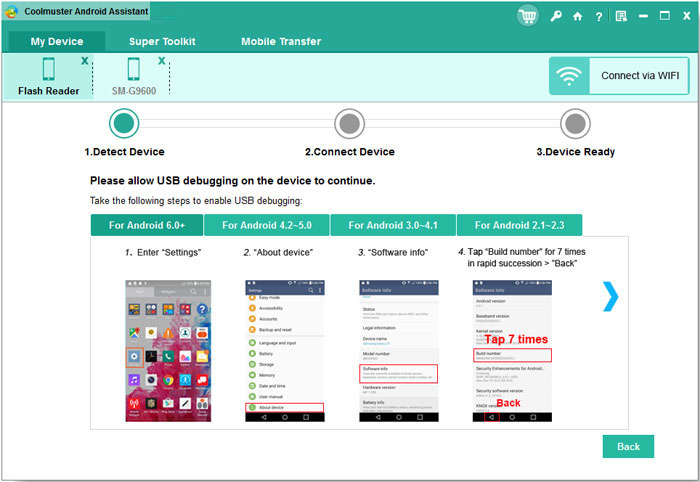 After enabling the USB debugging, click "Allow" on your phone to allow the program super user authorization when an Superuser Request pops up. All your phone infomation, including phone model, system version and storage space size will be shown in the main interface like below.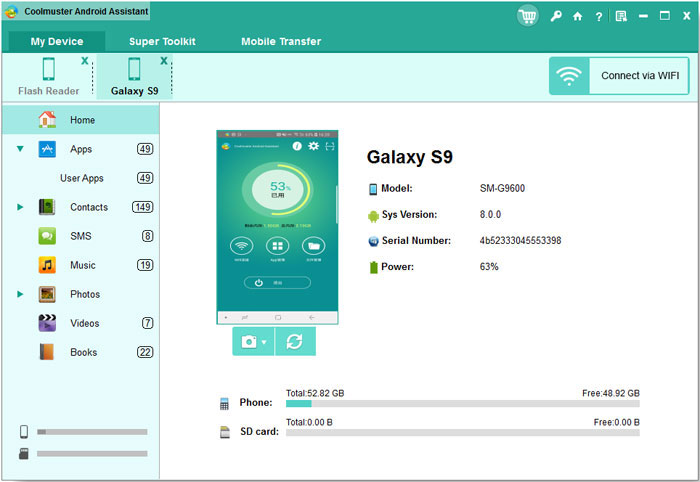 Step 2: Go to the Contacts window
All your phone data are categorized on the top menu. To manage Android phone's contacts on computer, you can go to click the "Contacts" icon to enter the Contacts window. Navigate to the left panel and click on the "All Contacts" option, then, all the contacts in your phone will show in list on the right window.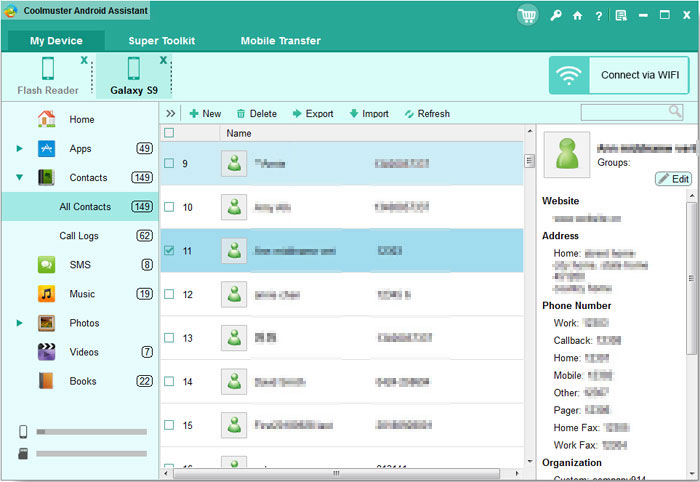 Step 3. Manage Android contacts on PC
Once you click on the "Export" button, you will be popped up with a "Path" dialog where you can customize an output location to save the exported Android contacts. After a few secodnds, all the selected Android contacts will be transferred to the specific output location.
By clicking the "New" button, you can create new contacts here on your computer directly. And you can also modify information of your Android contacts by clicking the "Edit" option. To delete useless contacts from your phone, you can click on the "Delete" button. Finally, you can click the "Import" button to transfer contacts from computer to your Android phone.
Video Tutorial
Related Articles:
Save Contacts from Samsung Galaxy/Note to Computer
Recover Deleted Text Messages from Samsung Cell Phone
Add a comment