How to Recover Data from A Water Damaged Android Phone?
"Hello everyone, yesterday I took my family to the beach for a holiday. Unfortunately, my Samsung Galaxy S9 fell into the water while I was swimming. I took my mobile phone to the local mobile phone repair service center, but they told me they could do nothing. I know that my phone may not be able to resume normal use, but I used it to take a lot of precious photos and videos, and there are also many very important contacts saved in the phone. If losing these things, it's really bad! Is there any way to recover data from water damaged Android phone? Please help!"
You May Want to Know:
Recover Text Messages from Android with Black Screen
How to Solve Android Stuck on Boot Screen
In our daily life, mobile phone is almost always with us, so there will be some accidents happening on your phone, such as phone accidentally falling into the toilet, swimming pool, bucket or goblet. These situations are estimated to have been experienced by many people. Many people think that when a mobile phone falls into the water, it will be scrapped, no value, and some friends will immediately take it to the mobile phone repair shop. In fact, there are many useful ways to dry your water damaged phone, and your phone has a great chance to be resurrected. But if everything doesn't work, you shouldn't give up because we still have a way to recover your data from a water-damaged Android phone.
Part 1: Some Do's and Don'ts When Android Phone Gets Water Damage
Part 2: How to Recover Data from Water Damaged Android Phone
Part 1: Some Do's and Don'ts When Android Phone Gets Water Damage
Do's
- Take the phone out of the water immediately.
- Shut down the wet phone and remove the battery to prevent the wet battery from shorting other components.
- Take the memory card out of the phone, whether it is an SD card or a SIM card.
- Wash the water damaged phone with regular rubbing alcohol, remember not to use alcohol. Rubbing alcohol can remove dirt or minerals from the wet phone.
- After completing all the above steps, place your device in a sealed pack of rice. Many people know this method because it is easy to absorb the residual moisture in the wet phone. But make sure that all parts of your phone are covered by rice and that you have to wait for the phone to dry completely, which may take some time.
- After the phone is completely dry, now you can try to turn on the phone and check if the device is working properly.
- If it doesn't work, then I suggest you take the phone to the service center for help from professional help.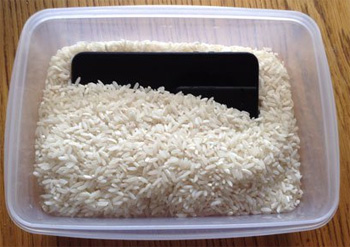 Don'ts
- First of all, keep calm when you have such an accident, don't panic.
- Do not open the phone after taking it out of the water, or a short circuit may occur.
- Remember not to leave your phone to dry in the sun.
- Do not attempt to dry the device by heating, as excess heat can also cause damage to the phone. Therefore, avoid using a hair dryer or microwave oven.
- Do not attempt to remove any internal parts of the phone, such as the motherboard.
- Do not shake your device as this will cause the water to re-enter deeper areas and cause deepen damage to the phone.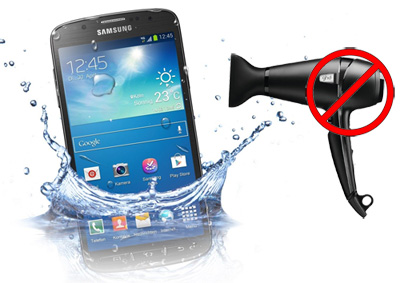 Note: After experiencing a series of rescue measures as described above, if your phone is back to normal work, you can back up your Android phone data to prevent similar accidents from happening again. And you can also recover lost data from Android phone is you find anything lost on your water damaged Android phone. But if nothing works, you can still rescue your data on the water damaged Android phone, by following the tips in the part 2 below:
Part 2: How to Recover Data from Water Damaged Android Phone
To save your lost and deleted data from a water damaged, broken, black screen, crack screen and even dead Android phone, we strongly recommend a professional Android data recovery tool called Broken Android Data Extraction to help you recover photos, videos, songs, text messages, contacts or other major data directly from water damaged Android phone easily. It not only supports to recover data from broken Android phone, Android phone with touch screen can't be used, etc., but also can fix a bricked Android phone, and unlock your Android device without password.
Please download the free trial version of the Broken Android Data Extraction from the below buttons, and then follow the steps to recover data from your wet and water damaged Android phone.
Step 1. Get ready with the broken Samsung data extraction software
Launch the Broken Android Data Extraction software after you downloaded and installed it. Then, select "Broken Android Phone Data Extraction" from the left panel. Then, use a USB cable to connect your water damaged Android phone to the computer.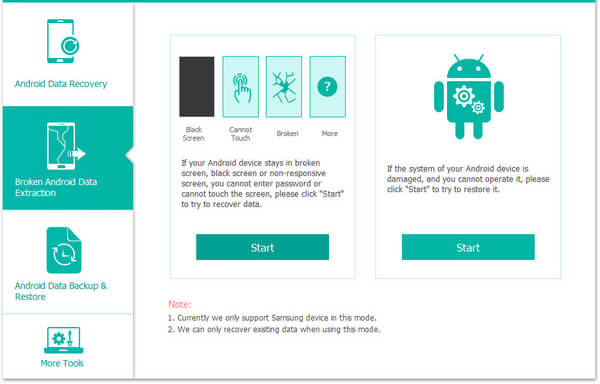 Step 2. Select and confirm device info
Choose the fixing mode and click "Start". Then choose the name and model number of your Android phone and click "Confirm". If you are not sure about the information of your phone, you can click question mark the program will show you how to find the information.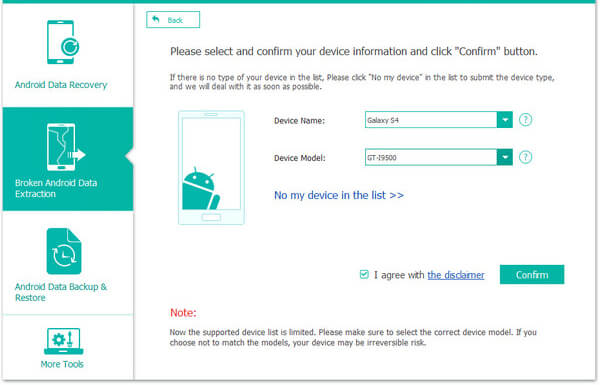 Step 3. Enter Download Mode and get it fixed
You will be asked to put your Android device into Download Mode. Just follow the onscreen prompts to put your wet Android phone in Download mode. After that, the program will detect the phone and scan out data on it instantly.
Step 4. Restore data on water damaged Android
You should look at the preview of messages to identify and selected which ones that they want to save. After the wanted data has been selected, you can hit the 'Recover' button to complete the process.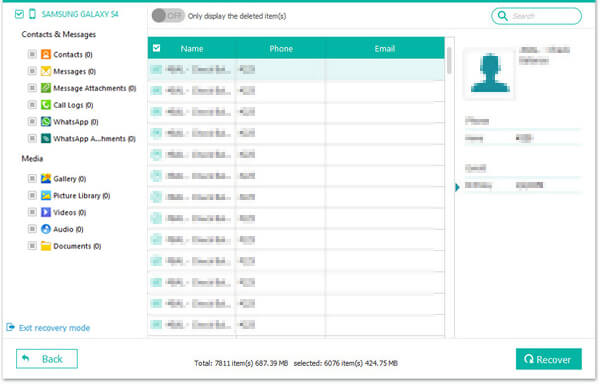 Check Supported Devices of Broken Android Data Extraction
Samsung Galaxy Note:
Note 3: SM-N900, SM-N9002, SM-N9005, SM-N9006, SM-N9007, SM-N9008 SM-N9008V, SM-N900S
Note 4: SM-N9100, SM-N9106W, SM-N9108V, SM-N9109W, SM-N910C, SM-N910F, SM-N910G, SM-N910H, SM-N910K, SM-N910L, SM-N910P, SM-N910R4, SM-N910S, SM-N910T, SM-N910U, SM-N910V, SM-N910W8
Note 5: SM-N920C, SM-N920G, SM-N920I, SM-N920K, SM-N920L, SM-N920P, SM-N920R4, SM-N920S, SM-N920T, SM-N920W8
Samsung Galaxy S:
S4: GT-I9500, GT-I9505, SCH-R970, SCH-R970C, SGH-I337M, SGH-M919, SPH-L720
S5: SM-G900F, SM-G900FQ, SM-G900I, SM-G900K, SM-G900L, SM-G900M, SM-G900P, SM-G900R4, SM-G900R6, SM-G900S, SM-G900T, SM-G900T1, SM-G900W8
S6: SM-G9200, SM-G920F, SM-G920P, SM-G920T, SM-G925F, SM-G925P, SM-G925T, SM-G928P, SM-G928T
Samsung Galaxy Tab:
Tab Pro 10.1: SM-T525
Related Articles:
How to Print Contacts from Android Phone
Recover Deleted Contacts from Rooted Samsung Phones
Recover Text Messages from Broken Samsung Phones