Top 5 Android Data Recovery Software in 2017
Nowadays, our smartphones have become the carrier of the most important information and data in our lives. Nostalgic photos and videos, essential contacts and valuable conversation threads crowd our phone's memory. However, we have to remember that any digital device can suffer from technical glitches that may reformat it completely. You can lose all your data in the blink of an eye. Since phones are valuable, there is also a chance of them getting stolen if you are careless. At other times, one might mistakenly delete a file that was of great value. Restored factory settings, water damaged, flashing ROM, rooting, and broken screens can also cause data loss.
Read Also: Top 5 Causes of Android Data Loss
If you have a good data recovery software, then such problems can be dealt with easily. You can restore your lost data so that you don't suffer more than you need to in the event of a mishap. The following are some of the best Android Data Recovery Apps available:
1. Coolmuster Lab.Fone for Android
2. Recuva
3. Undeleter for Root Users
4. iSkysoft Android Data Recovery
5. Disk Drill Pro
Top 5 Android Backup Apps for You in 2017
1. Coolmuster Lab.Fone for Android
Coolmuster Lab.Fone for Android covers a wide range of data that you can recover from Android devices. Whether the files have been lost due to a mechanical defect or have been deleted accidentally, you can easily restore them from the internal memory card or external SD card. You can get back your sent and received text messages and deleted contact information to save them on your PC. Photos, videos, music, documents, contacts and call logs can also be restored.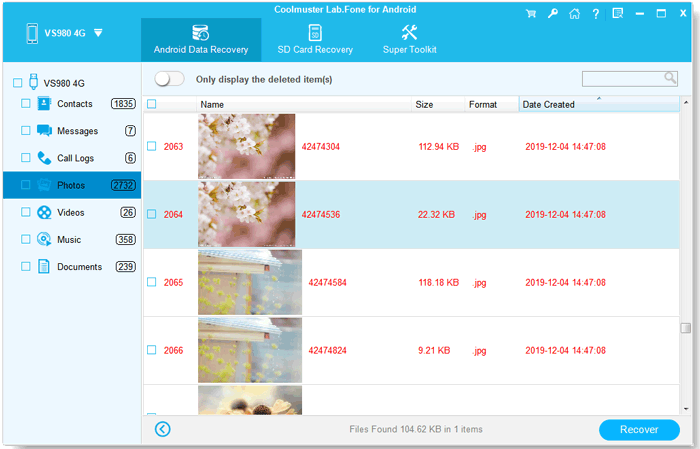 Pros:
- Option to Deep Scan available.
- Compatible with a variety of phones.
- It restores the original data.
- Simple to use and is risk-free.
Cons:
- Not free for full features. Full version sells at $45.95.
Recuva is a software that you can download for free and use to recover all your deleted data that had been stored in Android devices. Photos, compressed files, video, audio and emails are just some of the things you can restore. The process itself is simple, and you do not have to be an expert to use the interface which is its USP.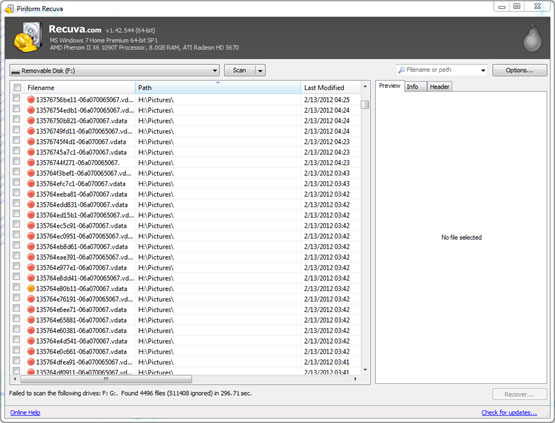 Pros:
- Fast scanning and swift recovery of files.
- The Deep Scan option helps you run a more thorough search, so you don't miss out on anything.
- Free of cost.
Cons:
- May not be able to restore all files.
- Data stored in the phone's internal memory is not recoverable.
In case you possess a rooted Android device, then Undeleter for Root Users will be helpful in recovering your lost data. You can find all your deleted music, archives, videos and photos using this application. It is free, so all you have to do is install it and then select your desired recovery location. Choose from the list of deleted files that appears before you.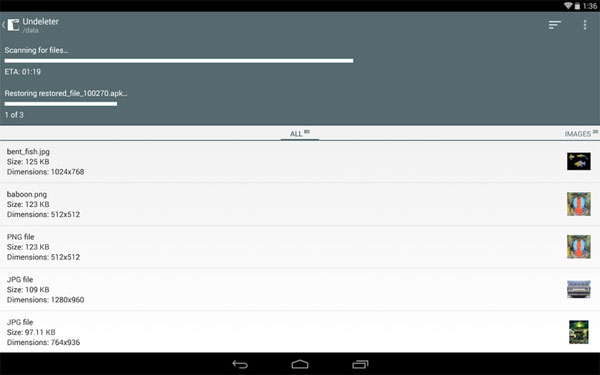 Pros:
- Easy to use.
- Shift your recovered files to Dropbox or Google Drive.
- Can recover from both internal and external memories.
Cons:
- Your contacts, text messages and application data cannot be recovered.
- Lacks advanced search options.
4. iSkysoft Android Data Recovery ($49.95)
With an excellent user interface design, this application is simple for both beginners and experts. Scan your Android phone with its SD card, after which you will find all your deleted data which you can recover onto a computer. The app can recover everything deleted text messages, books, Whatsapp messages, photos, videos, contacts, music and call logs.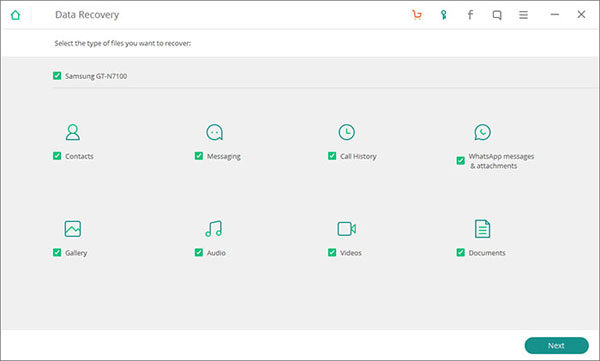 Pros:
- Compatible with most Android phones.
- Easy UI.
- Powerful recovery speed.
Cons:
- Not free although a trial version is available.
You can recover lost data from the storage of your rooted Android device using this application. Be it the internal memory or the external SD card; you can have access to all with this software. The recovery quality is not compromised in any way.
Pros:
- Options for Deep Scan, Quick Scan and Partition Search available.
- Compatible with most brands.
- Can recover most file formats.
Cons:
- The device has to be rooted.
- Comes for a price.
Lab.Fone for Android - The Best Data Recovery Software for Android in 2017
To sum up, Lab.Fone for Android is the best Android data recovery software because of:
- It supports recovering almost all types of files, including music, photos, videos, contacts, SMS, call logs, etc., enabling you to backup them to computer easily.
- It provides free trail version and its full version sells at affordable price: $45.95.
- Works on overall Android brands, such as Samsung, HTC, LG, Sony, Huawei, ZTE, Google, Xiaomi and so forth.
Related Articles:
Top 5 Android eBook Readers You Should Know