In today's world, Android devices can do a lot of things and bring great convenience to our lives and work. Android phones have become more and more powerful in file management, and to some extent have even become an extension of laptops. For the browsing and management of Word documents, large-screen Android phones and tablets will be relatively more convenient and portable. As a result, Android Word documents recovery has become a common topic.
Part 1: What Causes the Loss of Word Document
Part 2: Restore Lost Word Documents on Android from Backup
Part 3: Recover Lost Word Documents on Android Directly via 3rd-party Program
Part 4: Summary!
Part 1: What Causes the Loss of Word Document
Operational Errors - Accidental deletions can be the main cause of data loss problem. It may be caused by accidental mistakes made by yourself, or by someone who has deleted them from your phone. This can happen if you always allow your child or family members who are unfamiliar with Android devices to use your phone.
System Update - Android system updates are also a factor in this issue. When you update your Android device system, it will make the device weak, and even if the system upgrade is successful, you may find some data is inexplicably lost; when the system upgrade fails, your phone may not even be normal. Already working.
Of course, virus intrusion, mobile phone formatting is also the reason for losing mobile phone data. No matter which reason you are causing the Word document to be lost, I hope you can find a solution from the several solutions provided below.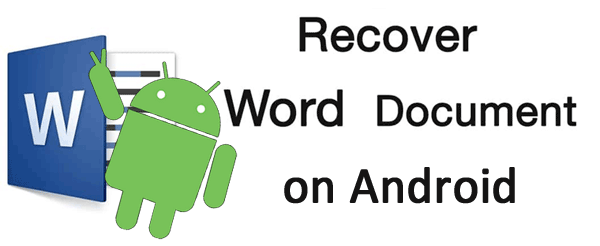 Part 2: Restore Lost Word Documents on Android from Backup
There are now many platforms for Android users to back up their phone files. If you frequently back up files and data on your phone, congratulations, you can restore lost Word documents effortlessly by restoring data from your backup to your phone. Below, let's take a look at some common methods to recover deleted Android Word documents from backup.
Recover Deleted Android Word Documents from Google Drive
Google Drive is an excellent and reliable file storage and management application, which is introduced by Google. If you have logged into your Google account on your Android phone and synced your phone to that account, then you have successfully backed up your Android phone files and data to Google Drive. And now, you can refer to the steps in Google Support to restore the backup file from Google Drive to your Android phone.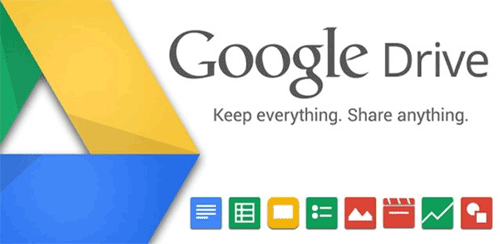 Restore Lost Android Word Documents from Dropbox
If you are used to using DropBox as your Android file storage and management application, chances are that you have backed up your phone files and data into this program. You can create a new Dropbox account, but some Android users choose to use the same Google account to use Dropbox to back up their phone data. You can try to recover deleted Word document files from DropBox by going through these instructions from their support site.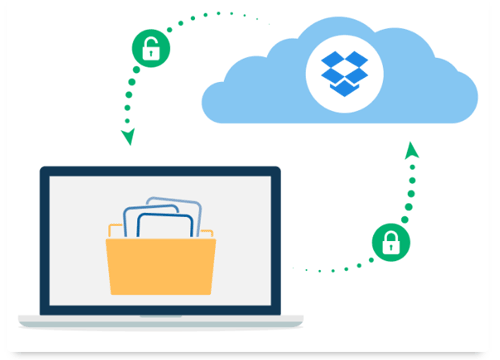 People Also Read:
How to Restore Android Phone from Google Backup
How to Recover Deleted SMS from Samsung Galaxy
Part 3: Recover Lost Word Documents on Android Directly via 3rd-party Program
Our Coolmuster Lab.Fone for Android provides all Android users with a simple and effective way to recover all sorts of files and data that are deleted from any Android phone or tablet by accident, including documents, call logs, photos, videos, music, contacts and text messages. Lab.Fone for Android is 100% safe and help safeguard your device. It is workable for all types of Android devices, including Samsung Galaxy S9/S8/S7/S6, HTC One M10/M9/M8/M7, LG G7/G6/G5/G4, Huawei Mate 10/9/8, etc.
Sounds great? Just choose the right version to download for a free try. Mac users can choose Lab.Fone for Android Mac), which is specially designed for Mac users. Start the Word documents recovery for Android by just following the easy and simple steps below.
Step 1. Run Android Word document recovery program
Run the installed Android document recovery program - Coolmuster Lab.Fone for Android on your computer. Make sure you have enabled USB debugging on your Android device and connect it with the computer via a USB cable. The recovery program will detect the connected device as soon as possible.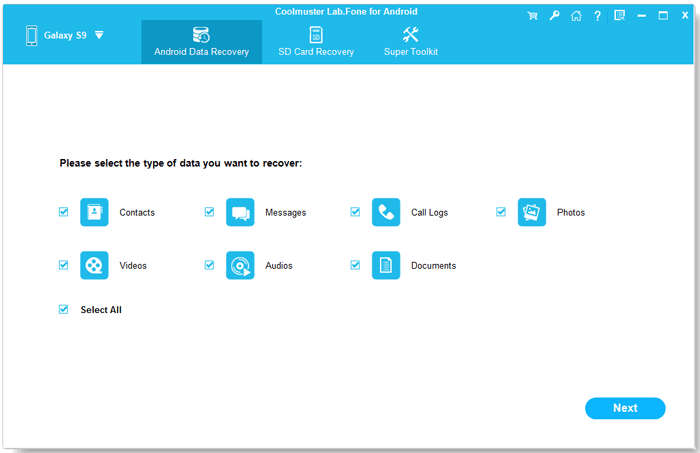 Step 2. Analyze and scan your Android device
Once the connected Android phone is detected by the program, all the recoverable file types will be displayed on the main interface. Tick the file categories from your phone you wish to retrieve, not only documents, but also photos, videos, music, contacts and text messages, and then click "Next" button to continue.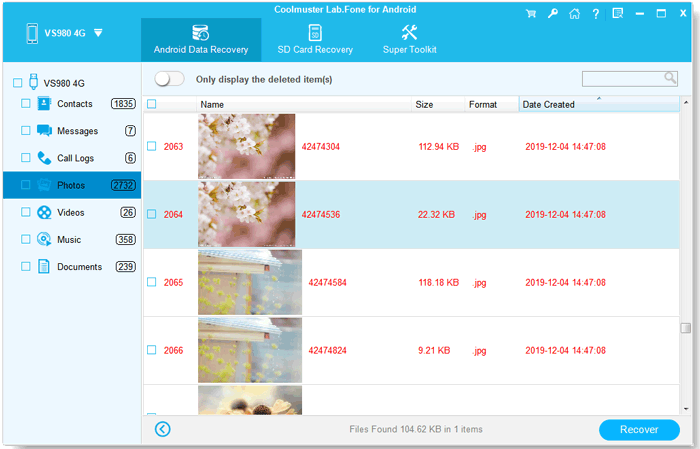 Step 3. Start to recover Word documents on Android devices
Preview all the scanned out Word documents and select those you want to get back, then, you can directly click on the "Recover" button to restore them from your Android device. We kindly remind you that you can choose a location on your computer to save the recovered files.
Note: We kindly suggest you transfer files from Android to computer for backup frequently, so that you can easily restore your Android data if you suffer from data loss problem.
Summary:
No matter you have a backup or not beforehand, losing important phone files can be scary, and you will always be worried that you can't get them back. When you finish reading this article and find that you haven't made a backup, or you can't retrieve Word documents from Google Drive or Dropbox, don't worry, you can switch directly to using our Coolmuster Lab.Fone for Android for efficient and efficient recovery. Lost Word documents and other file types can be retrieved back with just one click.
Related Articles:
Recover Deleted Contacts from HTC Mobile Phone
Recover Text Messages from Broken Samsung Phones
How to Recover Deleted Documents on Android Devices