Samsung mobile phones are quite popular over the world. Among many uses, playing music is on one of the main activities of users. And we all know how music makes our life pleasant and how we love to hear it all the time. With a wonderful 5.7" and 6.2" super AMOLED dual curve display, Samsung Galaxy attract a lot of users. Their 128GB and 256GB storage allow users to store a lot of music, videos and photos on the devices, so that you do not need to worry about saving and enjoying thousands of music tracks on the go.
However, you must concern about how to manage and arrange your music library so that you can find and locate to the right song you want at the first time. In this article, we will provide you with a one-stop solution to solve your problem on managing music on Samsung Galaxy S23. If you are a music fan and wish to keep loads of music on your Samsung, just kee on reading.
Part 1: Best Samsung Music Manager - Android Assistant
Part 2: How to Manage Music on Samsung Galaxy
Part 1: Best Samsung Music Manager - Android Assistant
But managing so many different kinds of music files on the phone becomes difficult sometimes. We need to transfer the music, add new songs, or just sort them and make them updated. It is very complicated to do such things on the phone. The need is felt for a professional program that can handle everything with just a few clicks on the computer. The best program among the lot is Coolmuster Android Assistant, the most welcome Samsung Music Manager worldwide.
Know More about This Music Manager:
- For music enthusiasts, a comprehensive music manager is essential for their Samsung phones. It manages and organizes music, contacts, messages, apps, all from the comfort of your computer. And there are 2 ways to connect – USB and Wifi (Click here to learn how to transfer Android data via WiFi.
- For easy transfer of music and other files, this software works great too. You can export everything with just one click to free up space on any device. The Android data backup and restore process can also be performed with a single click.
- From the PC, you can manage contacts and messages. Group messages can be sent and deleting and managing them is also simple. Coolmuster is also capable of dealing with apps. You can delete, install or export them using the computer. The program is completely safe and efficient.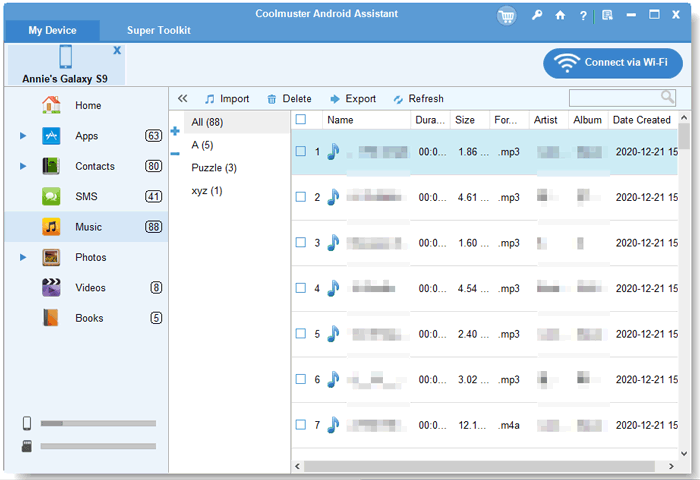 Part 2: How to Manage Music on Samsung Galaxy
To begin the music management on Samsung by using the Coolmuster Android Assistant, the program need to be downloaded on the PC or Mac computer. You need to ensure that you are able to make the program detected by your computer. Actually Android Assistant is easy to use and all it requires is a few clicks to get the job done.
Preparation: Setting up the Samsung device
Open the installed Android Assistant and use the USB cable to connect your Samsung S9 to the Mac. Alternatively you can also do it over Wifi (here is a guide telling you how to transfer files from Samsung to computer wirelessly. Then you have to initiate USB Debugging on Samsung. For this you can use the instructions given by the program. After completion of debugging, your Samsung phone will be shown on the program with its details. Click here to see how to enable USB debugging on a Samsung phone.
After your S9 has been detected by Android Assistant successfully, you can then follow the step in the below to see how to manage music and songs on your Samsung S9 by using Coolmuster Android Assistant.
- Export music from Samsung to Mac
From the left side menu, click on Music. This will present all the music files on Samsung phone on the right side of the window. You can select all files at a time or choose them separately by checking them. Then hit the Export button on top of the interface to choose a folder on yoru computer to save the exported music files. And you are done!
- Import or add music from Mac to Samsung phone
Access the Music tab from the left-side menu on the program interface. To add music from Mac to Samsung Galaxy, click on the Add button and choose the songs you want from the file browsing window to import to your Samsung.
- Delete Samsung music
You can also directly delete music files from Samsung phone on the Mac using the Delete option. What you need to do is ticking off all the music files you don't want, and then go to the top menu to press the "Delete" option. By the way, if you delete important data from your Samsung Galaxy by mistake, you can follow the tutorial here to learn how to recover deleted data from Samsung.
Words in The End:
It is easy to use the Coolmuster Samsung Music Manager, to manage music files on your Samsung Galaxy Edge and other Android devices. With its help, you would be able to do a lot more with your Samsung Android phone, just the way you want it.
Related Articles:
How to Safely Sell Old Android Phones
One Click to Share HTC Files Wirelessly