Just like Nokia PC Suite and LG PC Suite, Sony Ericsson PC Suite is also the phone management software that released by Sony company, which is used to help Sony users to manage the Sony Ericsson mobile phones and enhance all types of functions of the devices. For example, it enables you to sync the contacts and calendar between the Sony Ericsson phone and computer in order to keep the updating of the data in your phone and computer. The Internet Connection Studio allows you to access the Internet anytime and anywhere. The Messaging Studios is able to save, create and send messages from computer to your contact list and the File browser studio make it possible to view and transfer files between Sony Ericsson mobile phone and PC. You can use the USB cord, Bluetooth or infrared to connect your phone.
Why need a Sony Ericsson PC Suite Alternative Tool?
However, this Sony Ericsson PC Suite is not always effective. According to the user comments, there are a lot of complaints about the operations of the Sony Ericsson PC Suite that the freeware is frequently getting corrupted during the installation, and there are also various problems often occur when you are using it. That's why more and more users change their desires to search for other Sony Ericsson management software instead of tolerating this unamiable Sony Ericsson PC Suite. Here, we would like to introduce the Coolmuster Android Assistant, the best Sony Ericsson PC Suite alternative tool to help Sony and other Android users to manage their Sony Ericsson phones and other Android phones on computer much easily.
What can you do with the Sony Ericsson PC Suite alternative?
You can back up or transfer your contacts to your PC in an instant without neither causing damage to them nor resulting in data loss. As for editing, it shares the same process as doing it on the phone, yet it's easier to edit on a PC, since computer typing is faster and users can quickly find the ones that need to be edited on the PC. Even you can edit them in a batch. Being tested for thousands of times and used by millions of people, Coolmuster Android Assistant proves to be safe, risk-free, applicable to all brands of Android mobile devices, including not only cell phones, but also tablets, and supportive of various Windows platforms. Coolmuster studio also develops to help Mac users to manage Android files on Mac computer without any hassle.
No matter you are using Sony Ericsson mobile phones, or other Android-based devices like Samsung, HTC, LG, Motorola and so on, this alternative tool to Sony Ericsson PC Suite can always be helpful for you.
How to Manage Sony Phone with Sony Ericsson PC Suite Alternative?
Step 1. Connect Your Sony Ericsson phone to Computer
First of all, click above button to download and install this Sony Ericsson PC Suite Alternative tool on your PC (here we set Windows version as an example). Launch it and then connect your Sony phone to the computer through a USB cable. If it is the first time to run this software, you may encounter the following picture that requires you to enable USB debugging on your phone at first. If your device can be detected by the program, you can directly skip to the next step.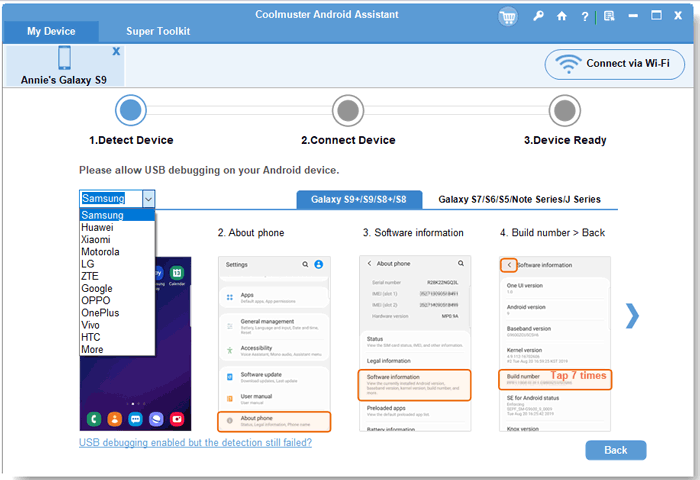 Follow the below instruction to enable USB debugging:
1) For Android 2.3 or earlier: Enter "Settings" < Click "Applications" < Click "Development" < Check "USB debugging".
2) For Android 3.0 to 4.1: Enter "Settings" < Click "Developer options" < Check "USB debugging".
3) For Android 4.2 or newer: Enter "Settings" < Click "About Phone" < Tap "Build number" for several times until getting a note "You are under developer mode" < Back to "Settings" < Click "Developer options" < Check "USB debugging".
Once the USB debugging is enabled, click "Allow" on your phone to allow the program super user authorization when an Superuser Request pops up. Then, the parameter information of your phone, including phone model, system version and storage space size will be shown in the main interface like below.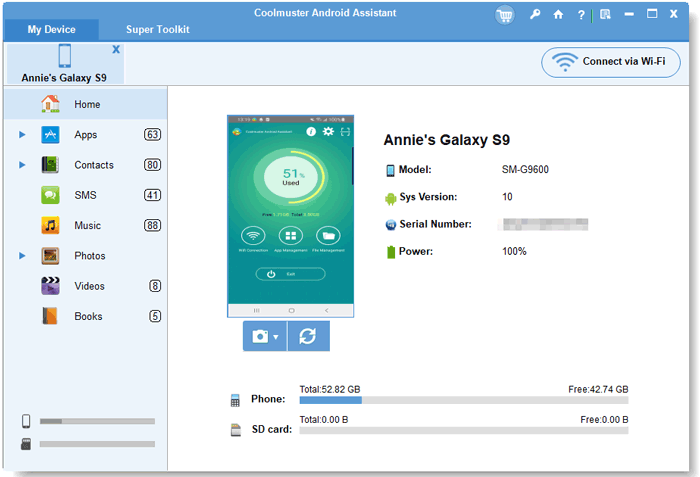 Step 2: Start the managing task
All files on your Sony Ericsson phone are categorized and shown in the top menu. They're Apps, Music, Videos, Photos, Contacts, SMS and eBooks. Click each tab to enter the corresponding window. Then, you can choose to import, export or delete them according to your own needs.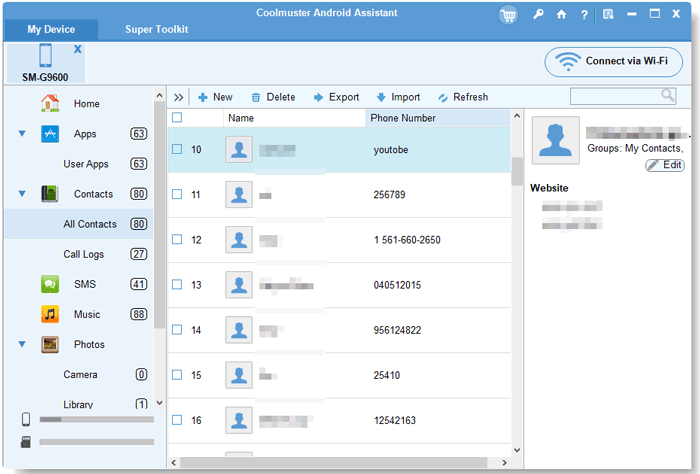 To learn more about this Sony Ericsson PC Suite alternative tool, you can click here.
Related Articles:
How to Transfer Android Files to External Hard Drive
One Click to Transfer Contacts from SIM Card to Computer