Accidents happen when we least expect them. You may have unintentionally deleted the files on your Android smartphone. Obviously, you would want to recover them. This is where the Tenorshare Ultdata for Android comes into play. Tenorshare Ultdata can help you recover lost data on your Android device, such as photos, messages, and important contacts.
This recovery tool works without rooting your Android device and you just need a Windows PC. It is easy to use and performs complete data recovery on Android. But to fully understand it, you need to check it deeper. In this Tenorshare Ultdata for Android review, we'll introduce this application and provide some basic information, including its standout features.
Part 1. Overview of Tenorshare UltData for Android
Tenorshare is a top brand that creates data recovery software for multiple platforms, including Android, iOS, Windows, and Mac. Their software can recover lost data in all situations. Tenorshare updates its software regularly and includes new features to ensure compatibility with the latest devices.
Tenorshare UltData is a software that recovers data and comes in two versions: one for Android and one for iOS. Both versions have similar features and belong to the Tenorshare family. This top brand is committed to offering effective data recovery, backup, repair, and transfer solutions. They provide simple methods for managing data quickly and securely.
Tenorshare UltData for Android is specifically designed for users of Android devices who are dealing with unexpected situations such as accidental deletion, system crashes, device damage, and other issues resulting in the loss of important data. This software allows them to recover their lost data even without a backup.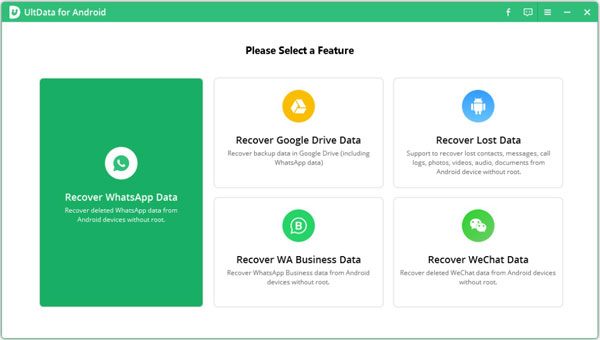 Part 2. Key Features of Tenorshare Ultdata for Android
1. Recover data without rooting your device - Tenorshare UltData for Android allows users to recover deleted photos and WhatsApp messages without rooting their devices. Unlike other Android data recovery programs, UltData can scan deep into the device and recover data even if it has not been backed up.
2. The recovery rate is high - Tenorshare UltData is highly effective and boasts a high success rate in retrieving data on Android devices. It excels particularly in recovering media files and documents.
3. It can recover WhatsApp files - Tenorshare UltData can recover various WhatsApp files on Android without limitations. These files include stickers, videos, voice recordings, photos, and documents. This is very helpful for people who use WhatsApp for personal or business purposes, as it provides a backup to prevent important data from being lost.
4. Support a wide range of Android models - Tenorshare UltData for Android now supports over 2000 Android models to provide users with a more convenient data recovery service.
Read More:
14 Best Android Data Recovery Software in 2023 (Free & Paid)
Top 11 Phone Memory Recovery for Android Software You Should Know
Part 3. Other Key Aspects of Tenorshare UltData for Android
3.1 Platform Compatibility
To use it, you must have an Android smartphone and either a Windows or MacOS computer connected to it. The application can run on old machines and earlier versions of Android. As we delved further, we discovered an intriguing fact: to fully use the features of Tenorshare UltData for Android, you will require an Android device that has been rooted.
Note: This application is only compatible with Android smartphones and tablets.
3.2 User Interface and Ease of Use
To understand how the application works, let's start with the home screen. In its primary interface, you can get data from an Android device. First, you should choose the files to recover. There are several categories to choose from, such as contacts, call history, documents, audio, video etc.
Tenorshare UltData will begin scanning your Android device after you choose the file you wish to recover. If the device is not rooted, an error will pop up, and the application will not continue. You will then be directed to Kingo Roottool.
The tool is designed to help you root your Android. However, we want to emphasize that rooting shouldn't be done without careful consideration. It is a significant task that should only be attempted if you are completely confident in your abilities.
Overall, UltData is simple to use, but you can only recover pictures and videos if your device is not rooted. Rooting is required for full data recovery.
3.3 Speed and Performance
The performance of Tenorshare UltData in extracting files is determined by the types of files to be recovered. Overall, the application performs well. If you take many photos and videos, it may take a while to retrieve all of them. UltData cannot do much to speed up scanning and recovering data. It should be noted that UltData exhibits no issues with performance and appears to be stable, with no reported bugs encountered so far. Thus, it can be concluded that UltData is satisfactory in this regard.
Can't Miss: Best Photo Recovery Apps for Android You Should Know
3.4 Pricing
Tenorshare UltData for Android is a paid program. While it allows you to scan your device and preview files for free, you must pay to recover any lost data. It has different plans that you can choose from based on the duration of the license and the number of devices you want to use for the service.
The individual plans:
$35.95 per month for 1 PC and up to 5 devices.
$39.95 per year for 1 PC and up to 5 devices.
$49.95 provides lifetime protection for 1 PC and up to 5 devices.
The business plan options:
$52.95 per year for 1 PC and up to 10 devices.
$65.95 per year for 1 PC and up to 15 devices.
$399 per year, which includes unlimited devices for 1 PC.
3.5 Pros & Cons
Pros:
Compatible with WhatsApp file recovery without rooting.
Support the latest OS 12 and can recover files smoothly.
Work with Google Drive for download and backup.
Recover data without backup.
Compatible with thousands of Android devices.
Cons:
The program is not free and is more expensive than other similar programs.
It may take up to 6 hours to complete scanning large files.
Certain files like calendar events, voice memos, and page documents may not be recoverable.
May Like: 9 Best Video Recovery Apps for Android (Free & Paid)
Part 4. How to Use Tenorshare UltData for Android to Recover Data
Below is a step-by-step guide to using this program:
Step 1. After installing Tenorshare UltData for Android, open the program and connect your Android device. Then, on the program's main interface, select "Recover Lost Data".
Step 2. Enable the USB debugging option in your Android Settings. To locate this option, go to Settings > Build > Build Number then tap on it for seven times.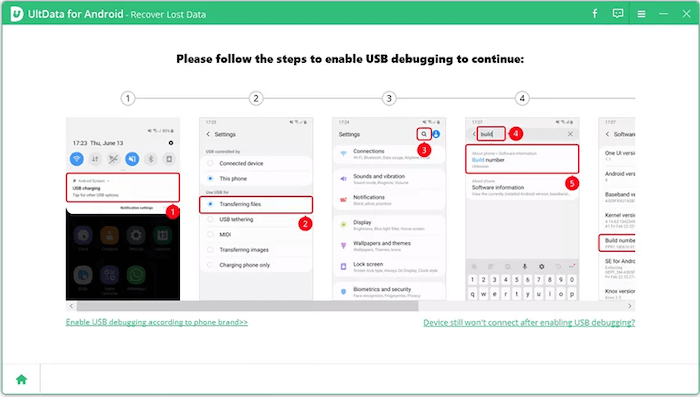 Step 3. After finishing, return to the software and choose a file type to scan your device.
Step 4. Once the program finishes scanning, you can choose the files you want and click on the "Recover" button to retrieve them quickly.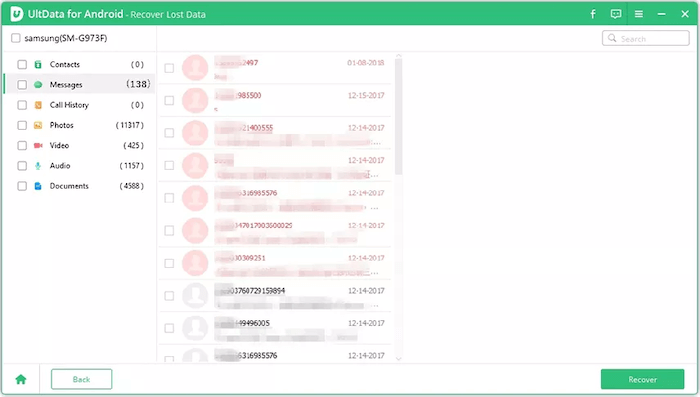 See Also:
Powerful Android Flashing Software: Easily Flash Android Devices
How to Recover Data from Broken or Dead Samsung Galaxy S/Note?
Part 5. Best Alternative Software to Tenorshare UltData for Android - Coolmuster Lab.Fone for Android
If you're not satisfied with Tenorshare UltData for Android and are looking for an alternative, you could try using Coolmuster Lab.Fone for Android instead. It has a user-friendly design and clear instructions.
Compared to others, Coolmuster Lab.Fone for Android is faster at scanning devices, and it won't take hours to scan and recover data, even in its deep scanning mode. The program has a high success rate in recovering files from internal memory, SD card, and SIM on Android devices. Generally, it is a dependable tool for data recovery.
Here are the top features:
Recover deleted photos, SMS, call logs, videos, music and documents.
Recover files from Android's internal memory or SD card.
High success rates in recovering data.
Support more than 6000 Android devices.
Back up and delete existing files from Android to the computer.
Download Coolmuster Lab.Fone for Android.
Check the steps to recover Android data with Coolmuster Lab.Fone for Android:
01Launch the program on the PC after installing it. Click on the "Android Recovery" module. Next, connect the Android to the same PC and enable USB debugging.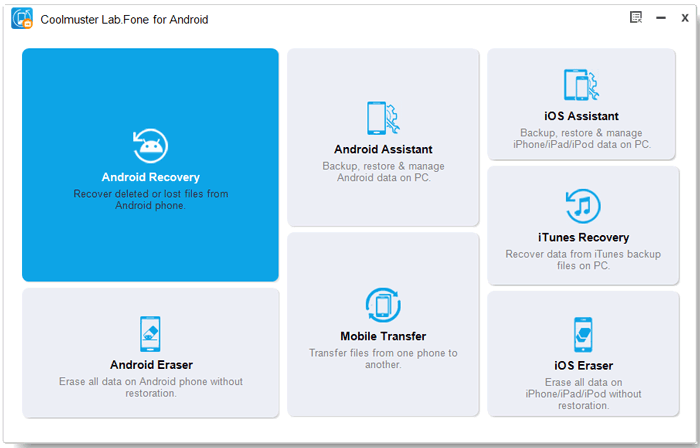 02The tool will automatically detect your device. An interface will appear where you can select the type of files that contain the data you wish to recover. Hit "Next" to proceed.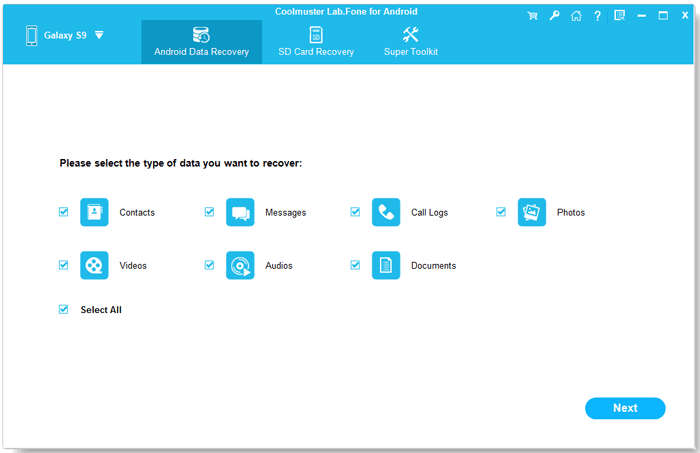 03When scanning media files on your Android phone, you have two options: "Quick Scan" and "Deep Scan". Choose the suitable mode and click "Continue" to begin the scan.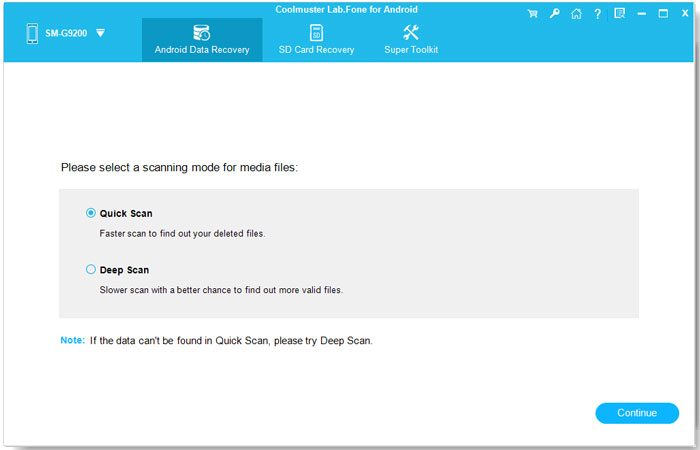 04After scanning, the files on your Android phone, including lost ones, will be sorted into categories. You can click on each folder to preview the items on the right window. Select files and click on the "Recover" button.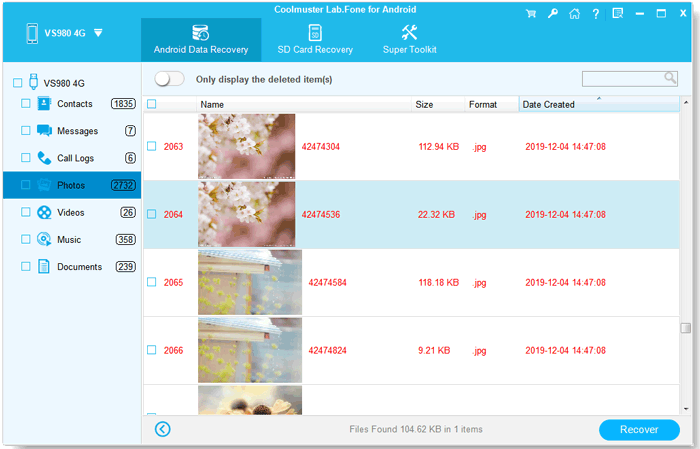 Further Reading:
2 Ways to Recover Deleted Text Messages from Android SIM Card
4 Ways to Retrieve Deleted Call Logs on Samsung
Final Verdict
From this Tenorshare Android data recovery review, Tenorshare Ultdata for Android has its strengths and weaknesses. However, Coolmuster Lab.Fone for Android remains a top-notch solution for data recovery with its speed, dependability, and safety. The software is also lightweight and doesn't affect performance. Additionally, its user-friendly interface requires no technical expertise to operate.
Related Articles:
How to Retrieve Text Messages from a Broken Phone Effortlessly? (Intelligent)
How to Recover Data without USB Debugging when the Android Screen Is Irresponsive?
3 Practical Ways to Retrieve Contacts from SIM Card
How to Retrieve Deleted Messages on Huawei Phone? [Solved with 4 Ways]
Xiaomi Data Recovery Software: How to Recover Deleted Data from Mi Phone
Android Audio Rescue: How to Recover Deleted Audio Files from Android Phone