How to recover photos from lost phone without backup? Many phone users wonder how they can achieve that. Phones are susceptible to damage or getting lost. This means all your pictures will be gone. The worst part is we forget to back up our data. Honestly, recovering them without a backup could be challenging. But worry no more, as this guide discusses just that. Ultimately, you will know how to recover photos from stolen Android phones and regain those cherished moments.

Part 1. Can I Restore Pictures from My Lost Device Without Backup?
Let's be honest: recovering photos or any other files from a lost device that you didn't back up its data before is almost impossible. Even though some tricks can help, you will still require a backup. Therefore, it is best to regularly sync the Android files to your cloud storage so that your important files don't get lost if something happens to the device.
Keep reading to learn how to recover data from lost phone.
Part 2. How to Recover Photos from SD Card Without Phone Using Coolmuster Lab.Fone for Android?
Do you always save your data to SD card? Coolmuster Lab.Fone for Android can help you restore photos and any other file from the SD card conveniently. You don't need your phone or have it rooted to perform the process. Coolmuster Lab.Fone for Android supports restoring deleted pictures, videos, documents, and music from SD card and saves them to the PC.
Key Highlights
Restore files from the SD card and memory of the Android.
Allow you to restore deleted music, videos, photos, etc., from the SD card.
Let you restore pictures, call logs, videos, music, and more from the internal storage of your Android.
Retain the quality of photos.
Support most Android devices.
Preview data before recovering it.
Here are the how to recover data from an SD card:
01Install the Coolmuster Lab.Fone for Android on PC, then launch it. In the Toolbox window, choose Android Recovery, then select the SD Card Recovery option at the top. Insert the SD card into the PC using the SD card reader.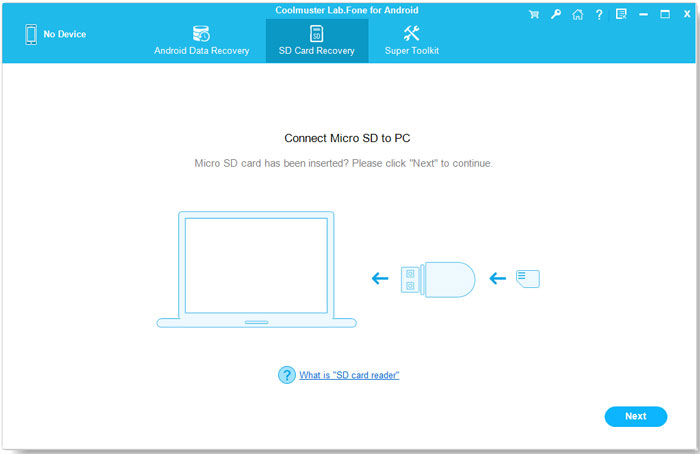 02Hit Next to proceed. You'll see the inserted card shown on the interface. Choose your SD card to scan, then hit Next to begin scanning.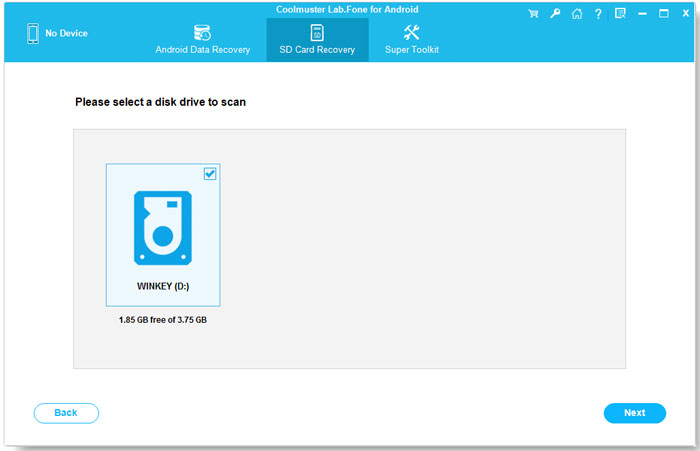 03Once done with scanning, all the files on the SD card will be shown in categories of different types. Click on Photos, then preview deleted pictures from the SD card as you choose the files to restore. Finally, press Recover.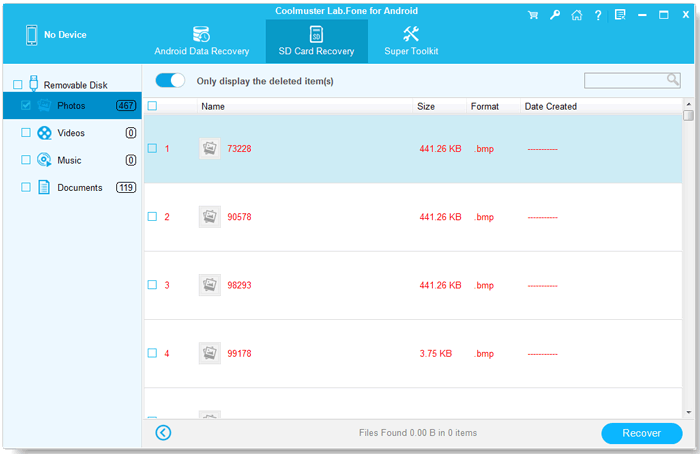 Read more:
How to Fix Android Phone Blue Screen of Death?
9 Ways to Fix Android Tablet White Screen of Death in 2023
Part 3. How to Back Up & Restore Android Data via Coolmuster Android Backup Manager?
Coolmuster Android Backup Manager is at your service whenever the need to back up and restore Android data arises. It lets users backup all files effortlessly to the computer in just a click. It supports backing up photos, videos, text messages, contacts, etc.
When you restore your files, you will do that efficiently without requiring the phone. As such, it is an amazing software for recovering photo backup.
Key Features
Allow backup of all data on Android to PC in just a click.
Support photos, videos, contacts, call logs, videos, apps, etc.
Support most Android devices.
How to back up your data:
01Open the software after installing it on a PC. Click on Android Backup & Restore from the Toolbox. Link the device to the PC with a USB cord, then enable USB debugging.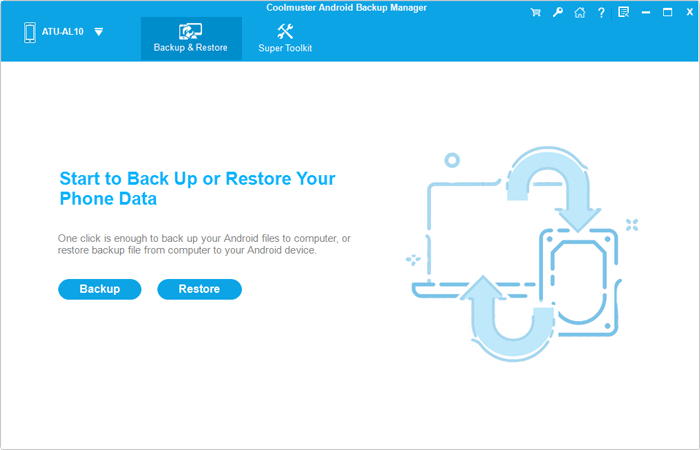 02The tool will start scanning the files. Once done, you will see the files in the interface. Tap on the Backup tab and choose the file types to back up. Hit Back up to begin backing up your files.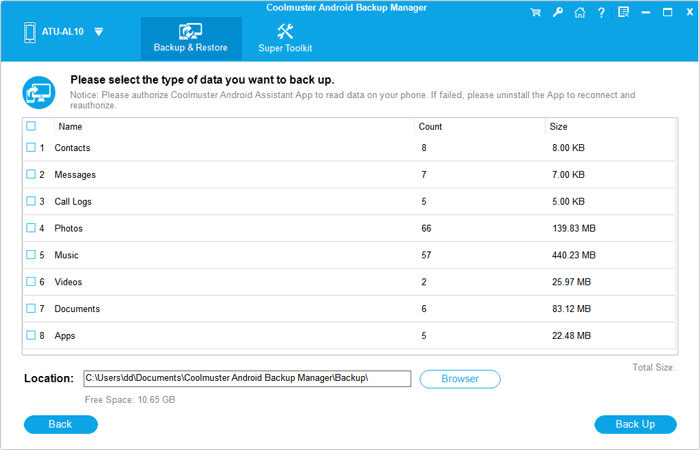 When you want to restore your pictures, follow these steps:
01Launch the software and choose Android Backup & Restore.
02Choose all pictures you wish to recover. Afterward, you can click the Restore tab to recover them from the backup.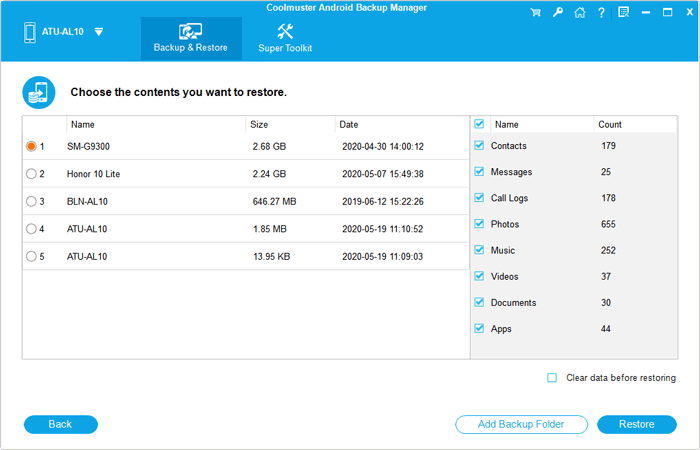 Part 4. How to Recover My Photos from My Lost Phone Using Google Photos with Backup?
This method will only work out for you if you enable the Backup option on your device before it gets lost. If not, then you have to use another method that can help you recover your pictures.
Google Photos is an app that lets you conveniently store and share photos. It backs up all photos and screenshots you take on an Android smartphone.
When you create a Google account on any smartphone, Google will allocate 15 GB of storage space to backup pictures. Normally, photo backup in Google Photos is done automatically, meaning whenever you capture a picture, it will be saved instantly to your device.
Here are the steps on how to recover data from lost Android phone without a backup:
Step 1. Log into your account on the desktop. You will see an icon with many dots at the top near your profile. Tap on the dots to see Google Apps, and you will see all your pictures and screenshots there.
Step 2. Now you can import the pictures to a safe location like your computer.
Also read:
3 Practical Ways to Retrieve Contacts from SIM Card
How to Recover Deleted Screenshots from Android Phone Successfully? (Proven)
Part 5. How to Recover Data from Lost Phone Using Dropbox with Backup?
Some people prefer using Dropbox instead to back up their files. Similarly, you may restore your photos from there, provided you have enabled the photo backup function. With that already sorted, you are just a few steps from successfully recovering your pictures.
Here are the steps:
Step 1. Navigate to the Dropbox website and locate the Photos folder.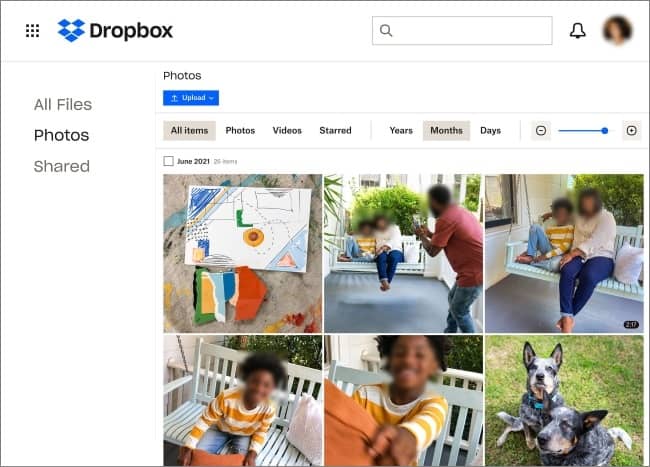 Step 2. Choose the pictures to restore and choose Download.
To Sum Up
Losing your device accidentally or being stolen is not a pleasing experience. It will make you spend money and take away those fond memories you had captured in the form of pictures. Luckily, if there are stolen photos from your cell phone, you can effortlessly restore them. The above methods will help you recover photos from a lost device without a backup. If you usually save your photos on an SD card, the best tool is Coolmuster Lab.Fone for Android. It is the best software so far to restore files from an SD card directly.
Alternatively, we advise you to use Coolmuster Android Backup Manager to back up and recover your Android files, then you can restore the backup pictures and any other file you want without the phone.
Related Articles:
4 Ways to Retrieve Deleted Call Logs on Samsung
How to Recover Deleted Call Log on Android? 4 Ways to Fix
How to Retrieve Text Messages from a Broken Phone Effortlessly? (Intelligent)
How to Recover Data without USB Debugging when the Android Screen Is Irresponsive?
How to Recover Deleted Photos in Redmi Phone? (6 Ways Available)