With the prevalence of modern technology, people have become accustomed to sharing data. Therefore, it is important to learn how to transfer files from PC to Samsung Tablet. Certainly, you can connect your Android device to your computer via a USB cable and transfer files, but this method is quite time-consuming. Instead, you can try a wireless transfer.
Moving data between Samsung devices and computer systems is very simple when you know how to do it. While Apple users can move data wirelessly using AirDrop, you need to look for some other means if you are an Android user. Just because file transfer on Android requires third-party apps, it does not mean it is impossible. Since it is easy to transfer data regardless of the platform you're sending to, it is possible to move files to Mac and Windows. Here are some of the top methods to transfer data from PC to Samsung Tablet.
Method 1. How to Transfer Files to a Samsung Tablet via Coolmuster Android Assistant
Sending all your important data from your computer to your smartphone in just one click would be great. Wouldn't it? Well, it is now possible. You don't need to search through your files folders and transfer them manually, one at a time. There are new ways to perform file transfers. Coolmuster Android Assistant fulfills all your needs. It helps you transfer photos, SMS, call logs, music, videos, contacts, etc., between Android phones & tablets and computers. In addition, it allows you to manage your phone data on your PC.
The key features of Coolmuster Android Assistant:
Transfer data between Samsung devices and PC, including eBooks, contacts, music, photos, videos, contacts, SMS, etc.
Back up then restore all Samsung data on computer in just one click.
Manage Android phone data on computer: export Android phone contacts to Outlook, import contacts from Outlook, send and reply to SMS messages, install and uninstall applications, edit and un-duplicate contacts, delete data, etc.
Support several Samsung device models.
Click the button below to download the Coolmuster Android Assistant.
Here's how to transfer files to a Samsung tablet:
01Install and Launch Coolmuster Android Assistant
Once you install and launch the program, you will see a toolbox. Select the "Android Assistant" unit to access the Coolmuster Android Assistant. Once you access it, you will see its primary interface.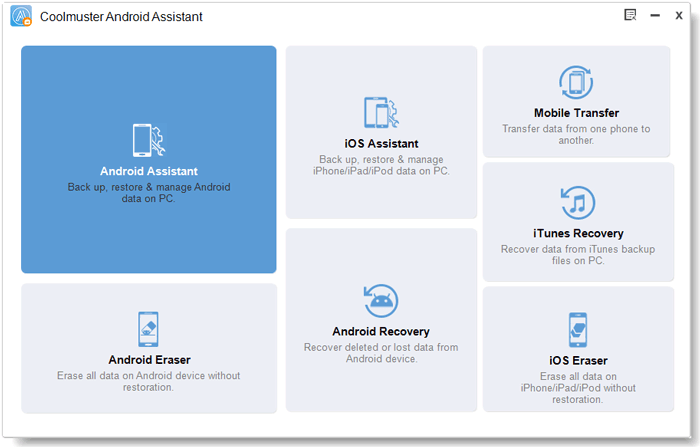 02Connect to Computer
Link the tablet to the Windows PC with a USB cable. After that, follow the prompts on the screen to allow USB debugging. Once successfully connected, the tablet info will be displayed on the software interface.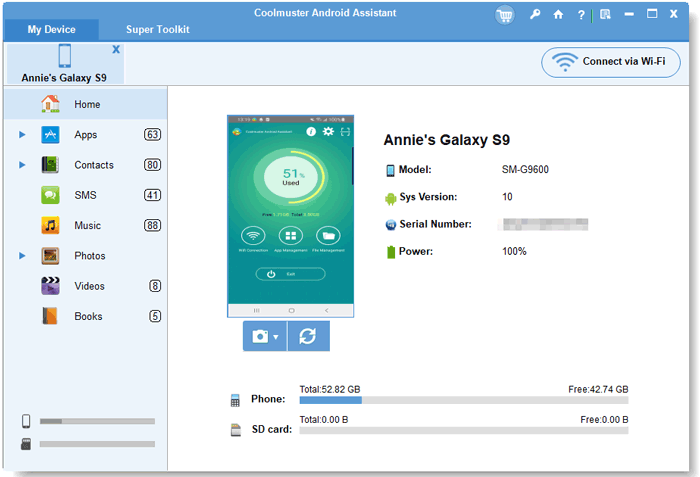 03Transfer Files to Samsung Tablet
Choose any file from the panel on the left. For example, if you intend to move music, click "Music" and select that you want to back up, and hit "Import" to transfer them to tablet.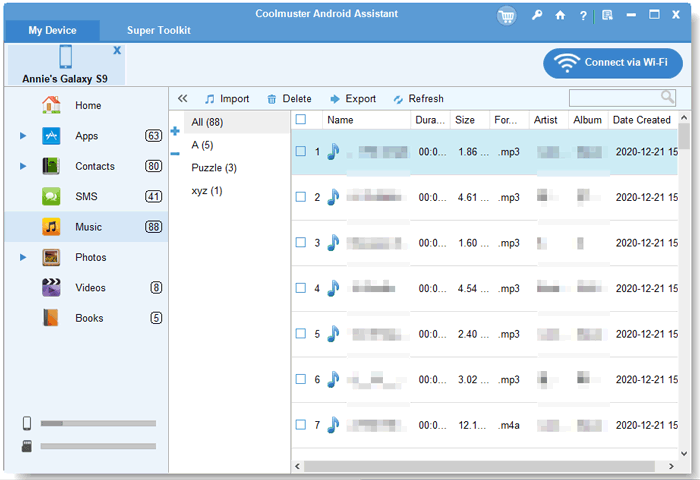 You May Want to Know:
4 Useful Ways to Transfer Contacts from Samsung to PC
How to Transfer Photos from Samsung to Computer? [5 Ways]
Method 2. How to Transfer Files to Samsung Galaxy Tab from PC Using a USB Cable
USB data transfer appears outdated; however, there is a lot of improvement thanks to technological advancement. The technology behind the USB has improved, giving you better transfer speed when sharing files between a PC and Samsung. Here is the simple step-by-step way to transfer data from your PC to your Samsung Galaxy tablet via your USB cable:
Step 1. Connect the Samsung to PC
You need to have a working cable that can transfer data quickly between devices.
Step 2. Enable USB Files Transfer
Once the two are connected, the Samsung phone will prompt you to choose an option for USB mode. You can select "Transfer files" to move other-than-multimedia data. In another situation, you can select photos also.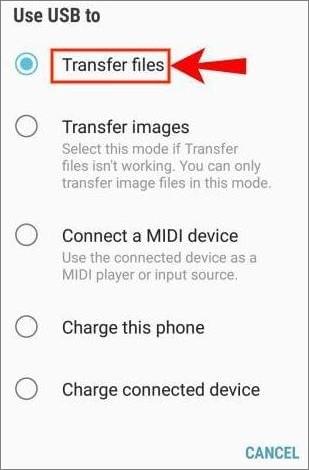 Step 3. Set Up Phone
Now your computer will prompt you to set up your device and choose what you want to do next. Hit "Access File Folders" to open your device data in File Explorer on the personal computer.
Step 4. Copy Files from the PC
Open the specific folders where the data you intend to move is located. Copy all your folders or files by pressing Ctrl+C. Alternatively, you can right-click and then select "Copy".
Step 5. Transfer Files
From your computer's File Explorer, look for the data on your phone. Open the destination folders where you want to paste your data. Next, press Ctrl+V, or you can right-click and then select "Paste".
Can't Miss: 5 Ways on How to Transfer Pictures from Samsung to Computer Efficiently
Method 3. How to Transfer Files from PC to Samsung Galaxy Tab Using Bluetooth
If you are looking for a wireless method to share data between your computer and Samsung device, you can use the Bluetooth feature. It does not require installing an app on your device and allows you to transfer your data without Wi-Fi. Thus, if you're looking to move photos or other small-size files, then Bluetooth technology is the most convenient way. Here's the simple step-by-step method of transferring data from your computer to your Samsung via Bluetooth.
Step 1. Turn on the Bluetooth Feature
Firstly, you need to activate Bluetooth on Samsung and the PC.
Step 2. Connect Phone to PC
Open your Bluetooth settings, make Samsung tablet discoverable, and go to the PC on the tablet. Once there, click on the PC name and pair it; accept it when you get a request to pair on your tablet.
Step 3. Transfer Files
On the PC, open your Bluetooth settings. Next, select the "Send Files" option to begin the file transfer process. Now click on the name of the Samsung device.
Step 4. Select Files
Browse the folders and files, and select the ones you intend to move from the PC to the Samsung phone. Once selected, hit "Next" and begin the transfer process.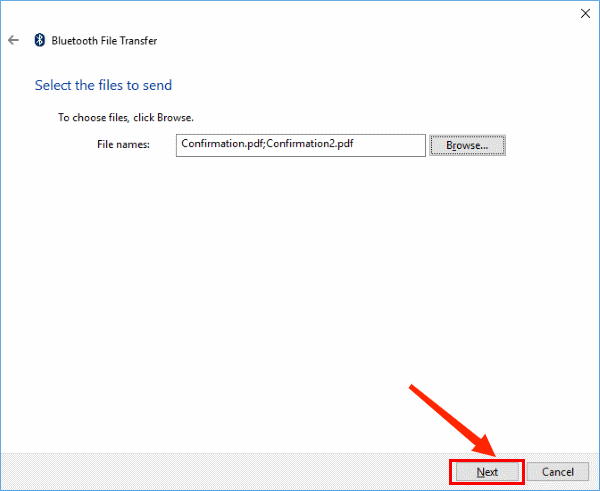 Step 5. Accept the Connection
You will get a request to transfer files to Samsung. Accept it.
Step 6. Save Files in the Desired Folder
Wait until the file transfer process is finished, choose a destination folder, and save your files on the Samsung smartphone.
May Like:
How to Transfer Photos from Samsung to Mac for Backup? 4 Ways in 2023
Transfer Text Messages from Samsung Phone to Computer | Top 6 Ways
Method 4. How to Put Movies on Samsung Tablet with Google Drive
Cloud Service is a very useful way of transferring data from your PC to your Samsung tablet. Thus, you can move movies to a Samsung tablet through Google Drive. However, uploading your files may cost you mobile data if you do not connect your tablet and PC to a Wi-Fi network. How to save movies on Samsung Galaxy Tab:
Step 1. Open Google Drive on your computer browser, and log into your account with the right credentials.
Step 2. Hit the "New" option on your upper left. Next, select "File upload" to select your desired movies from the computer.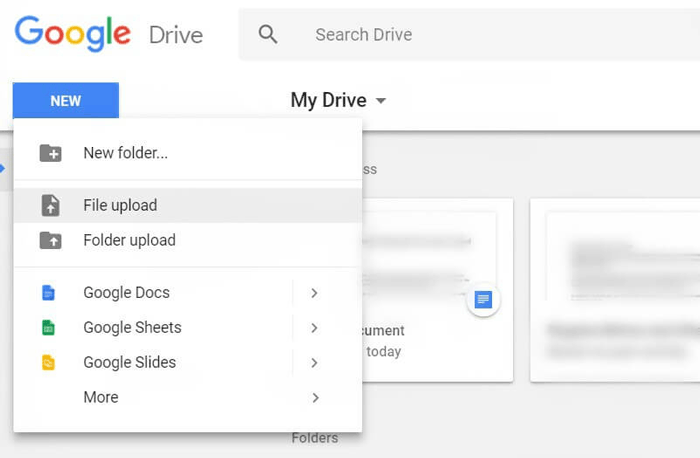 Step 3. Install the Google Drive app on your tablet, and sign in with your Google account. Now, save the movies you uploaded to a folder on the Samsung device.
Read More:
How to Transfer Files from Android to PC over Wi-Fi? [6 Ways]
Top 3 Ways to Transfer Files from Android to PC Using USB Cable
Method 5. How to Transfer Photos from Laptop to Samsung Tablet via Phone Link
The phone app connects your Windows PC and your Samsung device wirelessly. It lets you transfer your photos from your computer to your tablet. How to transfer photos from laptop to Samsung Galaxy tablet:
Step 1. Install the Phone Link
Download and install the Phone Link app, and switch on the Bluetooth feature on the two devices. Next, tap on the device and the Continue icon to enter your Microsoft accounts.
Step 2. Create a Connection
Scan the code displayed on PC using the Samsung device, and let the application access the mobile device.
Step 3. Transfer Photos from Laptop to Tablet
Select the "Photos" button, then go to the photo folder on your PC. Drag photos from the laptop and drop them on your Samsung Tab.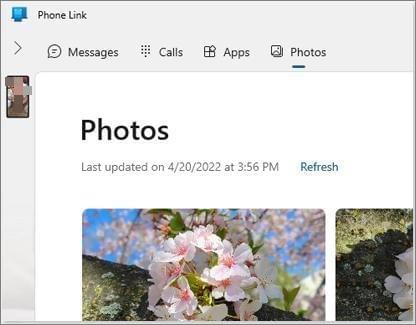 Further Reading: Samsung Device Manager: Manage Samsung Phone in 7 Considerable Ways
Conclusion
That is all on moving data from your PC to your Samsung Tablet. Through this article, you should no longer ask how do I transfer photos to my Samsung Galaxy tab. To perform this task conveniently, you can use Coolmuster Android Assistant. It gives you the best way to share files between your computer and Samsung tablet.
Related Articles:
How to Sync Android Phone to PC? [Best 6 Ways for You!]
How to Transfer Files from Xiaomi to PC with or without USB? [5 Easy Ways]
2 Effective Ways on How to Print Text Messages from Samsung
How to Transfer SIM Card Data to Computer Effortlessly? (4 Quick Ways)
7 Simple Tricks for Samsung Cloud Backup Failed Problem (Updated)
How to Transfer Files Between PC and Android Tablet?
How to Fix Text Messages from One Person Disappeared Android?