A bricked Samsung phone means that you cannot turn on it and can do nothing with it. Then, why does your Samsung Galaxy phone get bricked? Most people suffer from the problem after they rooting their Samsung devices and there are also some of the other reasons for Samsung device getting bricked:
Reasons may cause your Samsung phone brick:
- A virus can easily mess up your phones' operating system
- Your phone might have fallen in water or some other type of liquid
- Bugs in the software which aren't easily noticeable
- A corrupted operating system
- Using a defective or malfunctioned memory card with numerous files and apps on it
- When a software update has not finished accurately
- Software customization such as flashing a new ROM or rooting the device.
Then, how to rescue a bricked Samsung phone? In the following passage, we will provide two solutions to unbrick your Samsung phone and fix it to normal.
Solution 1: Wipe Data to Fix Bricked Samsung Galaxy Phone
First of all, you should turn your bricked Samsung phone into Recovery Mode. Just follow the steps in the below:
1. Press and hold the Home, Volume Up and Power buttons on your bricked Samsung phone.
2. A menu will pop up on the phone screen, in which you should scroll down to choose the "wipe data/factory reset" option.
3. Press Menu/Power.
4. A dialog will pop up with a slightly daunting "are you sure?". Just choose "Yes" and then power off your Samsung phone with the power button.
The way above is fast to rescue your bricked Samsung phone, but it is not the best solution because it may lead to data loss during the rescue process. Next, we will introduce a professional program that can unbrick your Samsung phone without any data loss.
More Similar Guides:
Recover Data from Bricked Android
Solution 2. Unbrick Samsung Phones with Broken Android Fix & Recovery Tool
The software that is professional in unbricking Android devices called Broken Android Data Extraction. Using it, you can fix bricked Samsung to normal with 4 simple steps and even easily recover photos, videos, contacts, SMS, etc. from damaged Samsung device. It works on overall types of Samsung devices, including Samsung Galaxy S8/S7/S6/S5/Note 7/6/5/4. What you need to do is installing the program, connecting your bricked Samsung phone and then starting the program to repair the phone.
In the beginning, you should download and install the Broken Android data recovery on your computer.
Step 1. Connect your bricked Samsung to the computer
Launch the program on your computer and connect your bricked Samsung phone to the computer with a data cable. The program will son detect the connected phone. You should choose the option "Broken Android Phone Data Extraction" when the following screen shows.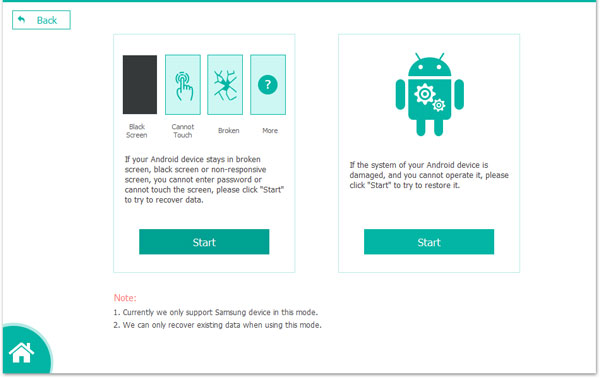 Step 2. Click Fix Device to restore your Samsung phone
If the system of your Android device is damaged and you cannot operate it, you can click "Fix Device" to try to restore it. Then, you will see the following screen. Just choose your phone fault type - Bricked.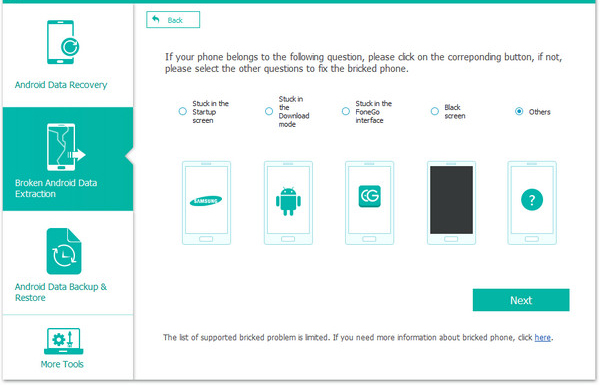 Step 3. Choose and confirm your phone name and model
Select the name and model of your Samsung phone and click "Confirm" button. Then, follow the operations on the pop up window to get your Samsung phone into Download Mode.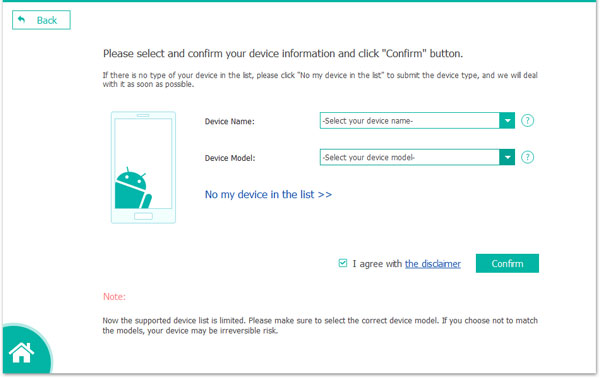 Step 4. Unbrick Samsung phone and recover data
After your Samsung enters Download Mode, the program will detect it and scan for data. All the scanned out data will be displayed by categories, such as text messages, contacts, videos, photos, etc. Select the file categories you want and click "Recover" button to save them on your PC.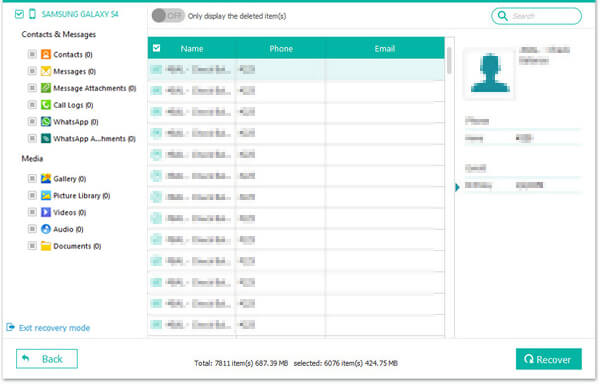 Free download the broken Android Fix & Recovery tool to have a try!
Related Articles:
Samsung Device Manager Software
SMS Recovery for LG Optimus/G2/Viper/Ally
[Full Guide] How to Recover Data from Bricked Phone?
How to Transfer Contacts from OPPO to Samsung in 7 Trouble-free Ways