Bootloader is a code that usually comes pre-locked in all kinds of phone OSes, which can help those people who want to install a custom ROM on their phones, or install some third-party program that are originally incompatible with their phones. Therefore, if you want to fully control your smartphone and make full use of it, you can choose to unlock bootloader on your phone. Certainly, the process of unlocking bootloader and rooting device is not easy. If not handled properly, you might break the warranty of the device.
Therefore, clearly knowing the process of HTC bootloader unlock is urgent. This article would tell you the safe and detailed process you can follow to unlock HTC One bootloader.
Part 1: What We Can Do After Unlocking HTC Bootloader
Part 2: How to Unlock HTC One Bootloader
Part 1: What We Can Do After Unlocking HTC Bootloader
As an HTC device owner, once you have unlocked bootloader on your HTC One, you can release the true power of the device so that you can control the HTC device by all means. Then, what we can do after unlocking HTC bootloader?
1. Gain rights of control your HTC device fully.
2. Install latest custom ROMs in the HTC phone.
3. Install third-party apps that are incompatible with your phone.
4. Boost the device speed and battery life.
5. Allow you to make complete backups of your HTC phone.
6. Gain power to remove bloatware from the HTC device.
However, if you do the unlocking bootloader improperly, there are various disadvantages would brought to you. For example, you might break the warranty of the device. Therefore, next, we will show you the detailed and secure steps to unlock HTC One bootloader.
Read More: How to Boot Android Phone into Recovery Mode
Part 2: How to Unlock HTC One Bootloader
Before we start to unlock HTC One bootloader, please make sure the following two things have been done already:
1. Your HTC device is charged at lease 80%.
2. Installed fastboot drivers for the device configured on the Windows machine and the Android SDK.
3. Backup your HTC One data in case of data loss during the process of unlocking bootloader.
4. Installed HTC Sync Manager on your computer.
Steps you can follow to unlock bootloader on HTC One:
Step 1. Go to htcdev.com/bootloader. log in to HTC dev with your registered account. Go to "Select your device" option to select the model information of your HTC One.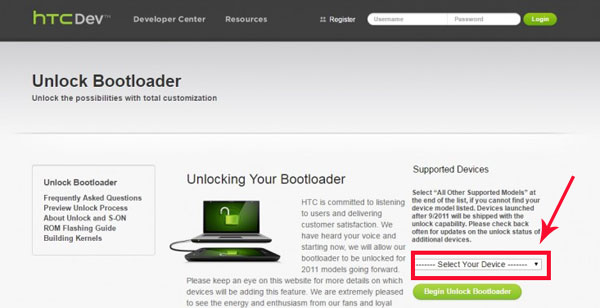 Step 2. After selecting your device, click on "Begin Unlock Bootloader", and then confirm all the dialogue boxes on screen according to your own situation.
Step 3. There will be 4 steps will be displayed on the screen. Disconnect the HTC one from the computer and turn it off. Press the Volume down + Power buttons at the same time to switch the device on in bootloader mode.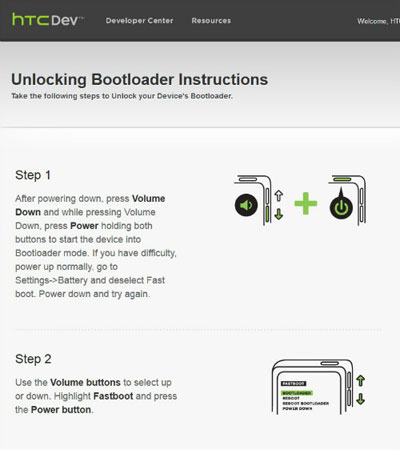 Step 4. Select Fastboot option using the Volume keys and confirm it with Power button. Once the device is in bootloader mode, you can connect it to the computer using a USB cable.
Step 5. Go to Fastboot folder on the computer. Hold down the shift key and click on empty space following by a click on "Open command window here". Then, type "fastboot devices" and press enter. After that, your HTC One will be displayed on the command prompt.
Note: If your HTC one hasn't shown up, you should go back to check whether HTC Sync Manager has been installed on the computer. If not, reinstall it!
Step 6. On the 3rd page of HTC Dev's site, click on "proceed to step 9". Follow the steps listed and click submit. Then, the unlock token code for the HTC One will be mailed by HTC. Download the token and name it "Unlock_code.bin". Just save it in the fastboot folder.
Step 7. Type the content "fastboot flash unlocktoken Unlock_code.bin" in the command prompt window.
Step 8. A message will appear on your HTC One, asking you whether you want to unlock the device bootloader. Use volume keys to select and power button to confirm. Once above is done, your HTC One device will restart once.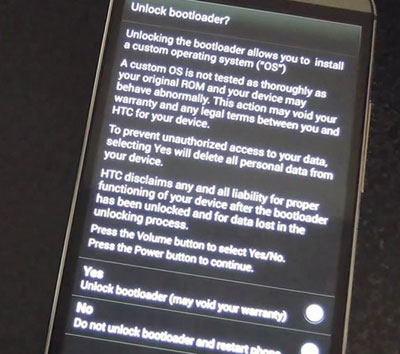 Now, your HTC One is bootloader unlocked successfully.
Related Articles:
Copy SMS from Motorola Phone to Computer
Transfer Contacts from Android Phone to Computer
How to Unlock Galaxy PIN Code Step by Step? [New Ideas]
How to Reset a Motorola Phone that Is Locked Yourself?
How Do You Unlock a Tablet if You Forgot Your Password?
Android Unlockers: Top 8 Android Phone Unlocking Software in 2023