ePub files, which are published electronically as e-books, are currently hugely popular with a whole host of computer and mobile device users owing to their being of tremendous convenience and including multimedia components that add enormous excitement to reading experiences. As a free open standard and a form of automatic rearranging contents, ePub displays the texts in the most suitable way for reading according to the characteristics of the devices, such as the screen size, which isn't considered and cannot be adjusted by the traditional but extensively used e-book format, PDF. Thus the changeability of ePub files makes them greatly handy and vital for millions of e-readers today.
Why we need a proper ePub conver?
Provided that you have had every intention of creating an ePub book, making either major or minor modifications, editing the contents, or adding the table of contents, page numbers, texts, pictures, videos or audios to one, you must have utilized a professional and multifunctional ePub editor to complete the tasks. Upon finishing all of these, have you found something significant left to be created? A cover? Exactly! As the well-known proverb goes, clothes make the man, covers can make the books. If you expect your to-be-published book to catch readers' attention at first sight, you should add an interesting or eye-catching cover with bright colors or sharp embellishments to it. If there is no cover, relevant information or brief introduction of the book or the author will not be shown, and readers may not get a clear picture of what your book is about or is written by. Furthermore, if the book is an academic one, it is definitely in great need of a seemingly formal cover. On the other hand, if you find a list of ePub books on the Internet that are started directly from the first page of the table of contents or the contents, you can hardly tell which one is the one you're halfway through reading, as they may look similar at a glance.
Coolmuster SignPub(for Windows 8/7/XP/Vista) or Coolmuster Signpub for Mac (Mac OS X 10.9 or later) is an advanced application that can help you create, edit or modify any ePub files effortlessly. Whether you're a professional or amateur publisher, editor or author, you can easily add covers of any kinds, either delicate or formal ones, add table of contents, texts or multimedia files to your books, and design the layouts as well as presentation of your contents with this powerful editor. Don't worry, not any specialized knowledge is required. As long as you can use Microsoft Word, you can get the hang of it shortly! The following guide will show you how to manage cover images in ePub files.
Download the free trial version of the ePub cover managing software for Mac or Windows on your computer.
Steps to Set Cover Image on ePub eBook with ePub Editor
Step 1. Open Source ePub eBooks/Files in The Program
After you download and install the program on your computer. Launch it and then import the target ePub eBooks or files to the program like this: click the "Open File" option to browse and open the ePub eBooks you want to edit, or directly drag and drop the ePub files to the software.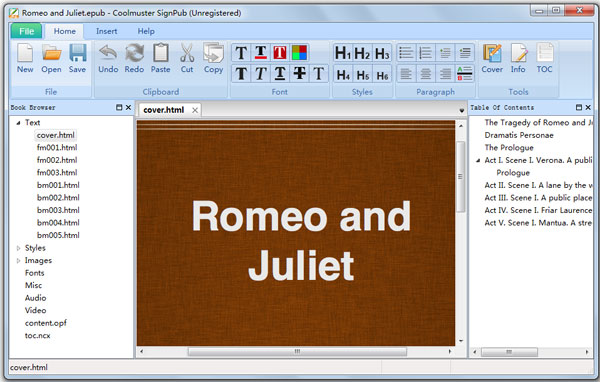 Step 2. Browse for the target cover image
Choose the option of "cover" to bring out the file browsing dialog. Locate the cover image that you can to add to the imported ePub book and click the "Open" button. Then, you can adjust the image size in order to fit it to the size of your ePub file. After that, you can click "Save" or "Save as" option to save your ePub book with the new cover image.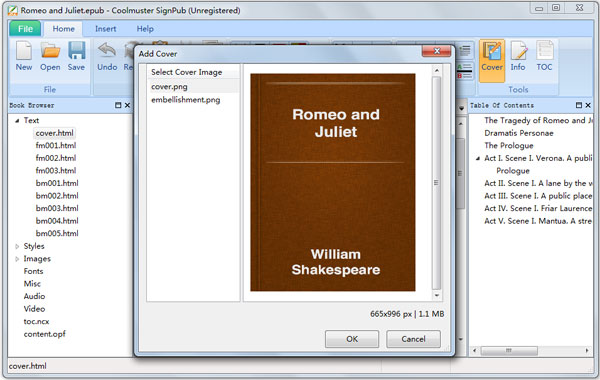 Done! See? It will be much better if the ePub book can be added with a cover image you choose by yourself. Still regret because your own ePub eBook has no cover image? Get the software to personalize your ePub books!
Learn more about ePub format:
ePub is an open format that can be freely used by anyone. An ePub book is one that stores some files together with Zip, a common data compression format, including texts, images, directories, font, authors, titles and other detailed information about the book. ePub texts use XHTML, XML (Extensible Markup Language) files that are compatible with HTML (HyperText Markup Language), which is the same coding as that of web pages. Editors work to transform the contents of books into a web-version format via XHTML and make certain adjustments, followed by transcoding and compression.
Related Articles:
How to Edit ePub eBooks with Ease