WhatsApp is a messaging app through which you can chat with friends and exchange audio video and pictures. Which chats are visible in your WhatsApp depends on which contacts in your iPhone have WhatsApp installed on their phones. Since WhatsApp depends on your existing contact list to help you chat, it is essential that your iPhone contacts are added in your WhatsApp chat contacts as well.
Since iPhone often initially denies access to its contacts for WhatsApp, you might need to manually go and enable options to allow contacts to be added to WhatsApp.
Related: How to Backup iPhone Whatsapp Messages?
How to Add iPhone Contacts to WhatsApp
The process is simple and we will take a look at the different steps and things that you need to do to make the process a simple affair. Remember, there are a variety of ways in which you can add contacts to WhatsApp. Here is a step-by-step guide of easy iPhone contacts transfer to WhatsApp:
1) Enabling access
- For this go to your iPhone settings.
- From settings go to privacy.
- Tap on Contacts.
- Check to see that your WhatsApp is set to ON. If not, turn it on.
- Now go to your WhatsApp app and open the contacts tab. Tap on the "+" button and choose the contact you want to add.
- Enter detailed information about your contact, including location name postal code etc.
- By clicking on "Done", the process is complete.
2) Manual entering of contacts
This is for you if you wish to keep the privacy settings and get the contacts on WhatsApp at the same time.
- Go to Contacts tab on you WhatsApp messenger.
- Click on the "+" button.
- Now manually enter the number of your desired contact. Include detailed information. If your contact is from a foreign country, be sure to include the STD code of that country as well.
This is a slightly painstaking process because you have to manually enter each number into your WhatsApp.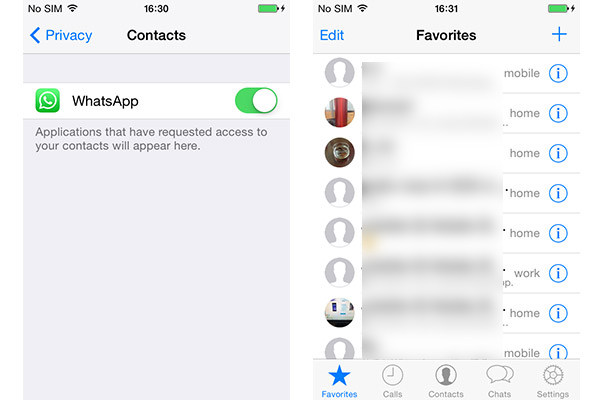 Bonus: What if iPhone Contacts were Lost? How to Add?
This method is useful if you have suddenly lost all your contacts on WhatsApp for some reason, example, after an upgrade of your operating system. Follow these steps to recover your lost WhatsApp contacts on your iPhone.
1. For this you need to download iPhone Data Recovery on your computer. It is always a good idea to back up your contacts on your computer so that if you lose them, you can easily recover them.
2. Connect your iPhone to the computer. Make sure you have a higher version of iTunes installed. Run the software.
3. After this choose any of the alternative steps, depending on your situation:
- If you have an iTunes backup, click on "Recover from iTunes Backup files" and your pre-existing backup will be immediately scanned.)
- If not, click on "Recover from iOS device". This scan will take a slightly longer time as your software scans your iPhone.
4. Now after the scan is complete, click on the Contacts tab and you can select which contacts you want to restore.
5. After this, open up your address book to automatically sync contacts to your iPhone.
6. Now follow the steps in (1) to bring back the contacts to your WhatsApp messenger.
Any of these steps will easily help you to add your contacts from your iPhone address book to WhatsApp. That is all that you need to do to add your iPhone contacts to Whatsapp - now enjoy messaging to your loved ones easily!
Related Articles:
Best Backup Assistant for iPhone/iPad/iPod
[Solved] Where Are Texts Stored on Android Phones in 2023?
How to Restore WhatsApp Backup from Google Drive to iPhone? (Step-by-step Guide)
A Guide on How to Recover Deleted WhatsApp Images on Samsung in 5 Ways
How to Recover Audio Files from WhatsApp on Android in 3 Ways?
How to View Text Messages on iCloud from Your iPhone and Computer? (Complete Guide)