Easiest Way to Back up iPod without iTunes
The portable iPod is a good device which allows you to easily listen to music songs, shoot videos, take photos and do many other things. And its compact size makes it super easy to take with yourself wherever you go, even if you are doing morning exercises. However, the small iPod device has limited storage space and one day you may find you are told that not enough space is available when you want to save other new files. So why not backup iPod? In this way, you can make a backup of the important files in case of sudden data losses. Also, you can then delete the files that have been backed up so as to free up more space on iPod device. Speaking of backing up an iPod, you have more than one ways to go!
Related:
Reasons Why You Need A Phone Backup
How to Easily Encrypt iPhone Backup
No doubt, quite a few iPod users will rely on iTunes to make a phone backup. Launch iTunes on the computer, link iPod to the computer via the USB cord, and then select files to begin the file transfer from iPod to the computer within simple clicks. That's it! Sound quite easy! But there are some demerits that you absolutely can't ignore. For example, iTunes disables you to selectively sync files and it can't support all files saved on iPod like ebooks, searching histories and etc. It is a little troublesome in using iTunes to back up iPod device. How about getting easier way out?
User Guide: Easy Way to Backup iPod without iTunes
This Coolmuster iOS to Computer Transfer (Windows/Mac) software makes it quite easy to backup iPod without iTunes. With it, you can easily export all different files from iPod to the computer and save them as a backup in case of sudden data losses. No matter how many files you have to get transferred from iPod to the computer, it can always make it within simple clicks. So you don't have to waste too much time in waiting for the process to get completed. Moreover, this software is fully compatible with all generations of iPhone, iPad and iPod devices. So what are you waiting for? Just get this powerful software and begin the file transfer from iPod to the computer in one click!
Learn More:
How to Manage iPod Library in Order
Sync iPod Media Files to External Hard Drive
Best of all, unlike other professional assistants with complex user interface, this software enables you to easily backup iPod within simple steps.
Step 1. Get your iPod connected to the computer via the USB cord and open the installed software on the computer. Then this software will detect your device and automatically scan for all saved files.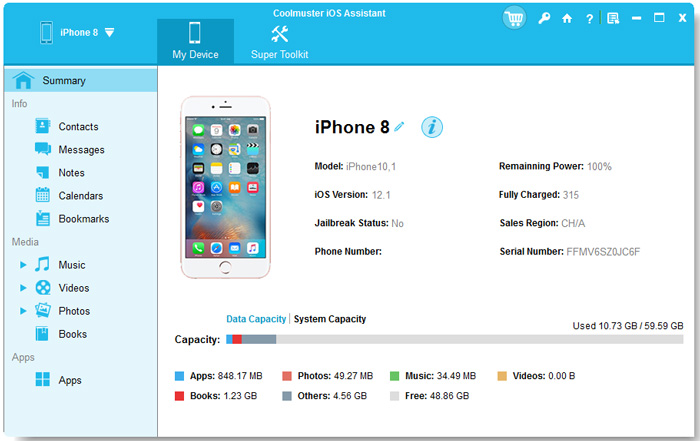 Step 2. Now, you can see different file folders are arranged on the left panel. You can then enter the tabs as wanted to choose the files you want to back up from iPod to the computer by ticking them out.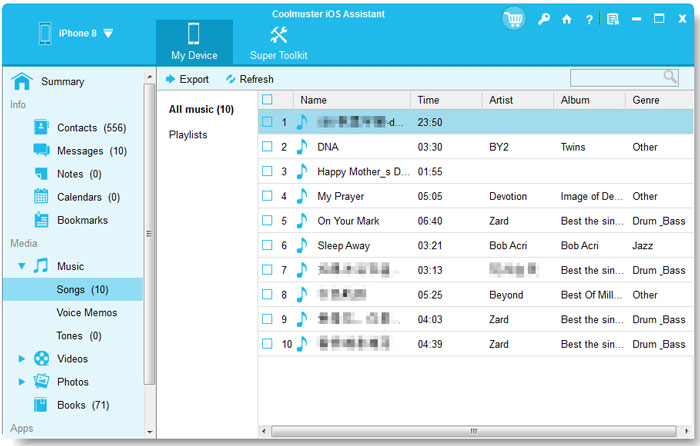 Step 3. Finally, hit the Export option to transfer files from iPod to the computer and save them as a backup. Now, just wait for file backup process to get completed within a little while. With this software, it is just a piece of cake to backup iPod without iTunes at your hand!
Related Articles:
How to Backup iPhone Notes for Free