How to Add Music to iPod without iTunes
Of the many exclusive features of an iPod, its automatic syncing with iTunes has become more of a drawback. Connect your iPod to another PC and the first thing you'll see is "This iPod has been synced with another iTunes." You will then have to delete all your present music on the iPod to sync it independently with another computer - you cannot just transfer music to your iPod as you want. Also, it does take time to sync music to your iPod even with your own PC.
Why do you need to put music on iPod without iTunes?
Now, if you have your music saved on a number of computers or you want to take music from one of your friend's collection, you either have to sync it with the new PC thereby overwriting your old favorites or simply just plug out your iPod and forget about the new songs.
You would be restricted when it comes to putting new songs to your iPhone or iPod and it does become a hassle each time you look to put new songs to your iPod. This is exactly why you need a way to somehow put music on your iPod without the use of iTunes. There is nothing wrong on Apple's behalf either. All this syncing stuff is just to make sure that iTunes music doesn't fall prey to piracy.
Also Read:
* iTunes Alternative to Backup iPhone to Computer
* How to Easily Back up iPad with/without iTunes
How Do You Add Music to iPod without iTunes?
Now coming to the solution part. Having already discussed our major problem, a good solution seems to be a genuine difficulty. When you begin your hunt for a solution, you'll find a number of software assuring you an easy bypass but eventually end up making your problem look much more difficult than it actually is. Of those many available, the one which we found to be a genuine solution was iOS Assistant (Windows/Mac) software, which allows you to effortlessly add music to iPod without iTunes.
This almighty tool not just makes it sure that you keep adding music to your iPod without letting iTunes sneak in but also gives an appropriate backup option too. Not just for your iPod, it comes handy for your iPad and iPhone as well. The greatest advantage of this software is that it as actually easy to use. It's time now to make you understand the steps involved in transferring music from a computer to your iPod without letting iTunes interfere with its ugly sync.
Step 1 - Just connect your phone or iPod to your PC with the help of a USB cable.
Step 2 - Then open the installed software on the computer.
Step 3 - Just choose the music you want to transfer to your iPhone or iPod. You can transfer all the music you want or just select the ones that you need from your PC computer.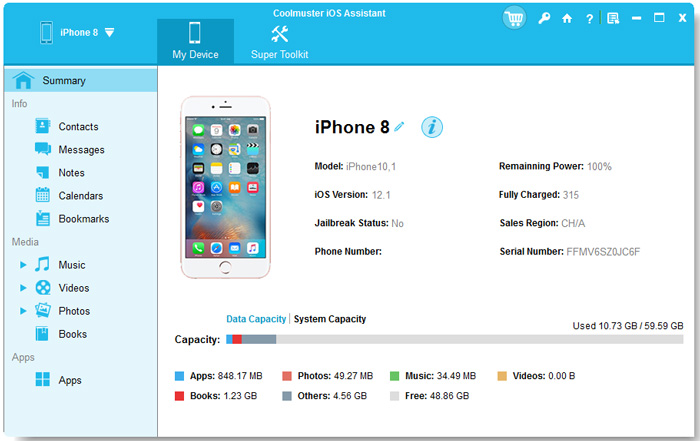 Wait for the process to complete. It only takes a few minutes, so you have nothing to worry about. This software is your solution for all your backup needs. You can store and save all your memories and do not have to worry about losing out on the important stuff- even if your phone gets stolen. You can also choose to retrieve the information you need selectively. So, you can choose the games, apps or media that you need from your old phone and do not have to transfer all the data to your new phone which can take a lot more time.
Plus, since you can put music to your iPod without iTunes, you do not have to worry about Apple's restricted ecosystem anymore. If you own an iPhone, iOS Assistant (Windows/Mac) software is surely one of the software you need to own.
Related Articles:
How to Transfer Contacts to New iPhone