How to Backup iPhone with Broken Screen? [Full Solutions]
You all understand how annoying and irritating it is to operate an iPhone or iPad that has a broken screen. Now, you will be needed to back up all info on the phone so that it can get replaced or repaired if it has a smashed screen. The tricky situation arises if you have never backed up an iPad or iPhone and have no hint about backing up an iPhone with a broken screen.
Well, if you are unable to operate and backup the phone, worry no more! In this article, you will learn more about the tactics you can utilize to backup info in your iPhone that has a broken screen.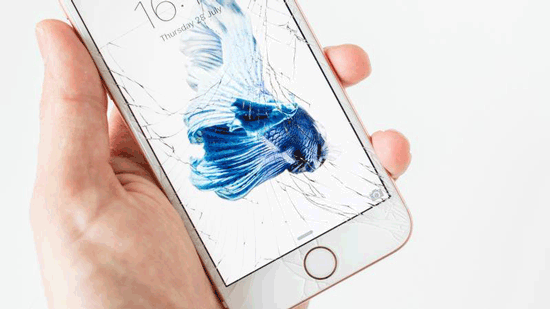 Part 1: Get Photos, Contacts, Messages, etc. from Broken iPhone via Recovery Tool
Part 2: Retrieve Pictures and More Files via iCloud, Google Drive or Dropbox
Part 3: Back Up iPhone with Broken Screen via iTunes on Computer
Part 4: Back Up iPhone with Broken Screen via iCloud on iPhone
Part 1: Get Photos, Contacts, Messages, etc. from Broken iPhone via Recovery Tool
If you want to get contacts, messages, images and other documents from your broken iPad or iPhone, you can get it quickly by using the data recovery tool - Coolmuster Data Recovery for iPhone iPad iPod (Windows/Mac). The application is valuable to iDevice users and possesses the following key features:
* It has the ability of auto-scanning all the iTunes backups in a user's file and then lists them with serial number, backup time, and device name.
* It can recover up to eleven file types in iDevices including calendar, photo, SMS, contacts and call history.
* It can recover lost data for all versions of iPad, iPhone, and iPod.
* You can recover lost data in three straightforward steps: scan, preview and recover.
Here is how you can use Data Recovery for iDevice to recover deleted or lost data from iPod/iPhone/iPad by extracting iTunes backup files.
Step 1: Install Software and Search iTunes Backup
If you start-up the Data Recovery for iPod, iPhone and iPad, the software will detect your PC automatically and then display the backup records for the iDevices that you have synced with that computer before. From the list, highlight the correct one that you want to retrieve data and hit on "Start Scan" button to begin extraction of the iTunes backup files.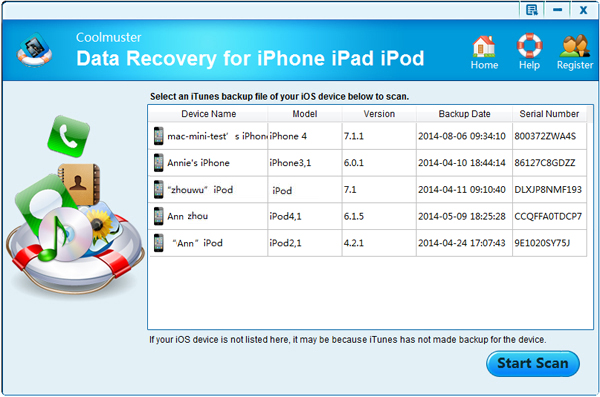 Step 2: Scan and Preview Missing Files
The application will show all your iGadget's content in categories after finishing the scan. Every category displays the extensive info of media contents and text contents. You should note that text contents are displayed with title, description, location, start date, URL, and much more. As for the media files, they can be previewed as thumbnails.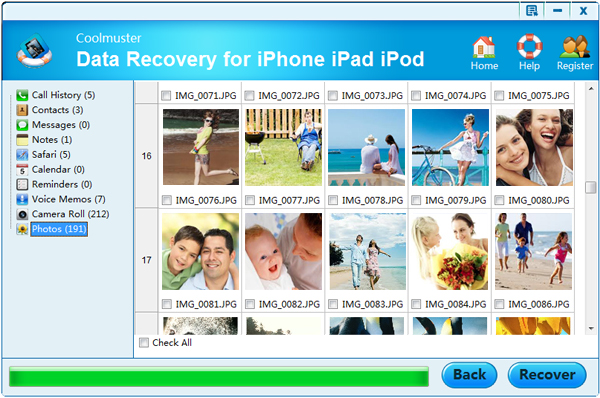 Step 3: Begin to Recover & Backup
Look for the files you want to recover and hit on the "Recover" button. This action will bring out the output folder selection dialog box. Here, be sure to outline a folder to keep the recovered file and hit on "OK" button to kick-start the recovering process.
Can't Miss:
How to Easily Recover Notes from Broken iPhone?
Is It Possible to Recover Contacts/Messages from Broken iPhone?
Part 2: Retrieve Pictures and More Files via iCloud, Google Drive or Dropbox
Various cloud storage such as Google Drive, Dropbox and iCloud offers a tactic to back up your crucial files to its cloud server. Now, if you break your iPad or iPhone, do not forget to look for lost data on the official site of these cloud servers. Here is a case study of iCloud and how you can retrieve your iPhone data from their servers:
1. Visit iCloud.com from the web browser of your PC.
2. Log in to iCloud with your Apple ID and password. From your iCloud account, you can view your saved videos, contacts, images, reminders, records and notes.
3. You may simply have the ability to sync data back to another iOS gadget from the iCloud backup.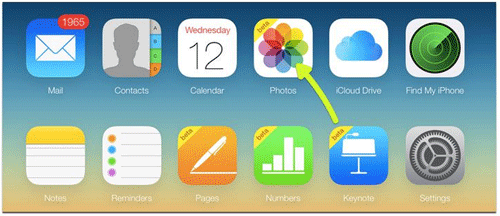 You May Also Like:
How Can I Delete Photos from iPhone But Not iCloud? [Solved]
Different Ways to Export Photos from iCloud to Windows PC/Mac
Part 3: Back Up iPhone with Broken Screen via iTunes on Computer
1. Use a USB cable to connect your iPad or iPhone to the computer. You can consider using the universal USB charging cable, and insert your iPad or iPhone into your trusted PC.
2. On your computer, open iTunes application. The iTunes icon resembles a musical note in a white circle. The iTunes icon can be found on the start menu in a Windows-based operating system or the applications folder on a Mac computer.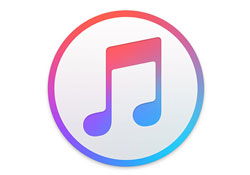 * Your iDevice will connect to the application automatically if you have linked it to this PC ever before.
* If it is the first time plugging your iDevice to this PC, you will have to authorize the connection by hitting the "Trust" button on your iPad or iPhone's screen.
* Now, if your screen is not working and you are required to hit "Trust", you can enable "VoiceOver". With the VoiceOver, you can utilize a Bluetooth keyboard or lightning-connector keyboard to regulate the screen of your iPhone.
* However, some lightning-connector keyboards do not allow users to click on "Trust" button. Due to this, you will be required to utilize a lightning-connector keyboard to link your iDevice with a Bluetooth keyboard first, and then utilize that keyboard to hit "Trust".
3. On the top-left corner of iTunes, press the iPhone icon. This button is situated below the play or pause buttons at the top-left corner of the iTunes window.

4. Under settings on the left sidebar, hit on the Summary tab. The option is situated at the top of the left navigation menu bar; just below your iDevice's picture and name.
5. In the backups category, hit the "Back Up Now" button. This button is situated just below the "Manually Back Up and Restore" button that is located on the Summary page. Basically, a complete backup of your iDevice will be saved to your personal computer.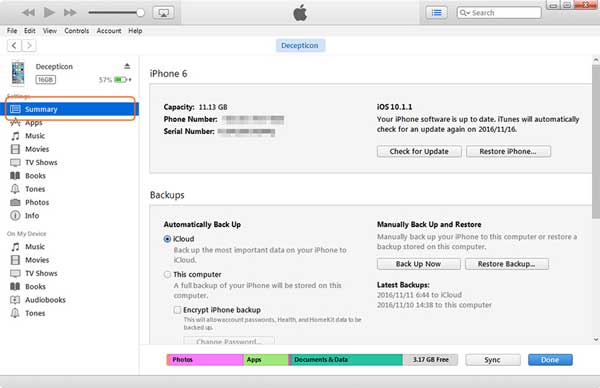 Part 4: Back Up iPhone with Broken Screen via iCloud on iPhone
1. Look for a lightning-connector keyboard for your iDevice. The keyboard is used to link your iPhone or iPad through the standard lightning port, the same way USB charging cable does.
The lightning-connector enabled keyboard enables you to circumnavigate, open and use your iDevice when you are incapable of viewing, tapping or swiping the broken screen. There are several keyboards with the lightning-connector capability at Amazon and eBay.
2. Connect your iPhone with the lightning-connector keyboard. Insert the keyboard's lightning cable to your iDevice's common charging port.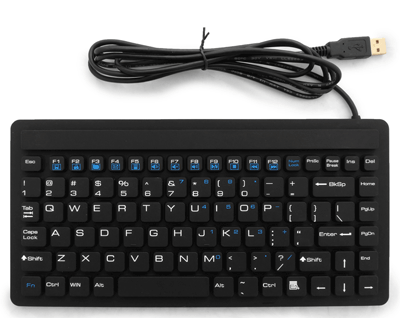 3. Unlock your device by pressing the Home button. You will be prompted to enter a password after hitting the Home button in order to access your device.
The Home button is typically the round button at the bottom of your iDevice. Get a keyboard with an unlock button if your Home button isn't working. Most keyboard lightning keyboards have an unlock button to enable you to access your iPhone without using the Home button.
4. Input your iDevice's security code on the keyboard to unlock it.
5. Activate Siri on the iDevice by either holding down the Home button or just saying "Hi Siri". Nevertheless, this will only function if the function is enabled on the iPhone. With an iPhone X, you can access Siri App by holding down the side button.
6. Use Siri to say "Turn on VoiceOver". If Siri recognizes your verbal command, it will start up the VoiceOver functionality in your iPhone. Siri will read out audio descriptions of every screen element to assist you to use your iPhone without looking at the screen after enabling the VoiceOver.
7. Open settings by using the arrow keys on the lightning-keyboard. Every application on the way will be read out by Siri. You can click or tap with the keyboard by pressing the combination of CTRL+OPTION+SPACE.
8. Look for and open your Apple ID settings situated at the top of the menu. Use the keyboard arrows to check your Apple ID name. Open the name by pressing the combination explained in step 7 above. If this option is chosen on the menu, Siri app will read your Apple ID, iCloud, iTunes, App Store and Apple ID name.
9. On the Apple ID menu, look for, and open iCloud. This option can be found at the top of the Apple ID menu. You can easily locate it above iTunes and App Store or below Payment and Shipping.
10. On the iCloud menu, look for, and open iCloud backup. From here, you can save a backup of your iDevice. You can get this between iCloud Drive and Find My iPhone.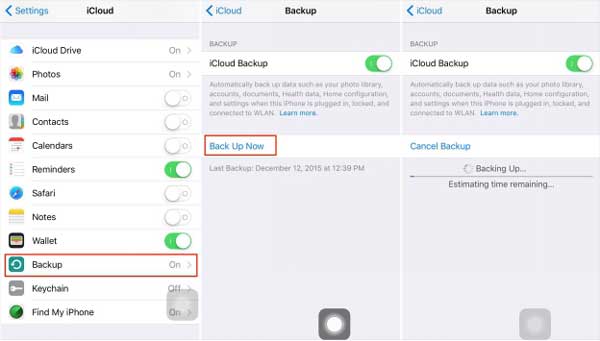 11. Evaluate whether the iCloud backup is allowed on your iDevice. Using the keyboard, use the arrow keys to access the backup menu and ensure that iCloud backup button is turned ON. Siri will say that the iCloud backup is turned ON after selecting it. Else, Siri will say that iCloud backup is turned off if it is not ON. Turn it ON by pressing the combination of CTRL + OPTION + SPACE on the keyboard.
12. Find and click the "Back Up Now" button. This option is situated at the bottom of the backup page. A backup of your iDevice will then be saved on your iCloud account. Use the lightning keyboard action to confirm if prompted to confirm your actions through a pop-up window. Save the backup after confirmation.
Conclusion
If you have broken, lost, or factory reset your iPhone or iPad and have no means of retrieving backed up data, do not worry. With the Coolmuster Data Recovery for iPhone iPad iPod, you can easily back up data from your broken iDevice and restore data to your iPhone. With this application, there is no need of connection your iDevice to the PC because the tool automatically searches through your iTunes backup files and retrieve lost files for iPod, iPad, and iPhone on windows. Coolmuster Data Recovery tool is the best thing to have graced the world of Apple products.
Related Articles:
One Click to Restore Lost Contacts on Dead iPhone
Simple Guide to Recover Lost Data from Dead iOS Devices
Tips to Recover Data from Water Damaged iPhone
How to Restore Deleted Contacts on iPhone Xs Max/Xs/XR/X/8/7/6 etc. for Mac & Windows?
How to Recover Deleted Music/Songs from iPhone XS/XS Max/XR/X/8/7?
How to Recover Deleted Video/Movies from iPhone on Mac & Windows?
Add a comment