How to Transfer Data from Old iPod nano/Shuffle to New iPod touch?
There are a hundred different reasons why you might want to learn how to transfer data from old iPod to new iPod. The most common is upgrading to a more advanced iPod, and needing to move all of the video and music files without losing any of the data. Or, you might simply be looking to transfer photos from your device to one owned by a friend. Whilst moving music from your computer to your iPod is pretty straightforward, programs like iTunes are only designed to work with one device at a time. The question is, how are you supposed to hook up two iPods up at the same time, and easily browse between the files on each one? You certainly do not want to be forced to make the move file by file, so it is important to find software which can do the job quickly and efficiently.
The good news is that the iPod to iPod Transfer third party app is the perfect tool for transporting valuable data from an old iPod to a new one. With the support of this software, upgrading no longer has to be a chore. You can finish files transfer between two iPods, such as iPod touch, iPod touch 4/5, iPod Shuffle, iPod Nano 3/4/5/6, and iPod Classic, in 1-2-3 simple steps because its simple interface makes selecting and moving files as easy as downloading a new album on iTunes. You can transfer photos, videos, calendars, SMS messages, contacts (and apps, if you have one of the more advanced iPods) and more. This third party transfer app comes with no danger to data files, so you can get on with enjoying your new toy, instead of spending hours working out how to fill it.
Then, how does iPod to iPod Transfer work? You can go on to read the following tutorial, which is written for Windows users to transfer data from an old iPod to another new iPod with a PC as medium. But please note the operations are also suitable for Mac platform. Just pick up the right version to download the trial version for free.
Best Solution to Share Data between Two iPod touch/Shuffle/nano/touch
Step One: Connect both iPods to your computer
To start the process, you need to download and install the iPod to iPod Transfer software. Once it has been installed on your system, launch the program. If the computer has now recognized and picked up both iPod devices, you are ready to go.
Note: Install and launch iTunes on your computer to make sure the program can work properly.
Step Two: Choose the data and begin the transfer
You should not have to go searching for the transfer function, because a window will appear on your screen. Within in it, all of the data files on each iPod, which can be transferred, will be listed in the center column. Now, check the boxes for the files that you want to move, and click Start Copy. It is a good idea to recheck that you have ticked all of the right boxes, before you click the button.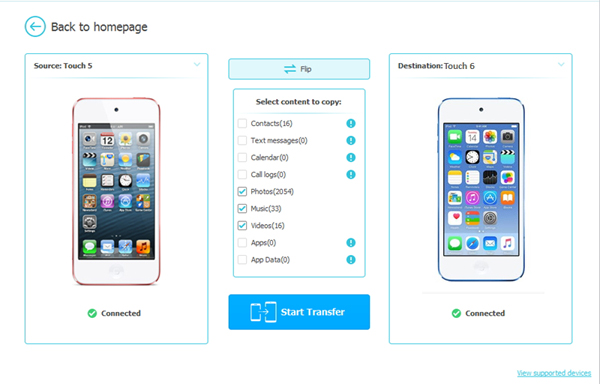 Step Three: Wait for the transfer to finish
The transfer itself should not take more than a couple of minutes. This is a speedy process, designed to be much faster than a lot of other third party tools. Plus, the files that you transfer will never be modified or changed along the way. They will arrive on your new iPod in the same condition that they left your old one.
Is it easy enough to perform the data transfer from an old iPod nano/Classic/Shuffle to a new iPod touch? Actually, the iPod to iPod Transfer still supports iPhone and iPad devices. Just give it a shot you are interested in it.
Related Articles:
Copy Contacts between Samsung and iPhone