Apple Music is a great way to explore new songs and keep up with your favorite artists. But what if you want to download music without iTunes? iTunes is made specifically for Apple gadgets, and since then, it's been one of the best official ways to add songs to iOS devices for offline purposes. But iTunes will allow you only to download music available on iTunes. It doesn't offer any other option for adding music to iPhone from other sources. (Can't add music to iPhone?)
That's why many of you are looking for methods on how to download music on iPhone without iTunes. The truth is that it has never been easy, but everything will be as easy as pie after reading this article.
Way 1. How to Download Music on iPhone without iTunes via iOS Transfer
iOS Transfer is a comprehensive iPhone transferring and management tool that allows users to transfer any type of content to and from iPhone, including photos, music, and videos. Those who don't want to sync their iPhones with iTunes to move songs onto their devices can easily do that with this fantastic software. What's more, you can transfer various songs with original, which is an added advantage.
With an intuitive interface and many advanced features, you will surely have an easier time using this app. One click is enough to back up your iPhone data and restore it when needed.
Key Features of iOS Transfer:
* Transfers music and other data to and from iPhone through a PC or Mac computer.
* Transfers both purchased and non-purchased songs.
* Back up data and restore it in just a click.
* Manages and backs up iOS files without iTunes.
* Very simple interface that's easy to use.
* Widely compatible with all iPhone generations, including the latest iPhone 14/13/12.
Here is how to download songs in iPhone 6/7/8/X/11/12/13/14 without iTunes
01 Launch the program on the computer after downloading and installing it. Use a lightning cable to connect the iPhone device to the computer. You'll then see the primary interface on the screen.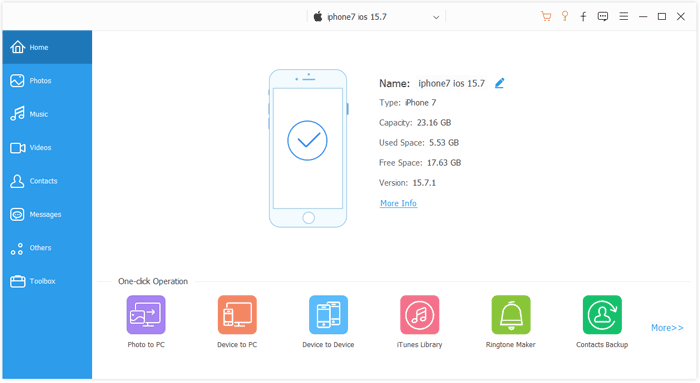 02 Choose the "Music" button from the left part of the screen to display all song categories available on your iPhone. Click the "+" icon at the top part of the screen to add the music files from the computer.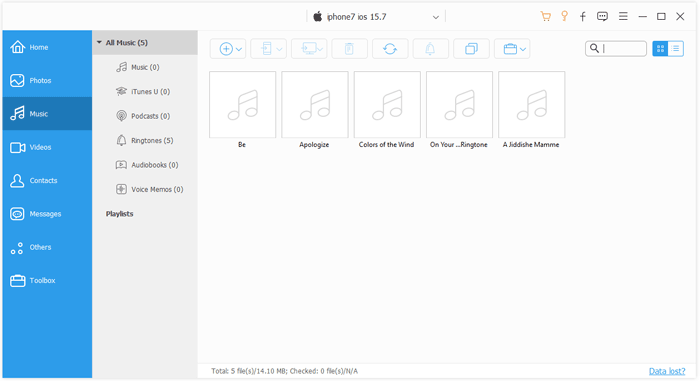 Done! You have successfully downloaded music to iPhone without iTunes by using iOS Transfer. They should appear in your Apple Music app now.
You may like:
6 Methods to Transfer Music from Computer to iPhone without iTunes
7 Easy Ways to Transfer Music from iPhone to iPhone
Way 2. How to Download Songs in iPhone without iTunes via Apple Music
Even though music streaming brings an impeccable experience, it can be quite costly if you use cellular data. However, downloading any music, album, or playlist will be very easy if you have subscribed to Apple Music. Apart from that, it enables users to listen to music when offline. It offers millions of songs, so you can listen to any song you want. Here is how to download music without iTunes with the help of Apple Music;
Step 1: Open the "Settings" application on your iPhone, scroll down to find "Music," and click on it. Toggle on the "Sync Library." You can switch on the "Automatic Download" when you wish to download your library automatically.
Step 2: Go to the "Music" application and browse for songs, playlists, or albums you would like to add to your phone. Click on the three dots at the top right section, then choose the "Add to Library" option.
Step 3: Look for the "Library" tab at the bottom and choose the music you added.
Step 4: Click on the three dots next to the song and click "Download" from the menu.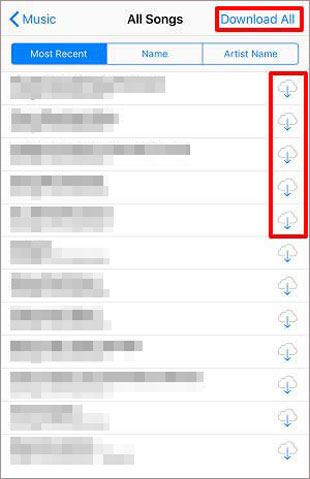 See more:
2 Solutions to Transfer Music from Android to iPhone
How to Transfer Music from iPhone to Mac? (Top 4 Ways)
Way 3. How to Put Music on iPhone without iTunes Using YouTube Music
We know that iTunes is the most popular music app where we can find tons of songs, albums, and videos. Not only that, but it's also a great management utility. But, sometimes, iPhone users may want to download music on iPhone without computer or iTunes. YouTube Music comes in handy here as it allows users to download and listen to the track the way they want.
The best part is that YouTube Music allows you to listen to songs for free, but with ads. If you want those melodious and high-quality songs from different genres and wish to download all those tunes you love to your iPhone device, follow the steps below to get music on iPhone without iTunes;
Step 1. Look for the YouTube Music app on your iPhone and open it. Proceed to songs, playlists, or album categories.
Step 2. Click on the "Download" icon.
Step 3. You can now start enjoying your songs offline after the download completes.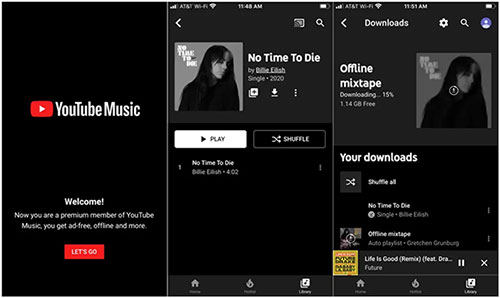 Way 4. How to Download Songs on iPhone without iTunes via Dropbox
Dropbox is one of the most popular cloud storage services that's free and easy to use. Any files shared on it are downloadable with a click of a button! You can sign up for a free account and start using it. It's super convenient for iPhone users who want to download their favorite tunes and share them instantly. Also, it is a great way to backup your iPhone. To download songs to iPhone without iTunes via Dropbox, do this;
Step 1: If you don't have a Dropbox account, you can still sign up using a username and passcode.
Step 2: Install the Dropbox app on the computer to create a folder named Dropbox on the computer. Then copy all songs you wish to download to an iPhone, and paste them into the Dropbox folder on the computer.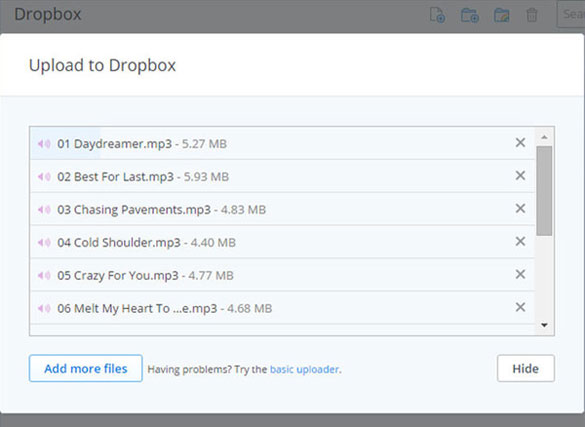 Step 3: As the files upload, you will see the progress from the Dropbox menu in the system tray. It depends on the number of your files and the internet connection.
Step 4: Install the Dropbox application on the iPhone device from the app store and log into the Dropbox account using the same username and password.
Step 5: Click on the music files you want, and the app will begin streaming. To save the music files so you can listen to them offline, you should swipe on the specific song you wish to keep on your iPhone from left to right, then click on the "Star" button to mark it as a favorite.
Conclusion
You now know how to download music on iPhone without iTunes or computer. There are various ways to get this done, as mentioned above. But, the easiest will be using a professional tool like iOS Transfer, which makes the data transfer process easier and quicker.
Related Articles:
5 Tips: How to Transfer Videos from iPhone to PC Windows 10 Without Any Hassle?
Photos Didn't Transfer to New iPhone? Work It Out with Easy Solutions
How to Transfer Videos from iPhone to USB Stick with or without a Computer?
How to Transfer Videos from iPhone to Android Effectively [Solved]
How to Transfer Large Videos from iPhone to PC? Try 8 Methods Here