Imagine the pain of filling in information every time you fill a form, shop online, or have to log in to your e-mail id. In order to eliminate the routine filling up of details, iOS devices have an app in iPhones and iPads called Safari; and Safari has a feature known as AutoFill.
Starting off on the desktops, and slowly being incorporated into the iPhones and iPads, AutoFill saves all the information in fields that are often repeated, such as one's name, address, contact details, ID's, passwords, and so on. Safari also saves the details of one's credit cards, and in case of generation of a new account, Safari asks in case the user wants it to generate a password for it.
Related:
How to Use iCloud Keychain on iPhone?
How to Use Location Services on iPhone?
Why Will You Love It?
People these days prefer doing everything quickly. Online websites and apps have become a rage now, with people shopping with the click of a button. With AutoFill, it just helps in getting away from the ordeal of filing up details every time they make an online transaction.
Another advantage of AutoFill in terms of excel sheets is that it helps by enhancing the entire data process. Once the information is saved on AutoFill, the data does not have to be manually typed each time. In case you are a person who constantly forgets or gets confused with their ATM pins and passwords, then AutoFill is a savior, as it stores all your details, only to be used as and when required. Automatically completing all the details, it is a time-saver.
What might be bit of a bother?
However, the downside to AutoFill is that in some cases, certain browsers require more than one field of a particular type before they present certain options; and in such cases, AutoFill does not work. Also, if a person hands over their phone to anyone and everyone, or worse, loses their phone, then their private data can be misused.
User Guide: How to Clear Autofill on iPhone
One may wish to clear the data in case they share the same iPhones and iPads, as there is a possibility of fraud, and can prove to be dangerous. Following are some of the ways to clear AutoFill. These are some of the best methods to clear the autofill on your iPhone or iPad.
1. METHOD ONE:
-Click/tap on the Safari icon.
-In that, tap Passwords and Autofill.
-Now, tap on Saved Credit Cards or Saved Passwords.
-There will be a list of sites wherein the username and details are saved, you simply need to tap on Delete on the top left corner, and you're done deleting!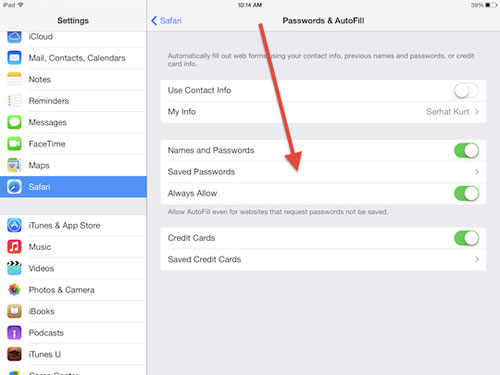 2. METHOD TWO:
-Click/Tap on the Safari icon.
-Tap AutoFill, and then tap Clear All under the category of Names and Passwords.
-Select the Contact Info, and Names and Passwords to OFF. This disables AutoFill completely.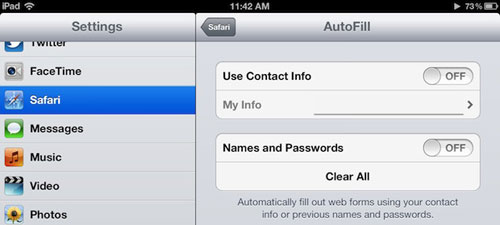 3. METHOD THREE:
The simplest of all, one can tap on the Clear All button at the bottom. You would be able to clear the autofill and wouldn't have to worry about seeing it time and time again.
You don't need any software to clear the autofill on your iPhone. You can just use these simple methods that will make it a lot easy for you to work on your iPhone. Do what you want on your smartphone, just know the tricks that can help you do a lot more significantly.
The End
These are some of the ways in which one can clear AutoFill on iPhone, as storing information, although, is helpful in many ways, but at the same time, it comes with some serious risk.
Related Articles:
Guide to Unlock iPad without Password