iPad is Locked? How Can I Fix it?
In this digital era, everything seems to be matched to a corresponding account and password. When you want to deposit or withdraw money from a bank, you will be requested to enter a bank account and password beforehand; when you want to enter your Twitter or Facebook home, you will be required to log in with your account ID and password firstly; when you set the passwords on your iPad for the safety's consideration, you will need to unlock your iPad every time you need to use your iPad, either to watch movies, to listen to music or surf the internet for some purposes. However, the possible case could be that you will mix all these passwords including your iPad's since so many passwords are stored in your brain, which results in your inability to lock your iPad. So, here you can rely on iCloud Keychain to help memorize different accounts and passwords lest you might confuse them. But, once your iPad is unfortunately locked, how could you get it unlocked in one click?
Actually, this situation can be analyzed in two perspectives. If you have ever synced with any computer, it is possible to unlock your iPad with the synced computer; if unfortunately you have not, then you had better restore your iPad on a computer.
Method 1: How to Unlock iPad with Synced Computer
Step 1. First of all, connect your iPad to the primary computer which you have synced your iPad with. Then open the installed iTunes on your computer.
Step 2. Choose your iPad device and then go to Backup tab. Choose This Computer option so as to make a backup of files that you have saved on the computer from iPad before. Then press Back up Now to begin the backup process.
Step 3. Now, you can click Restore Backup button, choose the recent backup of your iPad and finally click the Restore option. Later, your iPad will automatically restart and you have successfully unlock your iPad.
Method 2: How to Unlock iPad without Synced Computer
If you have not synced your iPad with computer or the synced computer is not at hand currently. You can consider unlocking your iPad by restoring your iPad to factory settings. However, you have to know that you may lose all your iPad data henceforth. Now, let's see how to unlock your iPad without synced computer.
Firstly, connect your iPad to the computer and then start the iTunes. Choose the Restore option to continue.
Secondly, then wait patiently for finishing restoring your iPad. After the process is completed, you will be able to unlock your iPad.
To minimize the losses you will suffer from unexpected accidents such as the case mentioned in the above, you are suggested to frequently back up iPod/iPhone/iPad to computer. So you won't need to worry that any possible accident may lead to your data losses. Here, you will need a professional assistant tool like Coolmuster iOS Assistant (Windows/Mac) to help at your hand.
Below is the free trial versions of this software. Just choose the right one and give it a try by yourself!
Extra Bonus: Guide on How to Set up Passcode on iPad
> Open your iPad and go to the Settings tab.
> Tap on the Passcode button on the left panel. Then click on the Turn Passcode On.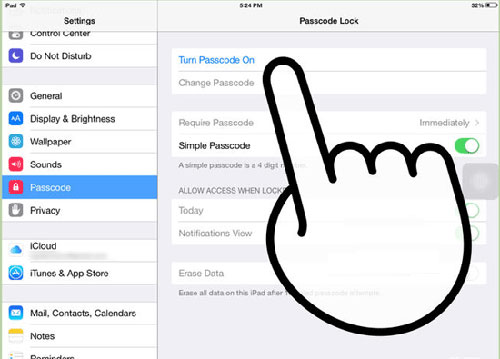 > After that, create a password and type it again.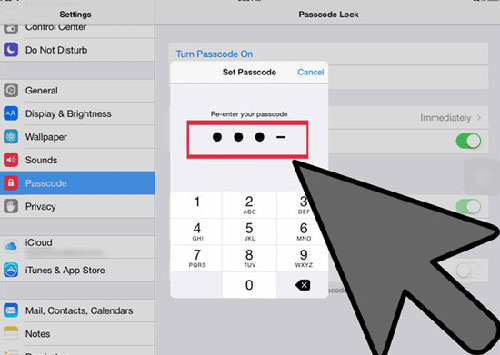 Here, you are suggested to use an easy-to-remember yet secure password , or otherwise the password will possibly locks nobody but you out. That could be pretty ridiculous, right?
Related Articles:
What if iTunes Can't Recognize Your iPhone?
Best Video Editors for iPhone/iPad/iPod
Add a comment