Why do you need to export health data on iPhone/iPad/iPod?
Transmitting data back and forth on an iDevice is similar to sending physical mail from one postal service to an individual's mailbox. In fact, people all over the globe receive their information in so many different formats. It does not matter if it is a letter that is being sent to pay the utility bill or receiving a letter from the internal revenue service, sending communication from one location to another can vary greatly based on the situation and circumstances.
Because of all of the advances in technology today, some of the data that we send is vital to someone's actual health and well-being. This is one of the main reasons why it is becoming more and more common and advantages to forward health data from different kinds of devices. Specifically, when an individual or a physician elects to send health data on one of their iPhones, iPads, or their iPod. Either way, this innovative way of sending health data from one user to another can be very beneficial in many different ways. So, for those of you who are interested in finding out why any user will need to export health data on their one of apple's devices, here's a few of the most common.
- Export information in a readable format for the physician or the patient.
- Saves Times and paper.
- Sends Health Data to the Appropriate Medical Professional to Provide Documentation.
Also Read: Move Health Data from Apple Watch to Computer
User Guide: How to Export Health Data on iPhone/iPad/iPod
There are a number of different ways to export health data on an iPhone, iPad or an iPad device. Some of which can be done via a paid app, while others are free apps that people install and launch. Fortunately, there is quite a bit of information online that can assist users with finding these apps and the instructions that go along with each. With that being said, here are the step by instructions that can assist the users with navigating the free health process from start to finish.
Step 1: User starts the process off by launching the Health app.
Step 2: Once this application has been launched, the user has access to this process by navigating their way to the Health Data tab.
Step 3: After the Health data has been selected, the user will have an opportunity to view all health-related categories.
Step 4: Then hit the Export Health Data option on the bottom and then continue the process.
Step 5: Hit the Export option on the promo dialogue and then choose a way as wanted.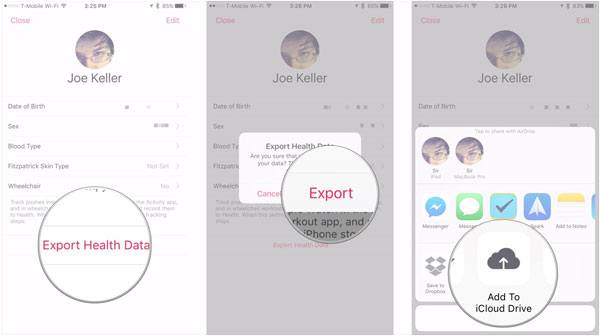 Extra Bonus: How to Export Other Files on iPhone/iPad/iPod
While exporting health data from one iphone or ipad device to another can be done by apps that people can find on the Apple store, there are other ways of achieving the same results. One in specific that works very well and anyone can use it is Coolmuster iOS Assistant software. This software has a wide range of different functions that can be done via their applications. The instructions that this site provides is not only clear, but can be completed with only a few step by steps. Therefore, for those of you who may be interested in the instructions that walk a user through exporting other kinds of data, here's are the steps that one will use.
1. Run the software on the computer and then connect the iPhone, iPad, or iPod to the user's personal computer, laptop or desktop computer. This connection is made via a USB cable that runs from the iDevice to the PC.
2. Once the cables are connected appropriately, the user will be provided with a preview of files that will need to be transferred.
3. Export the Files When the user previews these files, they will have a chance to export several files by selecting one at a time or the option of selecting all of them and completing the transport.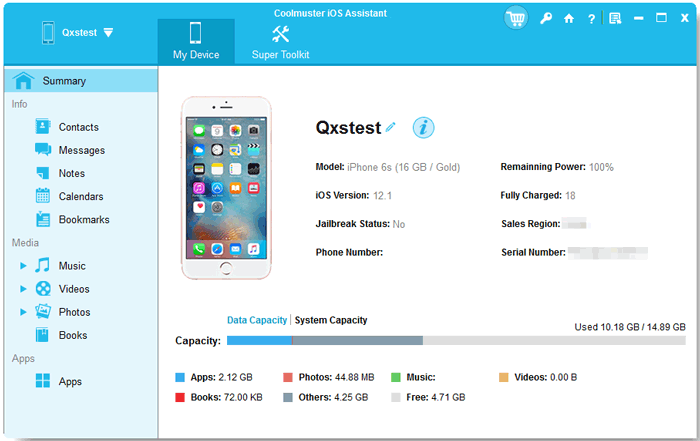 Related Articles:
Transfer Kik Data from iPhone to Computer