Technology keeps evolving each day. Today you have this phone, after a short time, a new device takes over. You have upgraded to a new iPad, and now you are wondering how you will move all you favorite stuff from your old phone to the new iPad. You have contacts, photos, data calendars and music among others things that you cherish and would love to hold on to hence transfer them due to the importance they attach to you. This article will clearly inform you on how to easily move contacts from the old one to a new iPad to save you the stress of trying each one of them all over again.
Related: What You Need to Do After Getting A New iPhone/iPad?
When do you need to sync contacts with new iPad?
• When you upgrade from an older version device to the new iPod
• When you don't have the time to retype each one of them manually
• When you want to have all the contacts you had or some of them in the new iPod
Problem you may face when transferring contacts:
• When syncing the contacts with iTunes, it may delete some or all of them
• You may not know how to connect the two devices to allow the transfer of the contacts
• The suggestions of commands available to transfer the contacts from one device to another may not be available in some older versions of iOS 3.
Moving contacts to a new iPad is very easy if you have a backup of your older device either on your computer or on any other storage device. Now, let's see how to sync contacts with new iPad from different channels.
Part 1 - How to Transfer Contacts to New iPad from Computer
Transferring contents to a new iPad are now one of the easiest tasks you can perform if you have a backup of the data on your computer. This is because of the invention of Coolmuster iOS Assistant software. It is efficient software that is simplifying this role for you with a single click. It applies to all Apple devices.
Role of iPhone/iPod/iPad to Computer Transfer:
1. This software also allows you to find the file you want in a matter of seconds. In this case looking for contacts is much easy. The search box on the top panel makes it easy to locate the exact file quickly and transfer it to your new iPod.
2. It efficiently exports from your Apple device to your personal computer and manages it from there. This data can include contacts, call history, messages, photos and music among others.
3. It allows you to look at data and files in distinctive ways. You can view them in list view mode or thumbnail mode.
4. This professional assistant gives you the freedom to manage each of the files may it be contacts, videos, photos or music among others on your computer.
Read More Articles:
* How to Group Contacts on iPhone/iPad
* How to Merge Contacts on iPhone/iPad
* Sync Contacts from Mac to iPhone/iPad
And this software is quite easy to operate, all you need to do is open the installed software and link your iPad to the computer. It will then automatically detect your device and scan for all files saved on your device. Then, just select the wanted files by ticking them out on the computer and then sync contacts with new iPad by exporting the computer files.
Steps to use this software:
1. Open the installed software on the computer and link your device to the computer via the USB cord. You will then be required to trust computer on your iPad. Do it as prompted.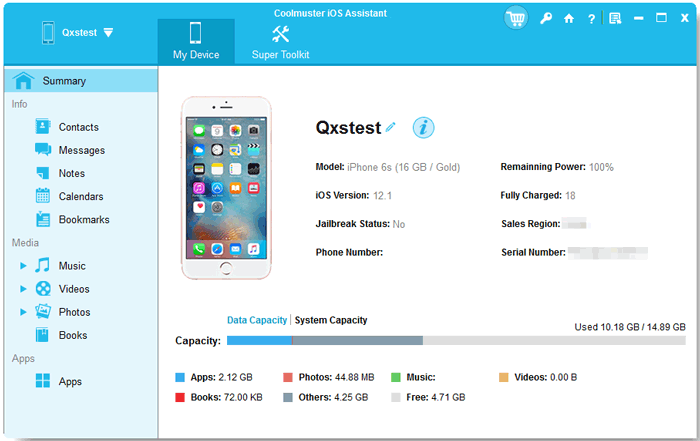 2. Now, you will see different file folders are arranged on the main interface. Enter the Contacts tab to preview more detailed file information.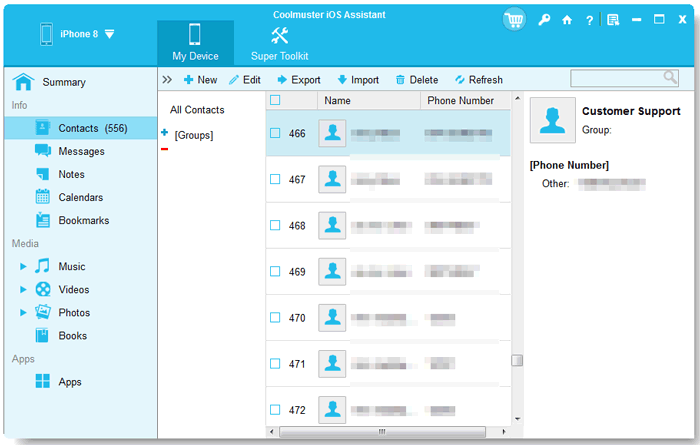 3. Hit the Import option on the top panel, navigate to the files on the computer that you want to import to iPad. Click on OK option to continue the process.
Part 2 - How to Transfer Contacts to New iPad from Another Device
Coolmuster Mobile Transfer is essential software that enables you to move the main contents like contacts, photos and videos among other files from one mobile device to another.
Roles of Mobile Transfer:
1. Transfer files from one to another in one click. When you buy a new phone, many people have a problem when it comes to moving the content. It enables you to copy files with 100% compatibility and without losing any data from one phone to another. It can transfer between Android and Android, Android and iOS, Android and Symbian, iOS and Symbian without interfering with the quality of your content.
2. Backup files to computer and restores anytime. This software enables you to keep a backup of your data without losing its quality. It allows you to select data you want to restore such as contacts and move them to the computer.
3. Allows you to erase the contents completely from your old phone.
With this software, you can directly transfer contacts to new iPad from another mobile device, be it Android, iOS or Symbian device. After getting two devices connected to the computer, you are free to directly sync any files between any two devices as you wanted and needed!
Related Articles:
How to Sync Media Files from Android to iPhone
One Click to Sync iPhone Contacts to iPad
4 Ways to Transfer Photos from Samsung Phone to Tablet