As iPhones gain popularity, there is a need to know how to sync iPhone notes to your Gmail account as you may be required to do so. Chances are high that if you have iPhone you have also opened a Gmail account. You may be required to sync iPhone data notes included to Gmail and have all your precious apps in your Gmail account as well as your iPhone.
Despite the fact that you have your iPhone notes sync to your iCloud account, you may be required to sync them in the Gmail account. This does not just happen but there must be enough reasons:
• Losing your iPhone notes is the last thing you want to experience. Gmail accounts provide the easiest backup. This gives you security for your notes even if you lost your iPhone. Having to sync the notes to your Gmail account gives you an opportunity to recover them just in case you lost your iPhone.
Bonus: How to Recover Lost Notes from iPhone
• Gmail has an easy access and therefore you may sync your iPhone notes to ease accessibility especially when you don't use your iPhone frequently.
• Your iPhone may be having some issues and need to be repaired.
• When you want to view the notes from a big screen, you may sync them to your Gmail and later view them using a computer.
• Convenience is another contributing factor. This makes us access the notes at our convenience regardless of whether we still have the iPhone or not. As long as you have a device to log in to your Gmail account.
User Guide: How to Sync iPhone Notes with Gmail
• Add your Gmail account to your iPhone if you haven't added it yet. This is done by tapping on settings and select "add account" tap on Gmail.
• Fill in all your details as guided from the screen. This may include your names, email address, Gmail password and description.
• Ensure you turn on Notes. Click on the notes label to view the full note. Your iPhone is required to be updated to iOS 4 and onwards.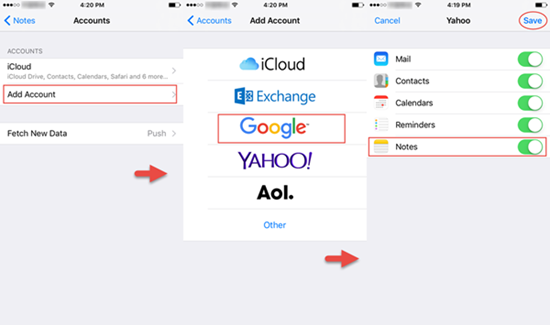 More Useful Articles:
* Easy Way to Share Files from Yahoo Mail to Gmail
* How to Easily Set up Gmail on iPhone Device
Extra Bonus: Alternative Way to Sync iPhone Notes as A Backup
Syncing iPhone notes may not be easy but with this perfect alternative, you get it easy. Coolmuster iOS Assistant and is software that ensures an easy time syncing iPhone documents. The software is important to iOS users as it gives room for a selective transfer of contacts, text messages, notes, Safari bookmarks, songs, and eBooks among other important items. This software is fully compatible with all the iOS devices iPhones being part of them. You can even choose the view mode of your documents.
This also makes it possible for users to manage the apps and documents from a central place instead of the portable devices. Gives room for batch transfer and thus you can sync as many notes as possible and comes with a free lifetime upgrade service for the registered users. This is a very useful program that solves all the challenges that come with data transfer. There is a need to know how to use it. Below are the simple steps you can follow to transfer notes from iPhone to Gmail:
- Run the software and connect your iPhone to the computer. Connect your iPhone to the computer and launch this powerful software by double-clicking on its desktop app.
- The software automatically detects your iPhone and displays your iPhone information on the main interface. This includes contacts, messages, notes and other folders.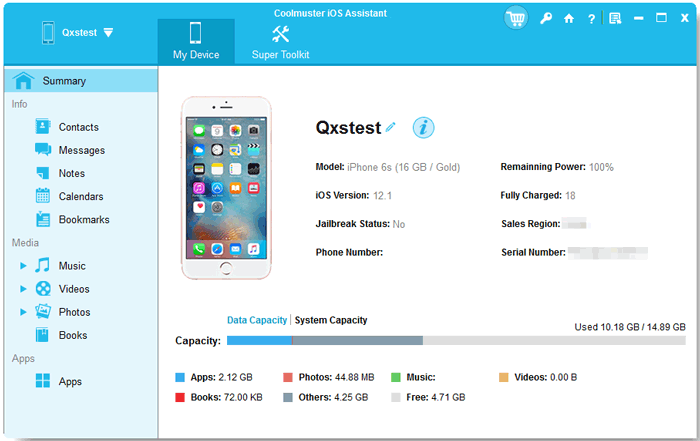 - Preview iPhone files as displayed on different folders in the left panel. Click on the notes folder to view and check details on the right panel.
- Mark all the notes you want to sync and click "Export" on the top of the interface.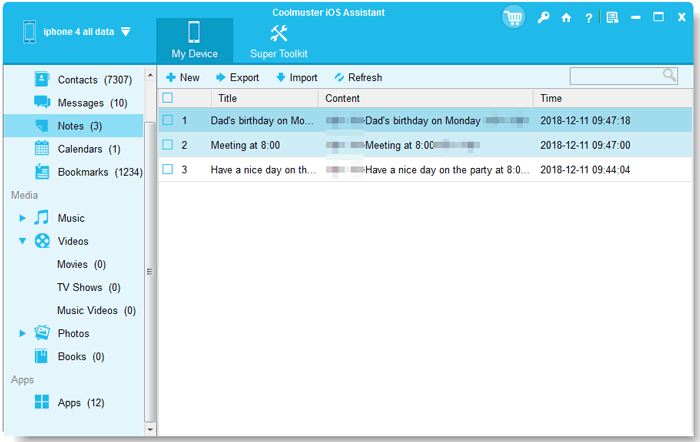 - After you sync, a pop-up window will appear to show you the progress. Just wait patiently for the process to complete.
The Bottom Line
Whatever your reason for wanting to transfer notes from iPhone to Gmail, you can find the answer in this article. Just read this article for the easiest way to transfer notes from iPhone to Gmail!
Related Articles:
Easy Way to Sync Hotmail with iPhone
How to Sync Facebook Contacts with iPhone
6 Methods to Transfer Music from Computer to iPhone without iTunes
How to Transfer Music from iPhone to Computer Effectively? (4 Tips)
[Solved] How to Transfer Music from CD to iPhone 14/13/12/11/X/8/7 Easily?