What is Podcast?
The word "podcasting" is a portmanteau combining the words "broadcasting" and "iPod". The most popular format of a podcast is MP3. MP3 is one of the most popular audio encoding formats today when it comes to music. Most music files that you find are in mp3, and companies prefer it because it helps reduce data amount. That also makes it one of the best ways for audio transmission during Podcasting.
What can Podcast do for you?
Apple owners often download broadcasts or audio shows on their iPods itself and listen to it any time they need.
* Podcasts can include anything from audio to video to even PDF files - all of which can be downloaded online.
* Podcasting can also be a tool for teachers or administrators to communicate with parents about curriculum plans, student assignments and other information.
* Podcasts ensures that users have it easy when searching for files - Users can either listen or watch previously recorded media files at their convenience.
* Podcasting helps you listen to what you need, any time. Audio files can easily be created & uploaded to course website/blog/wiki.
However, it is very important to ensure that podcasts are created in a format that can be played on all mp3 players and not just on iPods. Apple's newer models has a free Podcasts app installed on the device from before, so you don't have to worry about playing your favorite audio files. In case you don't have a recent iPhone or iPad, you can download Podcasts from the app store for free. By the way, Overcast is also a great alternative to the default software.
Read More:
* How to Use Airdrop on iPhone/iPad
* Make Full Use of iCloud Photo Sharing
Guide on How to Use Podcast on iPhone/iPad
So now you also want to use this podcast on your iPhone and iPad devices? In this part, you will know how to make fullest use of podcast.
1. Turn On Podcast in an iPhone
> Go to the Settings app from iPhone.
> Enable Podcasts.
2. How to Download Podcast to iPhone
> Launch Podcast app from the main Home interface.
> Tap on the Search icon on the bottom of the screen.
> Now choose the Podcast that you've found.
> Click on Subscribe or Download option to manage podcast as wanted.
Note: Auto-download is a significant feature for power users of the Podcasts app. To enable Auto downloads for all the podcast episodes from all the subscriptions, it has to be done via Settings. If not, enable Auto downloads for the particular subscription from within the Podcasts app.
3. Sync Podcasts between iPhone, iPad and iPod
Next from your Mac, launch iTunes and Go to the iTunes > Preference > Store. Enable "Sync Podcast subscription and Settings". Then enable "Sync playback information across devices". Now for the downloaded podcast episode in all other device, all you need is to sync podcast in iPhone, iPad, iPod manually in this way.
> Open iTunes. Connect your device using lighting cable where you want downloaded episode for enjoy offline.
> In iTunes click on Podcast tab.
> Under the podcasts screen you have to choose which episode you want sync with any other iOS device.
> For sync podcast playlist in iOS device, enable playlist next under the "include Episodes from playlists" under My station from podcast app.
> Now click on Sync. Wait for process and sync podcasts in iPhone, iPad and iPod.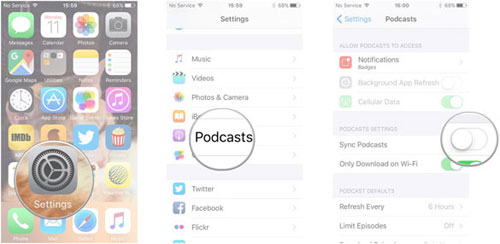 Words in the End
From the above steps you will sync all the podcasts video and audio from your Mac to any iOS device without any internet connection in fastest way.
Related Articles:
Transfer iPhone Podcasts to iTunes or Computer