If you are an iPhone user, you will know how vital iCloud is. It is an online cloud service used to back up and sync all your iPhone contacts, calendar, music, and other documents to your other devices. Keeping your contacts backed up to cloud storage is essential as they'll be safe, and still, you can access the data anytime you want. But it can be very frustrating if your iCloud contacts fail to sync. Worry not, as we provide you with the best ways to solve iCloud contacts not syncing problem.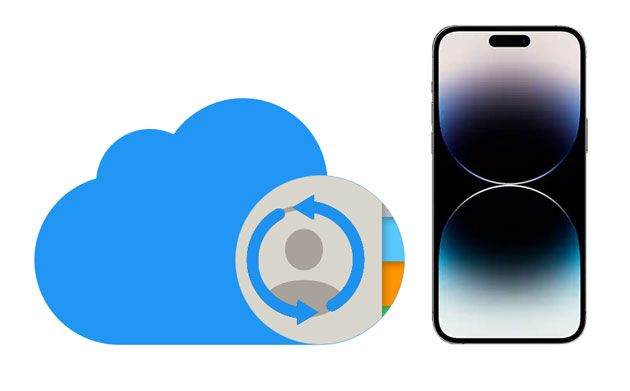 Part 1: Why Are My iCloud Contacts Not Syncing?
If you suddenly notice that your contacts are not syncing with iCloud, then it could be because of these reasons:
* Your connection isn't stable.
* The contacts you're trying to back up aren't selected.
* There's an error or delay with the iCloud backup.
* You are not using the correct iCloud account.
* Problem with the iOS system.
Part 2: How to Fix iCloud Contacts not Syncing
Now that you know why contacts may fail to sync with iCloud, it's time you know the solution to the problem. Here are some of the best fixes to the problem of iPhone contacts not syncing with iCloud:
Fix 1. Use a Stable Network
The first thing that you should do is check if your network is stable. Any backup activity needs a stable internet connection. If your network isn't very stable, there are high chances for syncing not to be successful.
Fix 2. Toggle Off and On Your iCloud Contacts
You can also toggle iCloud contacts off to see if your contacts will sync again. To do that:
01Open the Settings app on your phone, and click on your Apple name.
02Then click iCloud. If you see the Contacts option toggled on, toggle it off.
03Restart the phone and then toggle Contacts on again.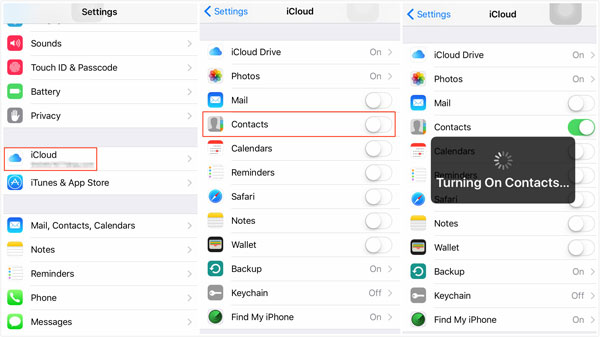 Read more: How to Back Up iPhone Contacts to iCloud? (Ultimate Guide)
Fix 3. Sign Out and In with Your iCloud Account
Contacts may sometimes fail to sync with iCloud because iCloud Drive can't sync with your device. You can sign out of your Apple account and then sign in again. Here is how to do that:
01On your iPhone, open the Settings app and click on the name at the top. Doing this opens iCloud settings.
02Scroll down until you see the Sign Out option and click on it. Then enter the password for your account and choose Turn Off from the top-right corner. After doing this, you will have signed out of your iCloud account.
03Sign in again. You'll find the option to sign in from the same menu. Click on it to log into your account again. Wait for some time for the iPhone to sync data to iCloud.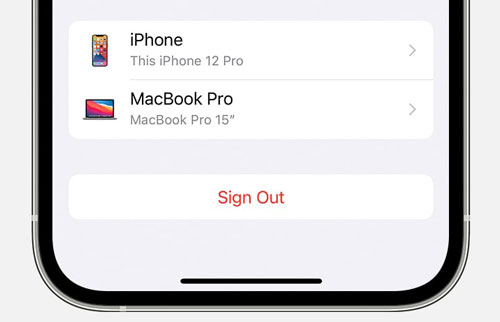 See also: With these 4 tips, you can fast move your music files from an iPhone to a computer.
Fix 4. Check for any iOS Updates
You should always make sure you check any available iOS updates. Sometimes these updates can fix iCloud contacts not syncing issues.
01Connect the phone to the Wi-Fi network, navigate to Settings, and proceed to General.
02Then look for the Software Update option.
03If there's an update available, press the Download and Install option.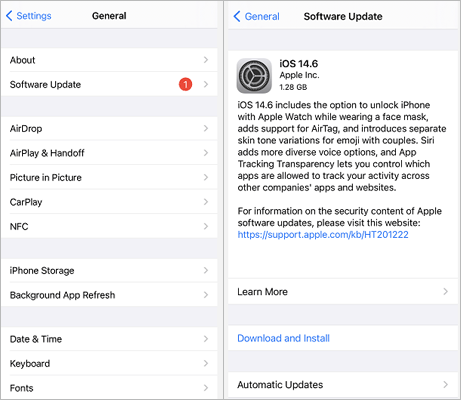 Fix 5. Set iCloud as a Default Account
If you have multiple Apple accounts and iCloud contacts are not syncing on your iPhone, maybe you didn't set your iCloud account as a default account. To fix this, simply toggle off all other accounts and let iCloud be the default. Here is how to set iCloud as a default account:
01Run the Settings application on your iPhone.
02Find Contacts settings, and proceed to Accounts.
03Go to Default Account and choose iCloud. After that, check if the contacts sync to iCloud automatically.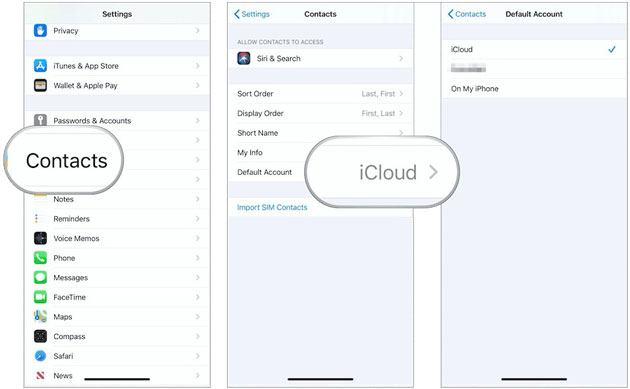 Guess you like: Want to sync your contacts from Mac to your iPhone? You can follow this guide to achieve it.
Fix 6. Sign In to Your iCloud Account Using the Same Apple ID
Check if you are signed in to your iCloud account with the same Apple ID. If you have more than one Apple ID, use the right one to sign into your iCloud account.
01Click on the Settings app to open it, tap Sign into your iPhone, and enter the correct Apple ID with the password.
02You may enter the code sent to you and finish the signup process. Try syncing contacts again.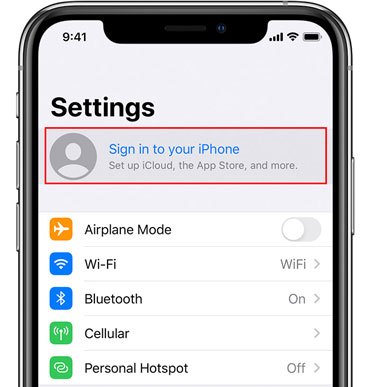 Fix 7. Reset Network Settings
Sometimes the issue might be corruption in the network settings on the iPhone. You can resolve it by resetting the network settings. Before proceeding further, make sure you write down your Wi-Fi password. Here is how to reset network settings:
01On your phone, go to Settings > General, and scroll down and tap on Reset. Now, choose the Reset Network Settings option from the screen.
02A confirmation pop-up will appear. Confirm by clicking on the Reset Network Settings option..
03After restarting your iPhone, again join the network by entering the Wi-Fi password and check if the problem is solved.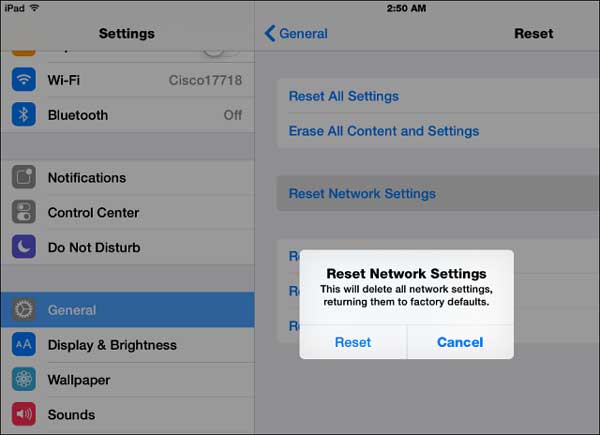 Fix 8. Uncheck All Third Party Accounts
Contacts may fail to sync to iCloud because you have changed contacts' app default account settings to a third-party account. You may also realize some of your contacts are missing. To uncheck all third-party accounts:
01Go to the Contacts app on your iPhone, and proceed to Contacts > Groups.
02Click on the All iCloud icon to check it only, and then click All [device name] to choose it.
03Hit the Done icon from the top-right corner of the screen. Next, switch off your phone and restart it after some seconds. You will find all contacts synced to your device directly. Find the contacts missing the add to your iCloud list.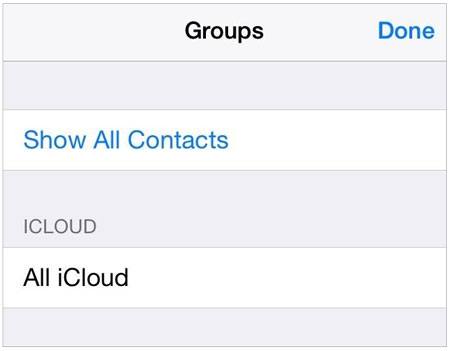 Part 3: Back Up Contacts to the Computer With Coolmuster iOS Assistant [Fast]
Coolmuster iOS Assistant is a piece of professional software that can help you back up and manage your contacts effectively on Mac or Windows. The tool is compatible with almost all iOS devices, including iPhone 14. The program is a must-have for those looking for a fast backup tool. With just 1 click, you can back up most data on iPhones, iPads, and iPod touch devices, including contacts, SMS, photos, music, and other data.
Key features of this iOS backup software:
* Back up your iPhone contacts to a computer without a network.
* Edit existing contacts, create new contacts and groups, delete useless ones, and so on.
* Scan all data on your phone automatically and show them on the interface one by one.
* Export all types of files from an iOS device to a PC or an iTunes default folder for backup.
* Support other iOS data, such as text messages, photos, videos, music, bookmark, etc.
* Uninstall those unwanted user apps from your iOS devices at once.
* Compatible with most iOS generations, ranging from iOS 5.0 to the upper (including iOS 16).
Download this software to replace iCloud.
How to back up contacts with this software:
01Download the software on your computer and launch it. Open the program to see the primary interface.
02Connect your device to the computer with a USB cable. The software will detect your device then a pop-up window will appear on the computer. Click the Trust option on the phone and tap the Continue option to proceed. After your device is connected, you'll see the primary interface on the screen.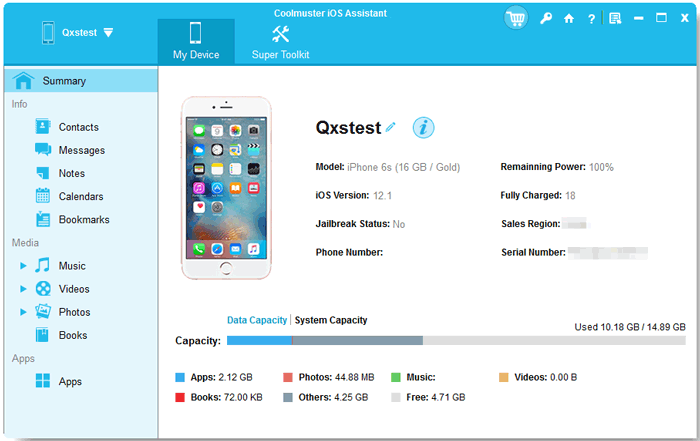 03Go to the folder with Contacts, open it and preview each contact as you choose those contacts you wish to export to the computer. Click the Export option and start moving them to your computer.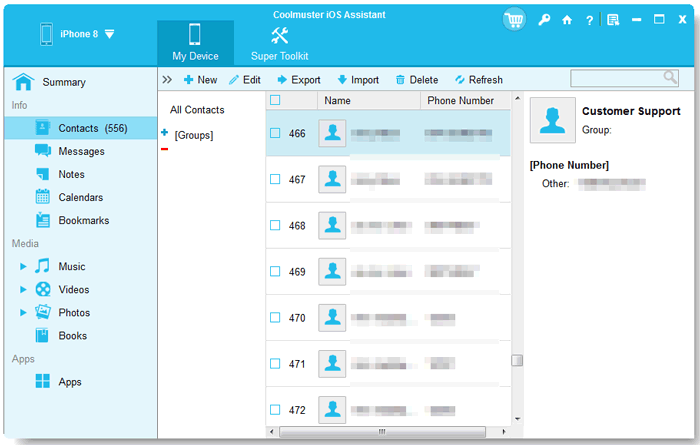 Further reading:
Top 10 iTunes Alternatives for Windows You Can't Miss
Easily Back Up Text Messages iPhone to Gmail in 5 Ways
Bonus: Manage Contacts on iPhone and iCloud
Now that you know the methods to solve the iCloud contact not syncing issue, we would like to enlighten you on tips to manage iCloud and iPhone contacts.
Do not save duplicate contacts. If you have more than one account, then it's more likely you may import contacts from other accounts. Either delete them via iCloud or merge them on your computer.
Back up contacts regularly. You should back up all contacts frequently using Coolmuster iOS Assistant. You never know when you may lose all your contacts.
Organize your contacts. Make all contacts uniform on all devices and keep them organized by adding new contacts to existing groups. Add a nickname or label when adding the contact details to other devices for better organization and management.
Wrap Up
That's all! Hopefully, you'll be able to fix the iCloud contacts not syncing issue accordingly. Or, you may use the Coolmuster iOS Assistant to back up your contacts to the computer so that you won't need to worry about losing them. It's compatible with all generations of iOS devices, safe, and easy to use.
Related Articles:
How to Transfer Photos from iPhone to Flash Drive with or without Computer?
Get the Best iPhone Contacts Manager from Top 14 iOS Contact Management Apps
3 Ways to Transfer Text Messages from iPhone to Computer? [Can't Miss]
Easy Ways to AirDrop from iPhone to Mac [Support Various File Types]
A Comparative Study on How to Get iPhone Text Messages on Windows 10 [Proven]